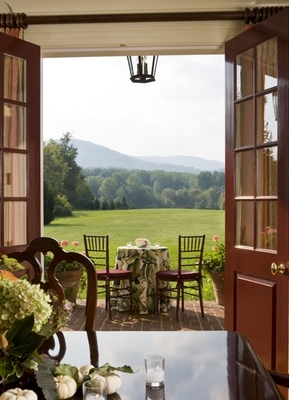 The Scene: A 90-minute drive from DC delivers you to the foothills of the Blue Ridge Mountains, where Sperryville and "Little" Washington, two low-key towns, make for a nice day of shopping, gallery hopping, and fine dining.
What to See and Do: In Sperryville, you can browse the work of local artisans at Glassworks Gallery. Down the street, tour Copper Fox Distillery, maker of Wasmund's Single Malt Whisky. The 150-year-old Sperryville Corner Store sells local meat, produce, and cheese. Then head to Little Washington, which claims to be the country's oldest town named Washington. There are half a dozen galleries and several boutiques, such as R.H. Ballard, which sells unusual home accessories and hard-to-find gourmet treats, such as salt from Ibiza.
Where to Eat: Sperryville's Thornton River Grille is a casual spot for fresh wraps, burgers, and Virginia wines. The Inn at Little Washington is one of the world's top restaurants. Another good choice: the Blue Rock Inn, offering organic dishes such as grilled salmon with bacon-and-scallion rösti amid 80 acres of fields and vineyards. Entrées in the dining room (reservations suggested) start at $24; there's a pub and patio menu.
Speed Dial:
Glassworks Gallery
11774 Lee Hwy.; 540-987-8474

Copper Fox Distillery
9 River La.; 540-987-8554
Sperryville Corner Store
3710 Sperryville Pike; 540-987-8185
R.H. Ballard
307 Main St.; 540-675-1411
Thornton River Grille
3710 Sperryville Pike; 540-987-8790
Inn at Little Washington
Middle and Main sts.; 540-675-3800
Blue Rock Inn
12567 Lee Hwy.; 540-987-3388