IN VIRGINIA:
Basketball coach Jim Larranaga and wife Elisebeth sold a five-bedroom, five-bath Colonial in Oakton for $1.3 million. The house has a two-story stone fireplace in the family room. Jim Larranaga led the George Mason men's basketball team to the final four in 2006. He's now head coach at the University of Miami.
Former Redskin Clinton Portis sold a home on Georgetown Pike in McLean for $1.7 million. At the end of a private drive, the five-bedroom, six-bath house has a master suite with a balcony. Portis bought it in 2004 for $2 million. A running back, he played for the Skins from 2004 to 2010; he's now a free agent.
Lawyer James Comey sold a five-bedroom, eight-bath Colonial on Kirby Road in McLean for $1.7 million. It has two kitchens, two family rooms, and a media room. Former deputy attorney general during the George W. Bush administration, Comey is now general counsel at the hedge fund Bridgewater Associates.
Former attorney general John Ashcroft and wife Janet sold a four-bedroom, three-bath townhouse on Colonial Terrace in Arlington for $1.1 million. John Aschroft, a former senator from Missouri as well as governor of that state, was US attorney general from 2001 to 2005. He's now an ethics adviser for Xe Services, the military contractor that used to be Blackwater Worldwide.
Lawrence Lindsey bought a five-bedroom, five-bath house on Hampton Way in Fairfax Station for $1.1 million. On more than five acres, it has a master-bedroom suite with a double-sided fireplace and a sun deck with a hot tub. Former director of the National Economic Council at the White House, Lindsey is a visiting scholar at the American Enterprise Institute, a think tank. He's also CEO of the Lindsey Group, an economic advisory firm.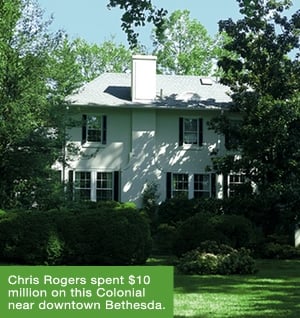 IN MARYLAND:
Telecommunications executive Chris Rogers and his wife, Nalini, bought a six-bedroom, eight-bath Colonial for $10 million. On a double lot near downtown Bethesda, the house has a 40-foot grand salon. The couple sold a house in Potomac for $20 million to Capitals owner Ted Leonsis earlier this year. Chris Rogers was one of the founders of Fleet Call, which became Nextel Communications.
IN DC:
Lawyer Steven Engel bought a six-bedroom, six-bath house in Cleveland Park for $3.1 million. It has a heated pool, a media room, a wine cellar, and front and rear porches. Engel is a partner at Dechert.
Reverend Luther Zeigler and wife Patricia sold a six-bedroom, four-bath Colonial on 39th Street in Chevy Chase DC for $1.4 million. Former chaplain at St. Andrew's Episcopal School in Potomac, Luther Zeigler was appointed Episcopal chaplain at Harvard this summer.
Businessman Vernon Holleman and his wife, Tina, bought a five-bedroom, five-bath house on Butterworth Place in DC's American University Park for $899,000. Listed for $869,000, it sold after 13 days on the market. Vernon Holleman is president of the Holleman Companies, an insurance advisory firm.
Some sales information provided by American City Business Leads and Diana Hart of TTR Sotheby's International Realty.
This article appears in the October 2011 issue of The Washingtonian.