1. Minimalist (left)
We've already mentioned this iPad case as a great gift for dads, and the lighter gray version deserves a nod as well. Sublimely simple with a sturdy leather clasp and tidy stitch lines, it works well for men and women.
Byrd & Bell, $44 to $48
2. Tribal (right)
Great for makeup bags and small accessory pouches, Stephanie Johnson also turns out sturdy tech cases in different fabrics each season. Right now we're loving Hamptons Night (pictured), a woven black and tan raffia that fits somewhere between NY's swanky seaside neighborhood and the African jungle. Fits iPad and iPad2.
Stephanie Johnson, $50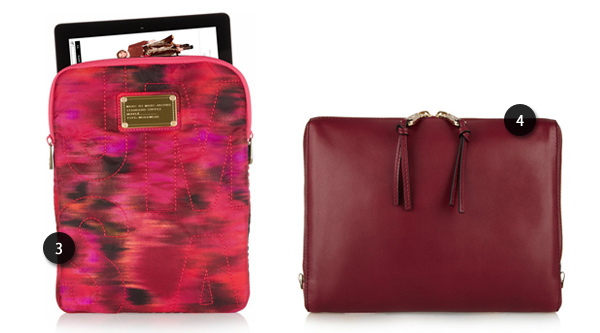 3. Arty
Quilted neon watercolor. We're not sure if we want it to hold our ipad or keep our head comfy while we dream sweet dreams of Cezanne paintings.
Marc by Marc Jacobs, $70
4. Luxe
A to-die-for burgundy leather with chic gold hardwear. If this doesn't impress the partners at your law firm, we honestly don't know what will.
Chloe, $600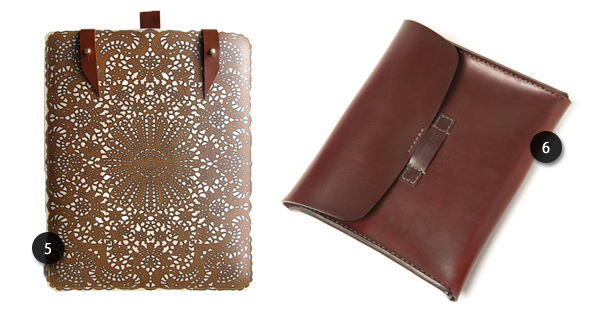 5. Vintage
A lacey-looking case made of 100-percent leather and lined with suede. Proof that girls who love hippy headbands and floor-grazing skirts can also be cool with technology.
Tovi Corrie, $90
6. Heritage
A supple leather envelope with a hand-stitched look. Urban woodsmen, this one's for you.
Makr, $286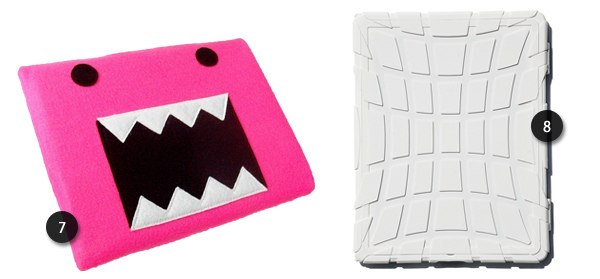 7. Funny
C'mon—who isn't gonna chuckle at the monster face? Pokemon fans / kids-at-heart / kids with iPads (really? already?), this seems right up your alley. PS—this mustache sleeve is cute, too.
Yummy Pocket, $30
8. Techie
Geek out with this glossy, fit-to-form protective rubber skin. A magnetic front cover and full access to all audio outputs and dock connectors make it especially functional. For iPad 2.
Hard Candy, $39.95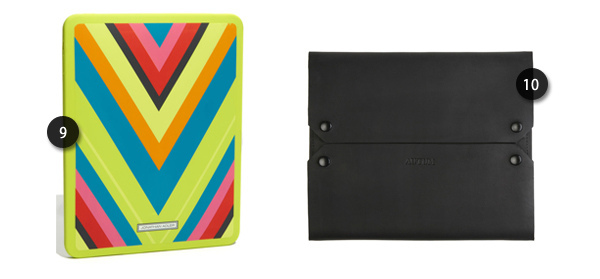 9. Graphic
Bright chevron stripes for a sunny personality.
Jonathan Adler, $32
10. Masculine
Intimidating at first glance, but the four-button opening system will make you feel like you're unwrapping a gift every time. Tanned leather surface with suede lining, suitable for iPad and iPad 2.
Autum, $144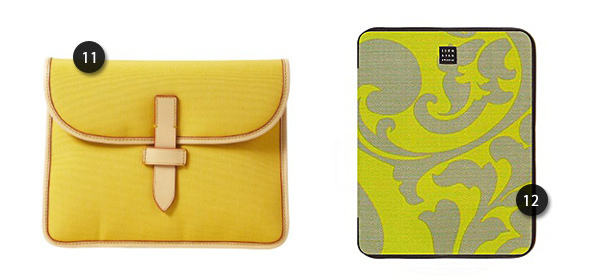 11. Preppy
A leather and cabriolet satchel that will coordinate perfectly with your all-J. Crew closet. Yellow is our favorite color of the moment, but red takes a strong second place.
Dooney & Bourke, $65
12. Pretty
A sweet oversize Paisley pattern and plenty of extra pockets inside. This feels right for event planners, interior designers, and anyone else with lots of little details to organize. If you don't like the pattern, creator 1154 Lill Studio has plenty of other options to choose from.
1154 Lill Studio, $69
Subscribe to Washingtonian
Follow Washingtonian on Twitter
More>> Shop Around Blog | Style | Find a Spa