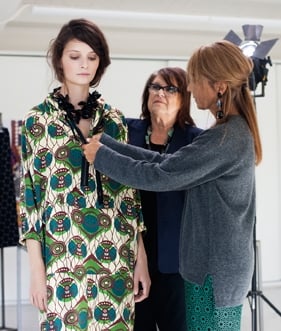 Yes! Best news of the morning! A press release just landed in our inbox announcing a spring collaboration between Italian luxury brand Marni and über-popular mainstream retailer H&M. Known for its quirky, modern art-house prints, Marni is a favorite among cerebral celebs such as Thandie Newton, Sarah Jessica Parker, and Maggie Gyllenhaal. Details are scant at this point, but the collection will feature clothing (for men and women) as well as accessories, and will be available in 250 store worldwide and online starting March 8, 2012.
Following in the success of H&M's Versace line, the Swedish retailer goes down the collaborative path yet again. Women can expect the quintessential Marni silhouettes, which include full pleated skirts, dresses, cropped pants, and jacquard knits. There will also be jewelry, shoes, bags, and scarves. Colors will be bright, and prints will definitely catch attention.
Men can expect a subtle use of prints, relaxed fits, and contrast detailing in shirts.
What do you think—are you excited to score another serious designer's duds on the cheap, or are you done fighting it out over clothing? Let us know in the poll below.