Photograph by Maggie Winters.
Corcoran undergrad Maggie Winters is just filled with creative ideas. After discovering her ingenious Hellish Commute project, in which she depicts her traffic-filled journey from Arlington to Georgetown with an impossible-to-solve maze, we dug a little deeper into her archives to see what other ace projects she had up her sleeve. Though fun, fresh wedding photography came in at a close second, we were supremely delighted by the retro pinup calendars she created for American soldiers in 2010.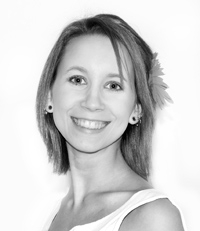 According to Winters, the project was the happy result of several interests aligning with her own personal talents.
"I like to give back and help people," she says. "I wanted to do something with photography because that's my expertise, and I wanted to do something nice for our troops overseas. "
Winters worked with Washington-area models at the Old Town Alexandria waterfront, Chadwicks in Georgetown, and more Washington-area locations to stage most of the dozen shots. Some of the models had little experience, but one—Baltimore-based Mona Delux, who appears in the calendar twice—has been shooting pinup stylings for years.
Winters kept her models surprisingly covered up. She wanted the calendar to be a fun, morale-boosting surprise for American soldiers.
"There's so many naked women out there, and it's distasteful," she says. "This is a lot more wholesome, and it's still fun for guys."
Winters worked with the Yellow Ribbon Fund to organize a shipment of the finished project to troops overseas. Founded in 2005, the Yellow Ribbon Fund assists injured service members recuperating at Walter Reed and the National Naval Medical Center by providing soldiers and their families with rental cars, lodging accommodations, and fun activities. Winters worked with executive director Mark Robbins to arrange for copies of the calendars to be sent to units in Afghanistan on behalf of their injured colleagues in December 2010.
"Soldiers have quite a bond," says Robbins. "They don't want to be in the hospital here, they want to be back with their units fighting. [These calendars] were a great way for guys who are injured back here to let their groups know that they're doing okay and that they're thinking of them."