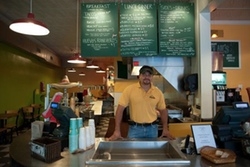 Good news, taco lovers, (bad news, people who love to hate on District Taco for invoking the DOC without actually operating with in its parameters): The popular Arlington taqueria hopes to open not one, but two new locations inside the District this year, according to owner Marc Wallace. And that's just the start.
"The plan is to expand in DC a little bit more, and then [open] more restaurants around the area," says Wallace.
The first DC location is a 50-seat spot set to open in the former Funxion space at 1309 F Street, Northwest, potentially in late March. Wallace says the menu of customizable tacos, burritos, and quesadillas will be the same, as will the early morning, later-evening hours (7 AM to 10 PM daily). As always, tweaks may be made based on neighborhood demands, and the goal is to get a liquor license sometime after opening. Design by Core (Pearl Dive, Founding Farmers, Brasserie Beck, and many more) will also mean a more streamlined interior than at the original spot, which Wallace describes as "very much bootstraps." The second DC location has yet to be secured, but spaces are being scoped around Capitol Hill, Dupont, and the Palisades.
Fans of El Torito, the Arlington food truck that started the whole District Taco venture, also have something to look forward to: A second truck is set to begin roving the streets of DC come spring. In the words of the taco cart itself, Orale!