"We all live somewhere."
These are the words that greet you upon entering the
National Building Museum's
most ambitious project to date, opening this weekend: a
long-term exhibition investigating the American residential landscape,
both inside and out. The exhibition's seven thematic rooms
examine the role of the American house–where we live–as both habitat
and haven, or, as the title suggests, as "House & Home."
"What better way to get people to understand the built environment than by starting with the home, peeling back the layers
to truly see how America lives?" says curator
Sarah Leavitt. "It's something we can all identify with."
Entering the main gallery, you literally walk into the
first of these peeled-back layers: how the house is built.
Wall-and-roof
sections that beg to be touched–rough adobe, colonial timber,
modern "green" lumber–allow you to step inside America's housing
history. These hands-on sections are paired with a similarly
chronological series of models of iconic American homes, celebrating
the work of such architects as Thomas Jefferson, Charles Platt,
Frank Lloyd Wright, Philip Johnson, and Frank Gehry. It's
fascinating to see how one structure inspired another–and how
some things have come full circle.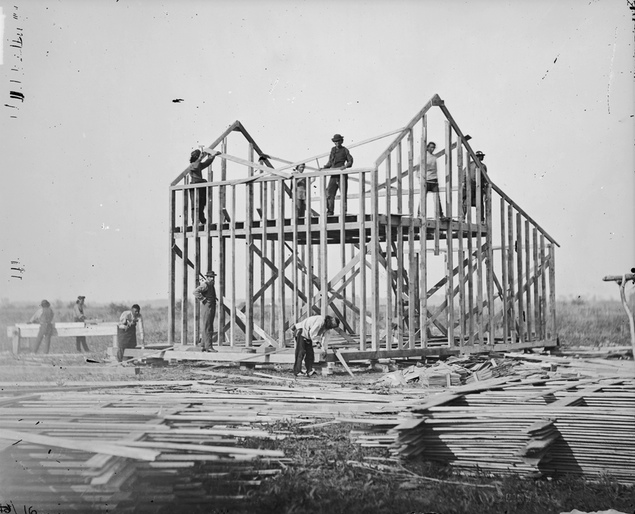 The attention then shifts from exterior to
interior–from "house" to "home." Two hundred objects–fondue sets,
baseball gloves,
medicine cabinets, and the like–spanning generations and
geographics are arranged according to the role they fulfill in the
American home. "We tried to pull from a wide range of time
periods and people, just like the objects that live in your home,"
says Leavitt. Peering at the mix of old and new, nostalgic and
familiar, you feel like you could be rooting around in a family
member's basement. (This reviewer found herself smiling at an
aluminum Christmas tree, a stack of Tupperware snack cups, a
beanbag, and a Barcalounger.)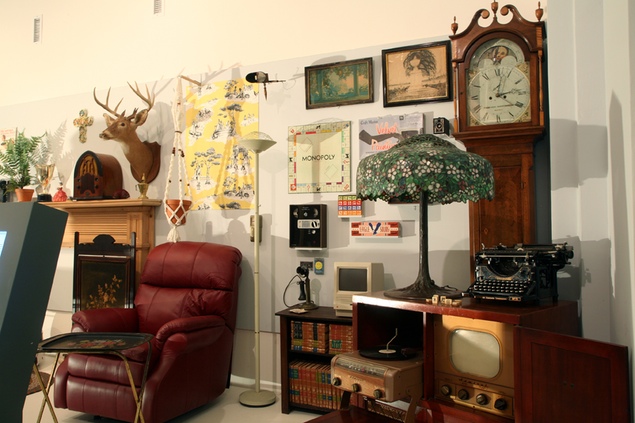 Other highlights include a series of specially
commissioned films–gorgeously shot, startlingly intimate–that take you
inside
the homes of six coast-to-coast Americans, showing the diverse
shapes the US family can take. History buffs and economists
will appreciate an in-depth timeline of American history as
seen through the housing market, from the dispersal of royal land
after the Revolutionary War to the crash of 2008. The last
gallery takes the idea of house and home and turns it outward to
the community, exploring the relationship of our homes to our
neighborhoods, our cities, and society at large.
The exhibition opens tomorrow and will continue indefinitely, but we suggest you go now: Since the exhibition itself is freshly
built, it still smells like new wood and fresh paint, adding yet another sensory dimension of homey goodness.