For seekers of the unusual when it comes to furniture and housewares,
Eastern Market is one
of the best stops in the District. The weekend ahead looks
perfect, weather-wise, so slather on the SPF and experience what
can amount to a treasure hunt for touches of antique charm,
from vintage linens to salvaged ceiling tiles.
Antique and Vintage Linens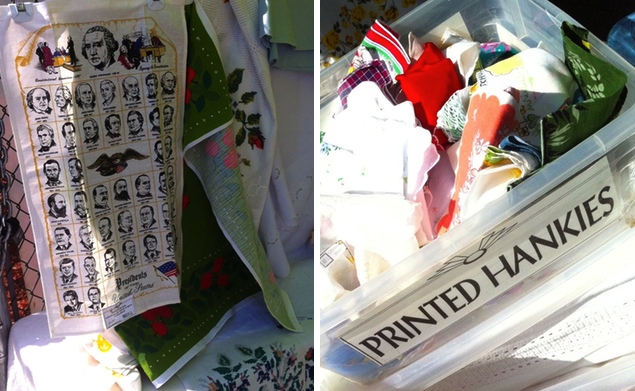 Noemi Thompson scours estate sales and
auctions to stock her booth for Saturdays at the market.
Garden-party-perfect floral-edged tablecloths
share space with printed hankies and napkins that can double as
quirky art pieces with the touch of a good framer. Look for
embroidered tablecloths from $36 to $150 and handkerchiefs and
napkin sets from $4 to $6.
Vintage Bling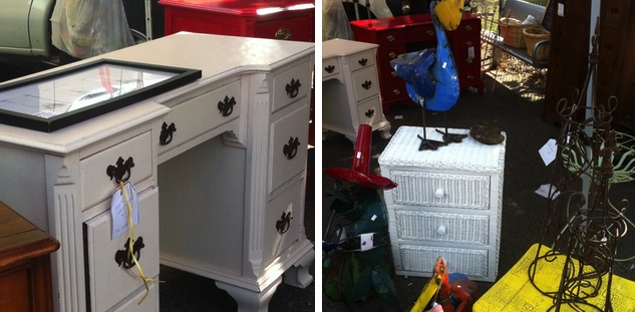 For the past 22 years, Vintage Bling has been
setting up shop at the market on Saturdays. It's hard to miss the large
selection
of antique armoires, side tables, and mirrors next to an even
larger selection of vintage and estate jewelry. The owner, John,
claims to have sold more than 250,000 pieces of furniture and
says you can find a Vintage Bling purchase in every home on
the Hill.
Jentz Prints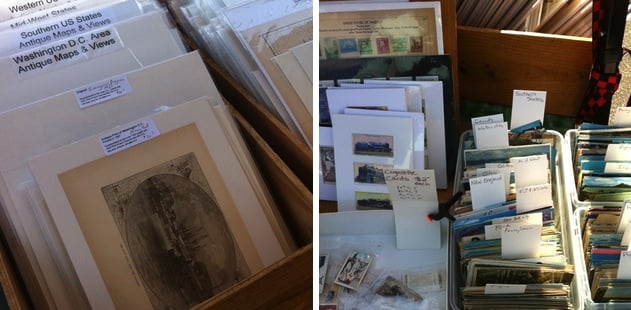 From pretty pages pulled from entomology books to cigarette cards and old stamps,
Ullrich Jentz's booth is flush with pieces that are the perfect size for that gallery wall you've been working on. We especially love the
varied maps of DC that provide visual aids to the growth of our fine federal district.
Architectural Antiques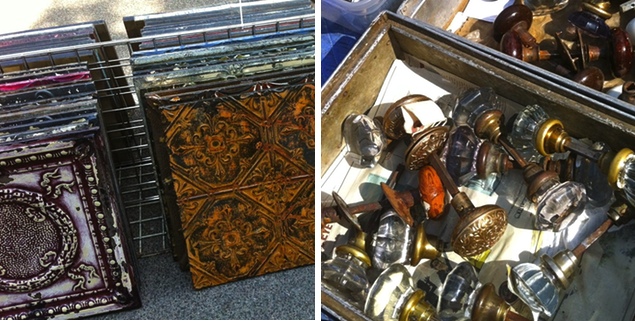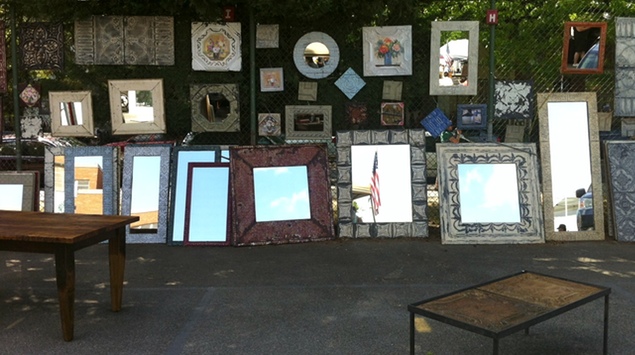 Owner
Bob Muller salvages tin ceiling tiles, door
fixtures, and grates from buildings in New York, and brings them to the
market on Saturdays
and Sundays. His wares fill a whole corner of the market with
colorfully crafted mirrors and tile murals that scream shabby
chic.
Neighborhood Furniture and Antiques (N.F.A.)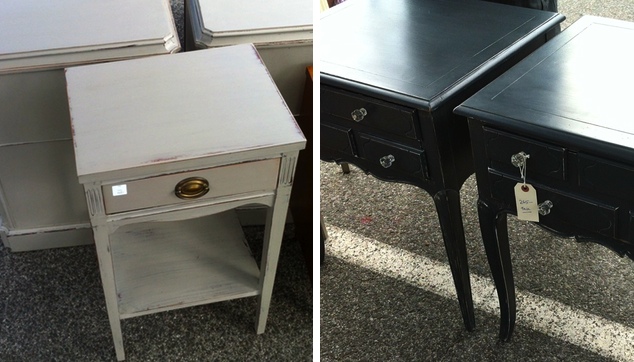 Jim Moran is a relative newcomer to Eastern
Market–he started toting his refinished antiques down from Clarksboro,
New Jersey, last
September. Moran says he's started catering to the younger
crowd by using French chalk paint on many of his vintage finds,
which range in price from $125 to $375. We're swooning over a
console made of iron and wood reclaimed from a Pennsylvania
barn.