It's always a design challenge to make the most out of your space—especially when that space is very limited. Furniture and
decor that not only looks great but is also useful is the template for small-space success.
Luckily, flea-market season is upon us, which is a
perfect time to edit your space and add some new design goodies. We've
been scouting local markets over the past few weeks and have
spotted some awesome ideas to share with you. Check out these
tips and tricks you can interpret in your own home.
Embrace a neutral palette.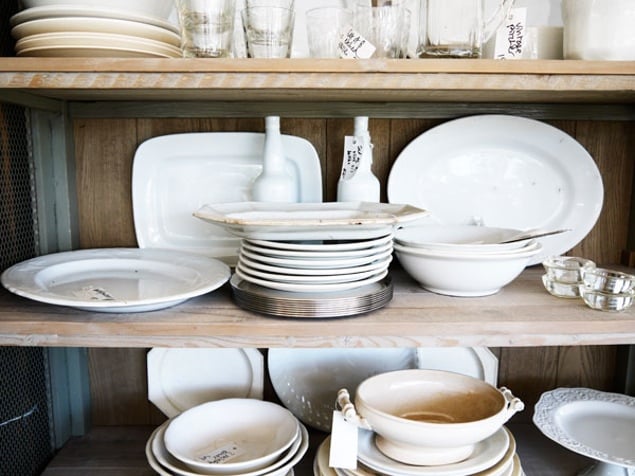 We spotted tons of neutrals at the Lucketts Spring
Market. While we certainly love color in a small space, we also love
the
foundation of a neutral palette, which gives you a chance to
use layers. Start by using neutral tones for your big pieces
of furniture, paint colors, and floor coverings. Wood accents
serve double-duty by adding warmth. Now you have a clean and
fresh palette, and your small space will appear bigger with the
cohesive foundation. You can layer color and materials in
the mix by way of accents and décor items.
Work some DIY magic on existing pieces.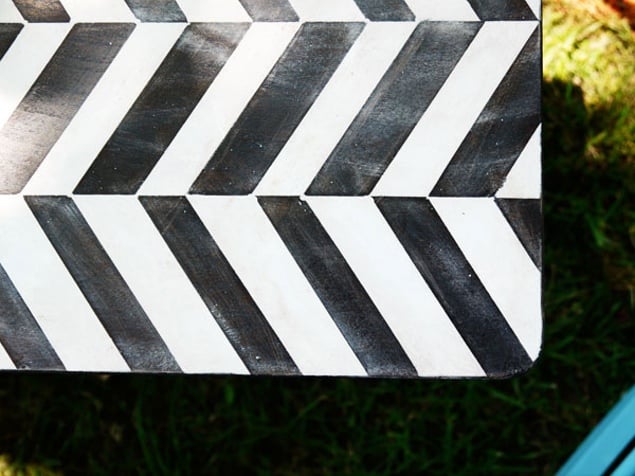 At the Bethesda flea market, we got a small-space
idea from a stall full of hand-painted furniture. Bright colors had
transformed
old pieces into fresh, cool design statements. Take a look
around your own small space. Do you have furniture or decor you
could spruce up that would in turn punch up your space? If so,
take a weekend and give your existing pieces a makeover.
Put your collections on display.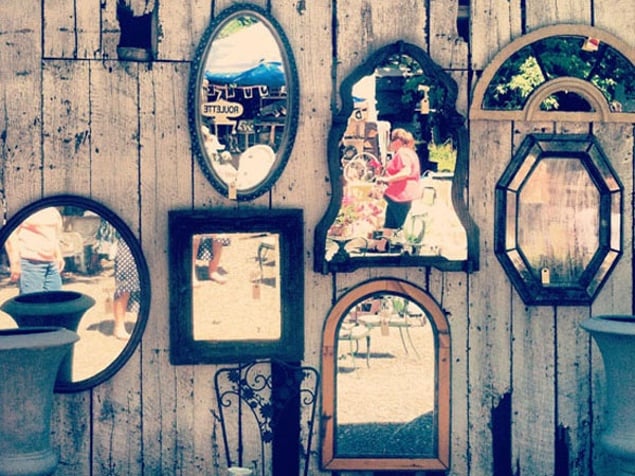 Another tip we picked up at Lucketts Spring
Market. This grouping of mirrors (all with different, eye-catching
frames) on
the side of a barn wall is a great example of how any item,
when clustered together, can become a point of visual interest.
Using at least three items can create a balanced vignette in
your home.
Use pieces of varying heights.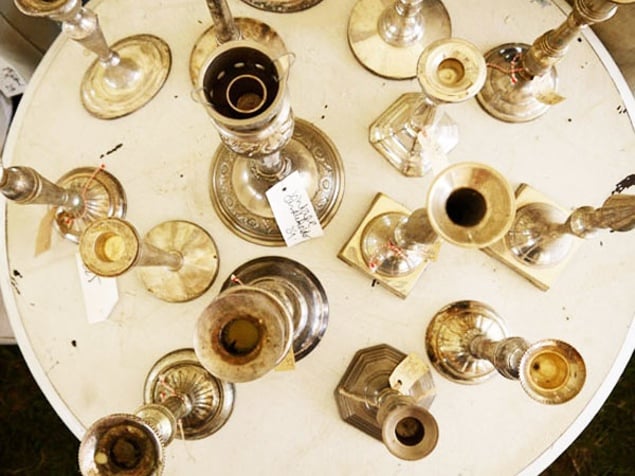 It's a simple trick, but it works. Varying the heights of the pieces you're decorating with gives a dynamic look to the space.
These silver candleholders we spotted at the Eastern Market would be great for this.
Go big with your mirrors.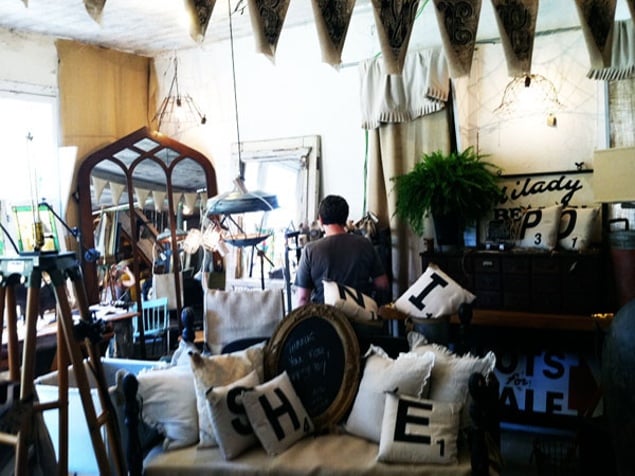 Just because your space is small doesn't mean you
can't have larger-scale accent pieces. One of our favorites is mirrors,
since they reflect the space and make it appear much bigger and
brighter. We spotted these large mirrors at the Barn Show
a few months ago; they'd be great leaned against a wall with a
smaller table in front.
A few quick tips for flea-market scouting when it comes to designing your space:
• Before you leave home, take pictures of spaces in your home that you want to buy for. Having the digital reference is a
great way to make sure you are getting the right piece for your space.
• Bring your digital camera with you to the market. Really focusing on an item and seeing it through the lens of your camera
can help you decide if you truly like the piece.
• Find new uses for old things. Don't overlook a flea-market item just because it's old or worn out. A little TLC may be all
it needs.
• Arrive early or late. If you want to get your hands
on the bulk of the lot, show up early. But keep in mind that most
vendors
will really make deals as the day wraps up, so consider coming
on the later side and snapping up some awesome bargains.
Check out these local markets this summer for more ideas:
About our new blogger: Rebecca Orlov is an integrated
producer, social media manager, and design writer. Inspired by the
300-square-foot
New York studio that she lived in ten years ago, Rebecca
started her lifestyle blog, Loving. Living. Small., in 2008 as a
place to share small-space style. Rebecca is a native
Washingtonian and currently lives in Bethesda. You can find her here:
lovinglivingsmall.com or @lovelivesmall.