Former DC-based makeup artist Crystal Hannon started her line of classic-with-a-flirty-twist dresses in 2010. "My passion is making women feel beautiful," she tells us. "That made [fashion] a very natural crossover for me." We managed to nab a few minutes with the designer, who currently splits time between New York City and Georgetown, to talk Washington style, the ins and outs of the design process, and where she turns for inspiration.
What inspired you to launch Crystal Jo?
I started Crystal Jo in August 2010 after discovering old fashion sketches I had done years ago, in high school. During my teenage years, I would spend hours in my room sketching fashion designs. I have always been creative. My mom always tells me I never played with toys as child; instead I would keep myself occupied for hours by playing make-believe or drawing. [It] inspired me to pick up a pencil again and pursue a dream I've had since I was young.
Can you describe the "Crystal Jo girl"?
The Crystal Jo collection has a very romantic feel to it. I would say it's for any woman who wants to feel extra feminine and pretty.
How do you split your time between New York and DC?
I grew up in Bowie, Maryland, and I now live in New York on the weekdays and in Georgetown on the weekends to be with my two daughters, Kayla, 9, and Savannah, 7. In New York I focus on the collection and networking with people in the fashion industry.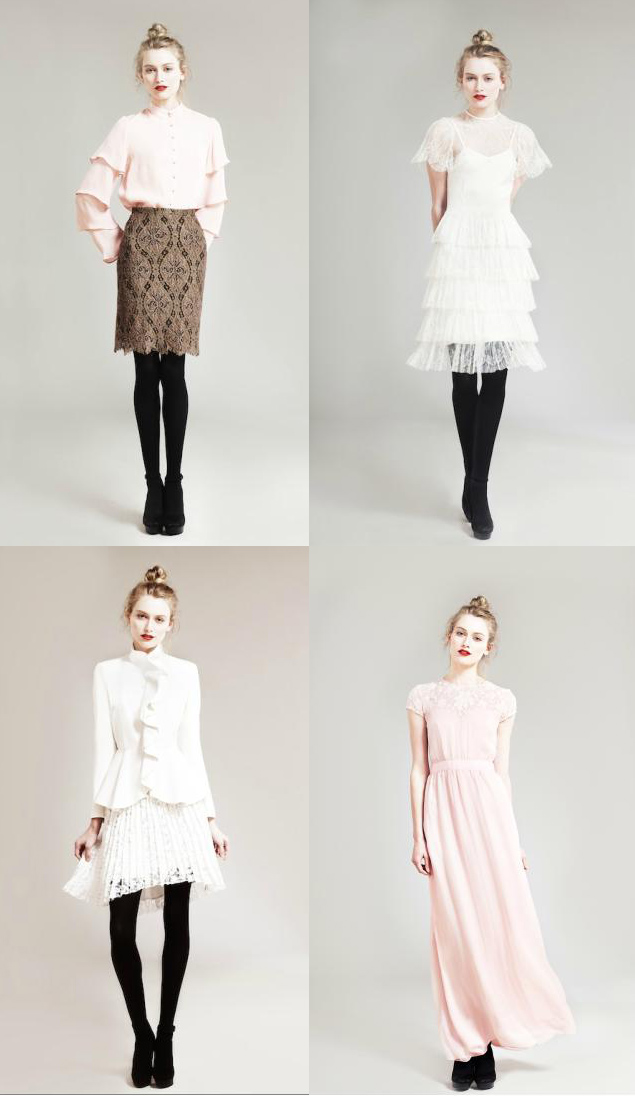 How long did you work as a makeup artist?
I was a freelance makeup artist for eight years before I started the clothing line. My main focus was bridal makeup, but I also did makeup for fashion shows, photo shoots, and television productions.
How does Washington influence your aesthetic?
DC is a great representation of style that [has class] but is also fun and flirty. Women in DC prove you don't have to wear short skirts and low-cut tops to look sexy. The women are also not overly trendy, which is refreshing. It's style that is timeless. I try to incorporate that feel into all of my designs. DC is so much more than a political town—it has a growing arts scene, great shopping, and stylish people.
What are your favorite things to do when you're back in town?
[I love] to just get a big group of close friends together and have dinner at any of my favorite restaurants: Bourbon Steak, Citronelle, or City Tavern Club.
I also love the shopping on M Street and Wisconsin Avenue. My favorite stores would have to be Neiman Marcus, Hu's Wear, Intermix, Zara, and J.Crew. My favorite hair stylist is George at George Four Seasons Salon. He always gets my color just right and never cuts too much off the ends, since I like to keep my hair on the longer side.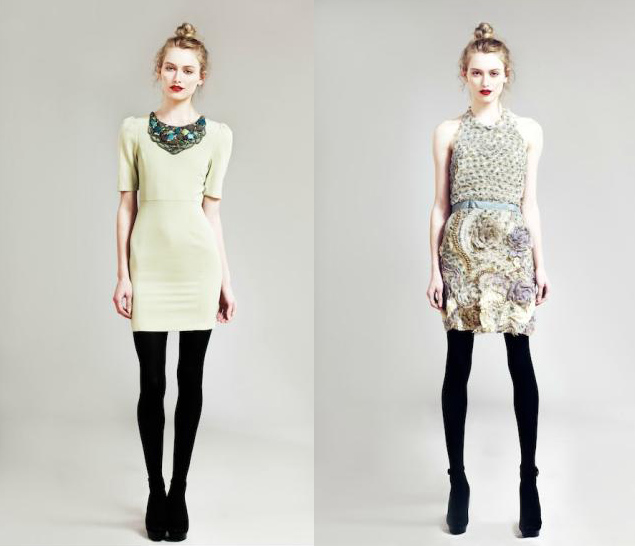 Where do you look for inspiration?
Mainly art and street style photos, [and] also Chanel, Valentino, and Nina Ricci.
What was your specific inspiration for the fall 2012 line [shown here]?
I was inspired by different textures and techniques. I wanted to incorporate different types of pleating and fabric.
Can you walk us through your design process?
You have to begin creating the collection a year in advance. For example, I am [already] working on spring/summer 2013. I always pick the fabric before I start designing. Most of the fabric I use comes from Europe. I use only top-quality fabric. It's very important to me that the clothes not only fit well but feel luxurious on.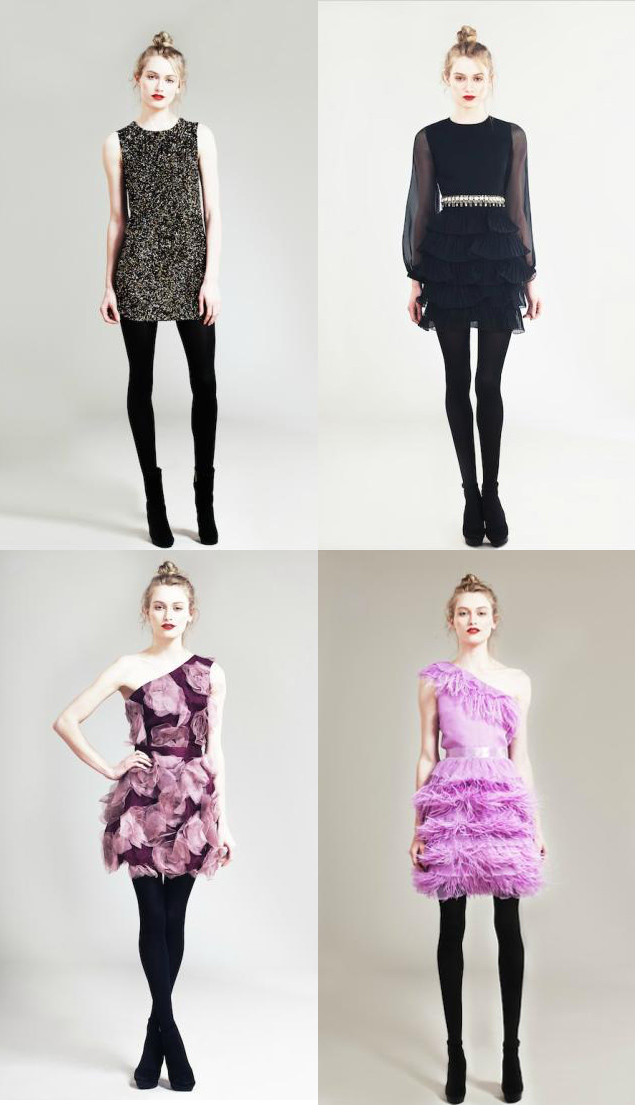 What happens after the fabric has been selected?
I start sketching the designs. When the sketches are completed, the factory in NYC will take the sketches and create CAD packages. Then the patterns are created and the first samples are made out of muslin. A fitting is then scheduled with a fit model, and then changes are made to the first sample. After all samples are corrected, a second sample is made out of the real fabric. Then the samples go to market. After the buyers have placed their orders, the pieces will be ready for production. Then the process starts all over again. There are so many details. It has been such an amazing learning experience.
Let's talk about the experience of a startup designer. Can you tell us about the ups and the downs?
There are always ups and downs when starting a business. The fashion industry is a tough business, and it takes a while to break through. It's not the type of industry where you create a beautiful collection and it gets picked up immediately by major department stores. There is so much competition, and it can take years to become a successful designer. I just feel so happy and blessed to be doing something I'm passionate about. I feel like you can never fail if you are pursuing your passion and taking risks.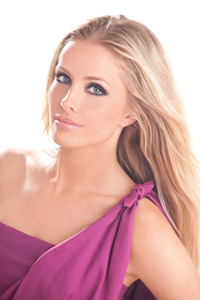 You model your own line. Do you have modeling experience? Did that impact your decision to start designing?
I did, but only because we ran out of time when shooting with the original model. I used to do lifestyle modeling in the past, but those days are behind me. I prefer to be the person who is responsible for all the behind the scene details that go into a photo shoot.
Where is Crystal Jo sold in the Washington area?
The nearest store for Washingtonians is Diva. It's a great high-end boutique in Annapolis.
What are your favorite style blogs?
I love Wayne Tippetts, Style and the City, Jak & Jil, Garance Doré, and Street Peeper.
And finally, who in Washington would you say has impeccable style?
This may sound clichéd, but Michelle Obama is pretty chic! I really liked her recent outfit at the Nickelodeon Kids' Choice Awards.