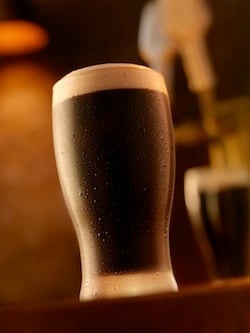 Weary staffers at Ireland's Four Fields—a 36-year-old bar that's well known in the neighborhood for its cast of friendly regulars—have been pouring from a dwindling bottle supply in the bar's final days, handing out Ziploc-bagged boules of soda bread to loyal customers and fielding requests from liquor collectors angling to buy what's left behind the bar. The drinking institution will host its final quiz night tonight, says owner Frank Hughes, who will also be auctioning off various pieces of Emerald Isle bric-a-brac that decorate the cavernous pub.
The bar—formerly called the Four Ps—has been due to close for some time now, as Hughes struggled to come to an agreement with his landlord. That landlord has reportedly been negotiating with New York-based chain McFadden's to take over the space—parent company East Coast Saloons already operates a McFadden's locally at 401 Pennsylvania Avenue. My calls and e-mails to the group have so far gone unanswered. Susan Taylor, president of the Cleveland Park Citizens Association, has also had trouble getting in touch with East Coast Saloons, according to this letter to the Alcoholic Beverage Regulation Administration (ABRA) she shared with the Cleveland Parker blog. In it, she says "McFadden's business model is inconsistent with Cleveland Park," citing language from the McFadden's DC website that describes a Rehab Party at which customers can drink away their hangovers. Taylor urges ABRA to complete a full review before granting a liquor license transfer to the chain.
Hughes says he plans to open a new, smaller Irish bar in the coming months. "I'm looking around," he says, adding that he'd prefer to stay in the District and the Upper Northwest specifically. Stay tuned.