Rooms by quick-talking interior designer
Lori Graham
are instantly recognizable for their thoughtful intermingling of
contemporary art, worldly
artifacts, and timeless vintage pieces, whirled together into
what Graham has deemed her "signature mix."
With the opening of her new showroom and design studio near
DC's Logan Circle, Graham is pulling back the curtain to reveal
the two creatives she's long been relying on to make such a mix
come to life: gallery curator
Lauren Gentile of Contemporary Wing, and midcentury furniture dealer
Mike Johnson of Sixteen Fifty Nine by MRJ. The three collaborators have finally set up shop under one roof: Showroom 1412, an innovative
one-stop design center that offers custom furniture, vintage pieces, contemporary art, and interior design services.
"We've worked together for years; we just decided to
build four walls around it," says Gentile, formerly the director of
Irvine
Contemporary, the gallery that occupied the 1412 address until
last year. Gentile had long been Graham's go-to source for
emerging and contemporary art; Johnson's Georgetown boutique,
which he closed last year before joining Graham's design team,
was her favorite spot for all things midcentury modern.
Starting tomorrow, clients and customers will be able to experience
them together—along with Graham's custom furniture line, LG
Place—in the inspirational
vignettes displayed in the 1,700-square-foot showroom.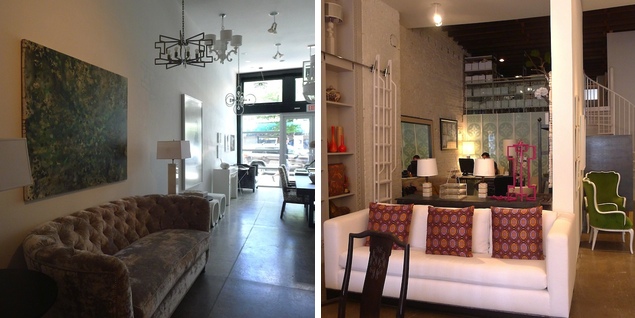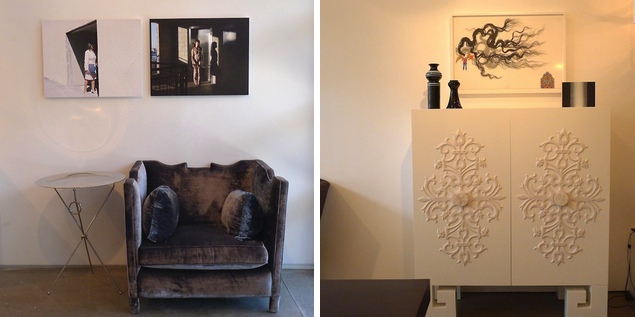 And that's just the first floor. Climb the stairs and
you'll find a meticulously designed office suite bedecked in Graham's
signature gray walls and trademark mix of jaw-dropping art and
meaningful accessories and furnishings. "Clients can come up
here to get inspired and then go downstairs to select pieces
for their own spaces," says
Kristy Byrd, the design firm's managing director. "Especially in a busy metropolitan area like this, it's great that clients can come
to this one address and take care of a whole host of needs."
"All we need now is a psychologist on staff," Gentile jokes. "Or maybe a bartender?"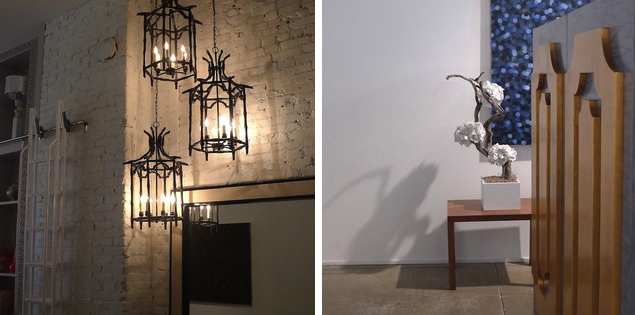 Gentile says members of the art world who had
frequented Irvine Contemporary (and Fusebox before that) will be shocked
by
the transformation of the space. "Before, it was just a big
white cube," she says. Graham kept the gallery's rotating walls
and its sliding racks but employed a floor-to-ceiling facelift
to reveal the building's antique brick walls, and installed
an enormous shelving unit with custom mirror inlay. Graham's
custom pieces mingle with lighting by Ochre, furniture by Shine
by SHO, vintage pieces sourced by Johnson, and a rotating
collection of art curated by Gentile.
"We're creating environments. You're not just coming
to see a painting in a blank gallery, or to look at design and furniture
in a place where you'd normally see it," says Gentile. "We're
recontextualizing how you experience all of these different
components and creating a space for people to see them in a new
light."
That being said, Gentile wants you to know she and her partners don't take themselves too seriously: "It's really a comfortable
place. There are, like, 700 chairs in here—come and hang out!"
1412 14th St., NW; 202-745-0118; showroom1412.com. Open Monday through Saturday, 11 to 6.