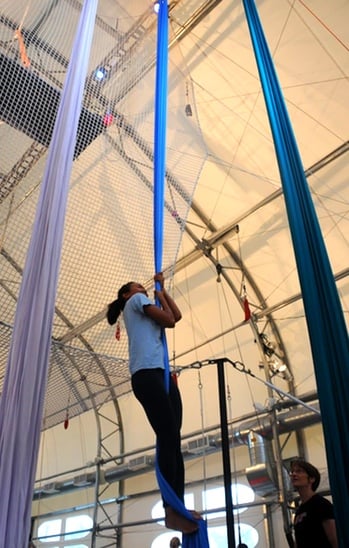 Walking into the Trapeze School New York at Southwest Waterfront last week, I turned into a little kid again. As I stood in the entrance, my eyes darted excitedly from the huge trampoline in the corner to the colorful aerial silks hanging from the ceiling to the flying trapeze 23 feet up in the air. As I signed a waiver to participate in the school's aerial conditioning class, my legs were already itching to jump from one station to the next.
Alas, the three of us who had signed up for the conditioning class on Tuesday at 7:30 PM were restricted to a small area off to the side. In the 60-minute class, personal trainer and trapeze student Mary Duke Smith explained she would walk us through various exercises using fitness balls, floor mats, kettlebells, and a low trapeze to build up our strength and flexibility. The exercises would focus on our core and arm strength, Smith explained, areas trapeze artists rely on to control their movements in the air.
As for actually flying that night, Smith quickly shot that idea down. "You won't be flying on the trapeze today," she informed us. But my pout quickly turned into a cheesy grin when she said that after performing a few strengthening exercises, we'd spend some time climbing the aerial silks.
The class began with some simple leg swings, squats, and pushups to warm
up our muscles. Then we moved onto circuit training, performing an
exercise for one minute and then moving onto the next. Exercises
included hamstring curls using a fitness ball, kettlebell squats, and
core-strengthening exercises using a resistance cable.
Then came the fun part: the aerial silk climbing. I watched as one participant climbed ten feet in the air, continually pulling her body up with her arms and wrapping the silk around her ankles and feet to keep steady. But while she moved with ease, I suffered from already weakened arms and issues with coordination. By the time I nailed down the movements and made it just three feet in the air, it was time to do more conditioning.
With my hamstrings tight and soreness already creeping into my shoulders, Smith had us do some modified pullups on a low-hanging trapeze. Then we flipped ourselves upside down on the trapeze, hanging from our knees while performing a set of upside-down situps. Frightening, yes, but I couldn't help but imagine my three-year-old self hanging out on a playground's monkey bars.
After another attempt on the aerial silks (I'd like to think this time I got the hang of it), we rounded out the last ten minutes with a cooldown and stretching exercises. As we stretched out our hip flexors, hamstrings, and triceps, Smith reminded us that while strength does play a huge role in the art of flying trapeze, being flexible is even more crucial: "You won't fly if you can't bend your back or flip yourself."
We stayed a few minutes longer to watch the pros begin their trapeze workouts, my arms aching just watching them flip through the air. The next day (and the day after, and the day after that), I couldn't believe how sore my shoulders, pecs, biceps, triceps—even armpits, for that matter—felt.
Sure, minus climbing the silks, the aerial conditioning class involves exercises anyone could do on their own. But there's nothing like working out in a circus-like playground, no matter what age you are.
And that's something Smith knows more than anyone. At the end of our class, the 49-year-old bid us adieu and scampered off, saying, "It's time for me to go play!"
The Trapeze School New York is located at the corner of Fourth Street, Southeast, and Tingey Street. The conditioning class is offered every Tuesday and Sunday for $30. Other classes offered include flying trapeze, silks, static trapeze, trampoline, juggling, lyra, and balancing and acrobatics.