Our love affair with Beth Lauren jewelry began way back in January when we featured two of her bracelets in a post about striped skirts. At first, designer Beth Silverberg was just another name to admire from afar on the Internet, and we kept visiting her site for the amazingly affordable mix of vintage elements, tough-girl spikes, and stackable chain bracelets. And then last month we discovered she resides here in the District. Win! Read on for the backstory on her line, plus a look into her U Street workspace.
Tell us about your background. How'd you end up in DC?
I'm a native Washingtonian. I lived in DC and then Chevy Chase, Maryland, until going to Pennsylvania for college. I did three years in New York, where I got a publicist and placed in multiple showrooms to get my line out on the market, but a need for a change and the pull to be closer to my family and friends brought me back down to DC.
How did you get your start in the jewelry biz?
I first started designing jewelry during my sophomore year summer, when I was home from college. I would go to flea markets and buy old jewelry, then rework it into new pieces, which I sold to local boutiques like Tabandeh, Luna, and Sassanova. After graduation, I was interviewing for jobs at fashion magazines, and I started designing again in my free time. My first big break was the "open see" for new designers that Henri Bendel used to hold. I waited in a very long line at 5 AM to present my line in front of the buyers there and was asked to do a trunk show. That was when I knew this might be something I could make work for a living.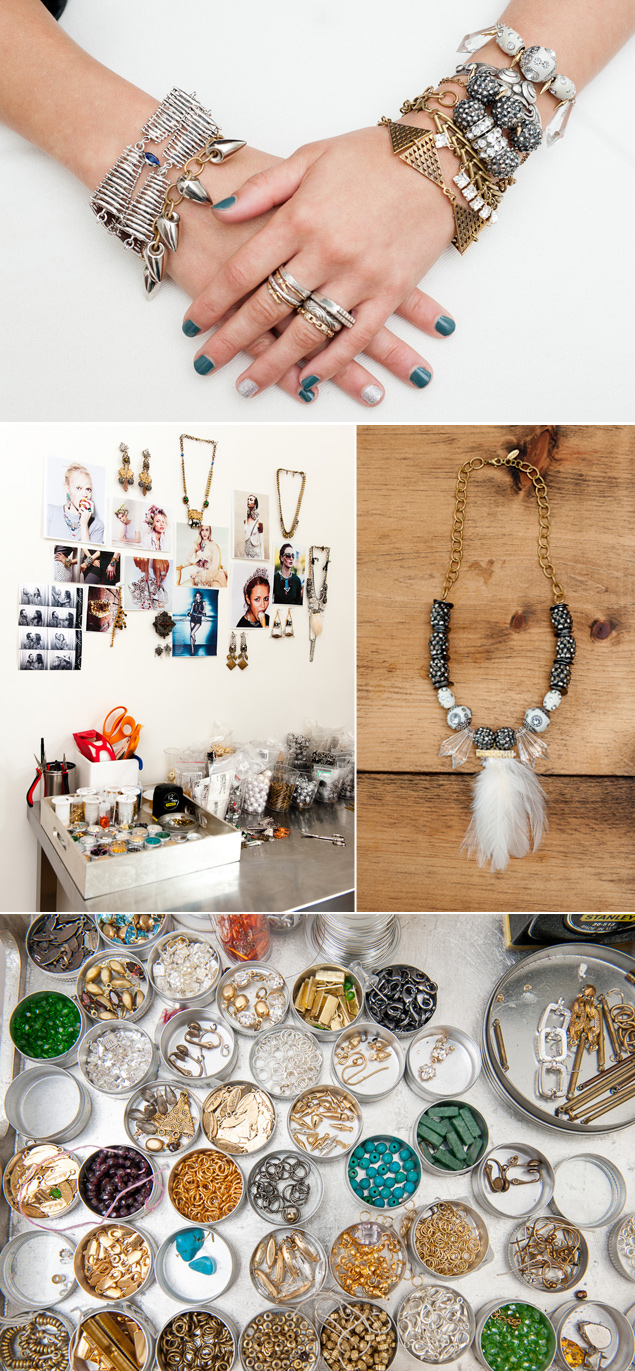 How would you describe your jewelry?
I would say my aesthetic has a downtown, tribal, vintage feel to it. I like to mix old materials with new—it gives my jewelry a richer feel. I usually work with hard brass elements, mixed chains, crystals, and some quirky parts to bring an element of the unexpected. There is definitely a tough, downtown vibe to my holiday/resort 2013 line [seen in the photos in this story]. I was very drawn to geometric shapes with those pieces.
What inspires you?
I pride myself on being right on the pulse of all that is going on with fashion, celebrities, trends, etc. So I'm really influenced by what I see on the runway, and what's being worn on the red carpet. I truly love all things fashion.
Any other jewelry designers you particularly respect or love?
Lately I've been loving Eddie Borgo and Pamela Love.
What about fashion designers?
Alexander Wang, ALC, and 3.1 Phillip Lim are my go-to designers these days.
Where is your jewelry sold?
Besides bethlauren.com, my line is carried internationally by small boutiques and larger department stores. I was most proud when I got an account with Barney's Japan. I've also sold and currently sell to other great stores like Anthropologie, Intermix, Fred Segal, and Bauble bar.
Tell us about your creation process.
I currently do all the design and production myself. I like to create based on the materials themselves. I'll source materials I think represent a good mix of old and new, and start creating simply by laying out the design. There are usually many revisions that go into putting a piece together. There's a lot of trial and error. But I have a fairly good sense now of silhouettes that work and what buyers and customers are drawn to. I pull from that knowledge to create something new and creative while staying true to the overall aesthetic of my line.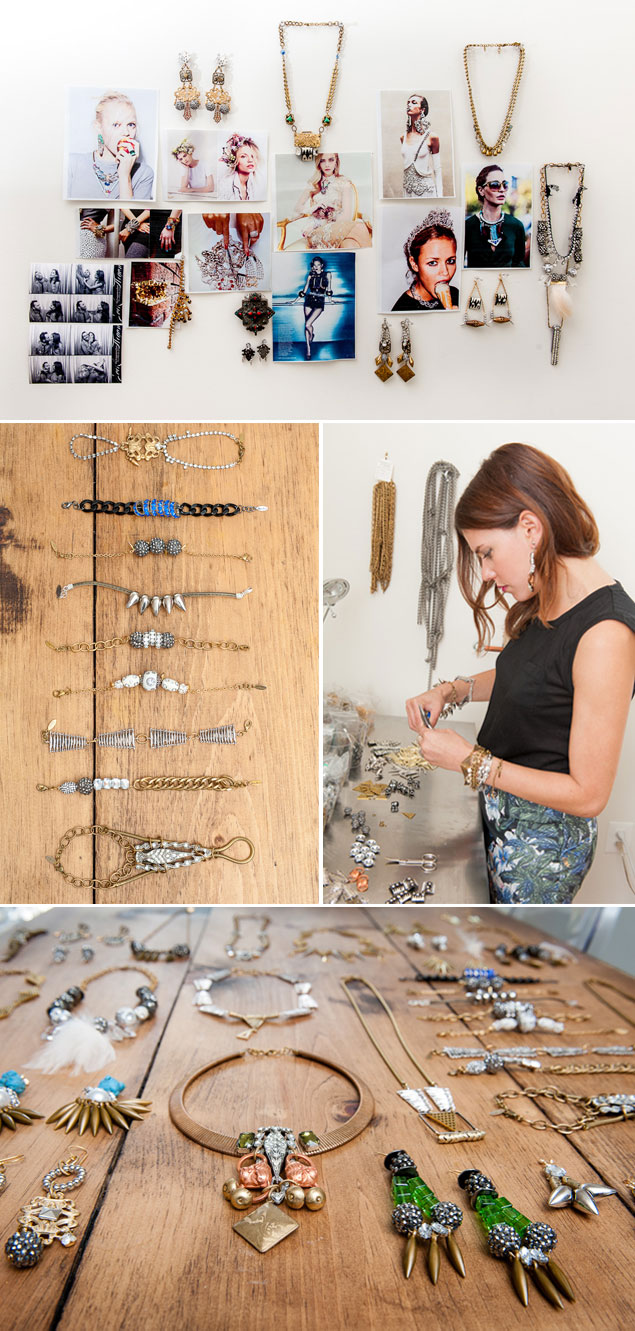 How do you shake off a spell of designer's block?
Usually by researching the market and sites that keep me in the know like the Coveteur, Vogue, Style.com, Refinery29, Who What Wear, street style blogs, and red carpet fashion. And a constant flow of great new materials always helps.
What are your current favorite pieces?
The pieces I wear the most right now are the Gabbro hand piece ($176), the Javanese bracelet ($66), and the Charnockite earrings ($132).
If a customer is going to nab just one Beth Lauren piece, which should it be?
I think the Himalayan bracelet ($66) is a great layering piece for the wrist. I like to mix it with a ton of other bracelets. It's the perfect combination of tough and glam.
And finally, any favorite DC shops or restaurants to share?
Some favorite shops are Muleh, Barneys, Zara, and the H&M in Chinatown (for the pink label!). For bars and restaurants I'm definitely into neighborhood spots like Pearl Dive Oyster Palace, Blackbyrd, Vinoteca, Estadio, American Ice Co., and Standard. And I have a serious love of sushi, so Kushi and Sticky Rice are two of my favorites.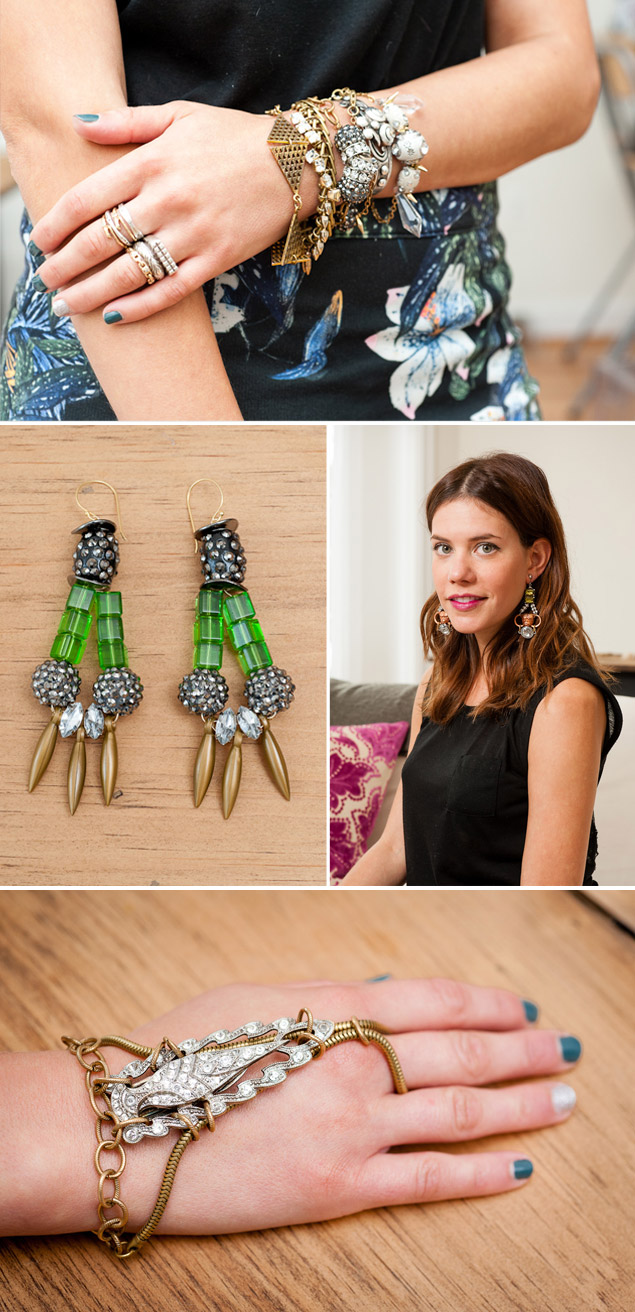 All photographs by Andrew Propp.
See Also:
Sola Biu of Onyx Feather
Crystal Hannon of Crystal Jo
Mera Anwar of Miri