The U Street/Shaw neighborhood is known for its vibrant night life and good eats, but it's been lacking in one area: fitness.
That changes come Monday, when Off Road Cycling opens, bringing the growing world of indoor cycling to U Street. The 2,000-square-foot, two-floor space is the third indoor cycling studio to hit the District this year alone. It joins Biker Barre in Capitol Hill and the yoga-cycle studio Sculpt DC in Penn Quarter, which opened last month.
Like most indoor cycling studios, Off Road Cycling will offer classes that fuse two types of workouts together. However, they'll be the first in the area to add TRX Suspension training and boxing to the mix. Another unique feature is that in addition to the typical high-energy cycle session set to music, cyclists will spin their wheels along to a virtual ride projected onto the wall, bringing the outdoor courses inside.
"It allows us to offer a wide variety of classes," says co-owner Avital Wenger. "We wanted to make it so anyone would find something they like here."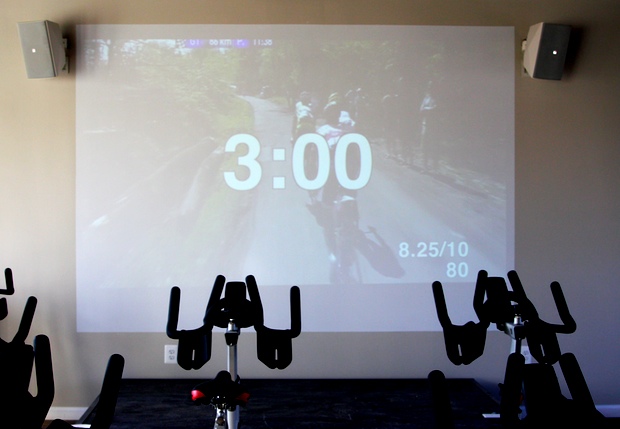 Classes include Cycle Circuit, which will involve 45 minutes of cycling upstairs and 30 minutes of strength and plyometric circuit training downstairs; Cycle Core, a 50-minute ride plus core workout; Off Road Boxing; and Off Road TRX. For newcomers to indoor cycling, both Wenger and co-owner Tammar Berger will teach Off Road 101, a 30-minute intro class that's $10.
Serious cyclists and athletes may want to check out Sunday Sufferfests, which are one- to two-hour cycling sessions in which riders can "expect to sweat and work hard." Students will follow a virtual ride with the help of an instructor.
Come January, cyclists can escape the cold and iffy road conditions by signing up for Off Road's ten-week winter training program. "It's really designed to help you progress through the season," says Berger. "There's testing and some yoga and stretching built in to go along with the cycling. It gives you a full-body workout, and helps you train for that next push."
And don't worry about renting shoes. The Schwinn bikes are equipped with three-way pedals for sneakers, indoor cycling shoes, or mountain bike shoes. The bikes also feature power meters, which measure your watts, RPM, heart rate, and calorie-burn.
Off Road DC will host an open house on Sunday, October 14, from 9 to 5. Thirty-minute classes will be held throughout the day, available on a first come, first served basis. The grand opening is October 15. Individual classes are $20.
Off Road DC. 905 U St., NW; 202-681-1319.