The Capitol Riverfront neighborhood is already home to Yards
Park (voted one of the
best new parks in America by Atlantic
Cities),
Nationals Park, the
Fairgrounds concert and events
space, and the coming-in-2013 complex of restaurants and retail
that'll include Neighborhood
Restaurant Group's Bluejacket Brewery and Buzz Bakery. But as
of next week, the area
south of Capitol Hill is also getting a brand new, $12 million,
three-block park,
complete with an ice rink, a large-scale cube for art
installations and light displays,
two water features, and a new restaurant helmed by Barracks
Row restaurateur
Xavier Cervera.
Canal Park is the product of a public/private partnership between the city and developers
William C. Smith and Co. and JGB, and takes up almost two acres between I, M, Second,
and Third streets, southeast. The design of the park—LEED-certified as gold for its
water reuse strategies, vegetated roof surfaces, and heating and cooling systems—was
primarily led by OLIN, a landscape architecture and design firm based in Philadelphia
and Los Angeles. Artist
David Hess also designed water-inspired sculptural components, which were installed in August.The
project dates back to the 1990s, when developers first designated the area as green
space in homage to its roots as a waterway. In 2004, Mayor Anthony Williams held a
public competition for its design. "All of our citizens deserve great open spaces,"
said Williams at the time. "Canal Park will become the heart of the mixed-use, mixed-income
neighborhood that is emerging in what was once a forgotten part of our city." Although
the park was supposed to be the first public park built on the Anacostia waterfront
and was scheduled to open in 2008, bureaucratic woes and other delays put it four
years behind schedule, and made it a runner-up to the larger Yards Park. "After years
of seeing this park under construction, I can guarantee that there's going to be a
community-wide exhale when the park is finally finished and we can enjoy it," says
ANC commissioner David Garber.
Taking up most of the park's block closest to M Street is a new ice rink in a figure-eight
shape that snakes past the Park Tavern, the newest restaurant from the owner of the
Chesapeake Room, Senart's, Molly Malone's, and Pacifico Cantina. The restaurant doesn't
have a website yet; we'll update if and when we get more information on what it plans to serve.
The Park Tavern is also aiming to become DC's first LEED gold-certified dining establishment.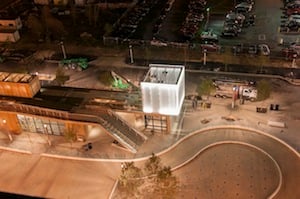 The DC Commission on the Arts and Humanities has been working with local artist and
professor
Bruce McKaig on the 20-foot transparent cube that sits on top of the restaurant. McKaig will curate
the art and video installations that will be projected onto the cube's exterior, and
he also created the first work, scheduled tentatively to debut in early December.
The installation fuses music, video, and photography, including time-lapse images
of the neighborhood McKaig took from a rooftop and portraits of longtime area residents
who live in the nearby Capper Senior Center. The work also includes an original soundtrack
by
Adrienne Penebre. "Art is one of the ways a community grows and shares," says McKaig. "In a neighborhood
that's had so much change and has so much history, we wanted to have something that
speaks both to and for the community."
Both Canal Park and the Park Tavern officially open in a ribbon-cutting ceremony by
Mayor Gray next Friday, November 16. On Saturday, November 17, the park hosts a family
day with performances by
Justin Trawick, a marching band, and more; face-painting; ice-skating (admission is $8, skate rental
is $3); and fitness classes. For more information, visit the Canal Park website.