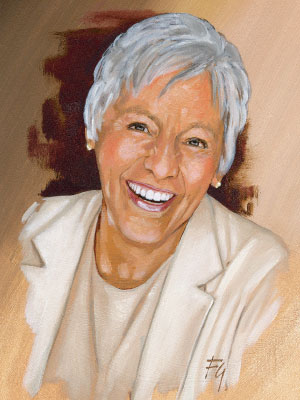 When Charito Kruvant and three female colleagues started the enterprise that became Creative Associates International in 1977, none of them had a credit history or business background. So when they explained their company's goal—improving early education and community development overseas—they were advised to start a nonprofit and seek contributions instead of contracts. It took "three pounds of paper, 18 months of walking the halls, and several rounds of being asked to rewrite the application" to get their first government contract, Kruvant recalls.
At the time, the US Agency for International Development had a $100,000 limit on special contracts. Creative Associates' initial contract was for $99,999. It was the first women-owned company to earn 8(a) status—a designation that helps minority-owned firms compete for government contracts.
Kruvant was born in Bolivia and raised in Argentina. After graduating from college there, she came to the US and earned a master's in early childhood education from the University of Maryland. She was working in that field when she and her colleagues decided to make use of their skills internationally.
Today, Creative Associates works for several federal agencies involved in international development as well as the UN and World Bank. The company has worked in 85 countries—from providing job training to former gang members in Guatemala to supporting government agencies rebuilding Liberia. Kruvant has chaired the board of trustees of the Community Foundation for the National Capital Region, served on the board of the Summit Fund of Washington, and been on the executive and grants committees of Venture Philanthropy Partners.
She still finds great satisfaction working in difficult places like Afghanistan: "Seeing girls reading, talking, and laughing, raising their hands—two years ago, they were afraid to laugh."