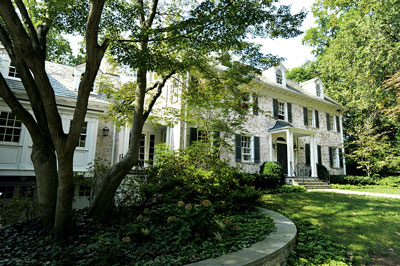 IN DC
An eight-bedroom, nine-bath Beaux Arts-style home in Kalorama sold for $5.7 million to businessman Thomas Raffa and his wife and business partner, Kathy. Built in 1930, the house has an elevator, four-car garage, and three-tiered garden. It originally listed for $8 million. The couple runs the consulting firm Raffa, which provides accounting, technology, and other services to nonprofits.
Judge Kathryn Oberly sold a nine-bedroom, eight-bath Colonial in Massachusetts Avenue Heights for $3.9 million to economist Keith Hennessey. The 6,300-square-foot house has a heated swimming pool. Oberly is an associate judge for the District of Columbia Court of Appeals. A former economic adviser to President George W. Bush, Hennessey is a lecturer at Stanford's law and business schools and writes about economic policy on his blog, KeithHennessey.com.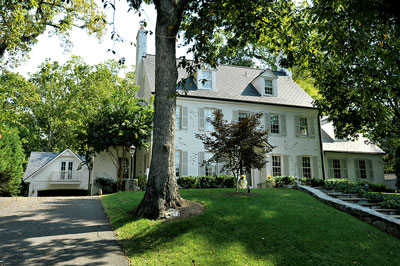 IN MARYLAND
Lawyer Paul Perito and his wife, Robin, bought a four-bedroom, seven-bath Colonial in Kenwood for $3.5 million. It has an elevator, a master suite with two bathrooms, and a carriage house. Less than three miles away, they sold their five-bedroom, six-bath Colonial on Newlands Street in Chevy Chase for $3.3 million. Built in 1908, that house has a wraparound porch and an outdoor pool with a pool house. Perito is president of Star Scientific, a research and pharmaceutical company that aims to reduce the toxins in tobacco products.
Physicians Peter Pinto and Elizabeth Tanzi bought a five-bedroom, seven-bath house on Woodlawn Avenue in Kenwood for $3.2 million. The French Provincial-style home has a sauna, five fireplaces, and a library with a spiral staircase leading to a game room. Pinto is a urologist at NIH's National Cancer Institute. Tanzi is codirector of laser surgery at the Washington Institute of Dermatologic Laser Surgery.
Lawyer Ted Ullyot sold a five-bedroom, seven-bath house on Broad Branch Road in Chevy Chase for $2.2 million. It has four finished levels and a master bath with a steam shower and soaking tub. Former White House counsel to President George W. Bush, Ullyot has been Facebook's general counsel since 2008.
Restaurateur Mark Kuller and catering executive Kristin Connor bought a seven-bedroom, eight-bath house on Broad Street in Bethesda's Brookmont neighborhood for $1.5 million. It has an in-law suite and floor-to-ceiling glass walls. Kuller is the owner of Proof and Estadio, both in DC. Connor is managing partner of Miami-based Whisk Gourmet Food & Catering.
IN VIRGINIA
Businessman Alexander G. Green III bought a five-bedroom, seven-bath Colonial on Canby Road in Leesburg for $2.7 million. On 23 acres, the house has a pool and seven fireplaces. Green is president and CEO of AH&T Insurance, an insurance brokerage and consulting firm in Leesburg.
Conservative media watcher Brent Bozell III traded up. After selling a five-bedroom, four-bath home on Neptune Drive in Alexandria for $950,000, he spent $1.5 million on one in Great Falls. The new house has five bedrooms, five baths, and a three-car garage. Bozell is president of the Media Research Center, a watchdog group in Alexandria.
Some sales information provided by American City Business Leads and Diana Hart of TTR Sotheby's International Realty.
This article appears in the November 2012 issue of The Washingtonian.