IN DC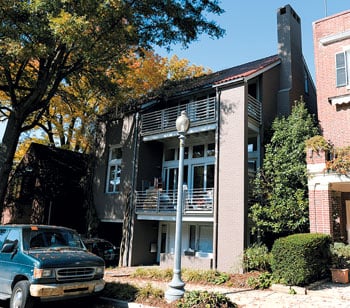 Executive Mark Schoenfeld and vet-erinarian Dondi Dahlgaard bought a five-bedroom, seven-bath house in Berkley for $4.6 million. The French-country-style home has three levels, an elevator, a game room, a butler's pantry, a pool, a wraparound flagstone terrace, and a steam shower and two-person soaking tub. Schoenfeld is a managing director at the Carlyle Group; Dahlgaard is the author of DogAge: How to Keep Your Dog Youthful and Healthy.
Lawyer Frederick Whitten Peters bought a seven-bedroom, six-bath Victorian on Newark Street in Cleveland Park for $3.6 million. The 6,200-square-foot home has a heated pool, media room with large-screen projection television, exercise room, and wine cellar. Peters was Secretary of the Air Force and principal deputy general counsel at the Department of Defense during the Clinton administration. He's now at Williams & Connolly specializing in civil and criminal litigation related to national security.
Architect Suman Sorg sold a five-bedroom, four-bath house in Kalorama for $3.2 million. The contemporary home has six levels, two fireplaces, and a landscaped back yard with a pool. Sorg is an award-winning architect whose firm has designed US embassies in several countries as well as the Kovno Ghetto exhibit at the US Holocaust Memorial Museum and the renovation of the Library of Congress's Coolidge Auditorium.
IN MARYLAND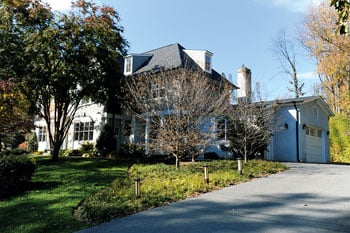 Lawyer Jonice Gray Tucker and husband Stacy Tucker bought a five-bedroom, five-bath house on Wehawken Road in Bethesda for $2.1 million. The Arts and Crafts-style home has nine-foot beamed ceilings, a butler's pantry, a library, and a two-car garage. Jonice Gray Tucker—daughter of DC mayor Vincent Gray—is a partner at BuckleySandler specializing in federal and state enforcement-agency investigations and litigation.
Author David Brooks sold a five-bedroom, six-bath house in Bethesda for $1.7 million to George Washington University professor Young Kwak and lawyer Kay Han. It has a library, art studio, rec room, and two-car garage. Brooks, a New York Times columnist, has written three books, most recently The Social Animal: The Hidden Sources of Love, Character, and Achievement. Kwak is an associate professor of project management in GW's Department of Decision Sciences; Han works at the Law Offices of Fred B. Goldberg, specializing in dental malpractice.
IN VIRGINIA
Lawyer Patrick Philbin bought a new six-bedroom, seven-bath house on Woodley Road in McLean for $2.6 million. It's on a wooded lot and has a finished walk-out basement, a butler's pantry, dual staircases, and a three-car garage. Philbin, a partner at Kirkland & Ellis, was a legal adviser on national-security issues at the Department of Justice during the George W. Bush administration.
FCC commissioner Ajit Pai and his wife, physician Janine Van Lancker, bought a six-bedroom, six-bath Craftsman house on Old Dominion Drive in Arlington for $1.4 million. On a half acre, it has a library, a 42-foot heated lap pool, wainscotting, walk-in closets, and a whirlpool tub. Pai was appointed by President Obama to the Federal Communications Commission in May. Van Lancker is an allergist and assistant professor at GW's School of Medicine and Health Sciences.
Some sales information provided by American City Business Leads and Diana Hart of TTR Sotheby's International Realty.
This article appears in the December 2012 issue of The Washingtonian.