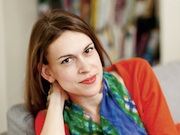 The Washington area has temporarily lost one of its favorite bartenders to the burgeoning dining scene in Richmond, Virginia. But fear not, says former Columbia Room bartender Katie Nelson—she will be back in town this spring.
Through March, Nelson is working on her first official consulting gig at
the brand new Rappahannock Restaurant, an oyster bar and eatery at 320
East Grace Street in Richmond. Owners Travis and Ryan
Croxton are the guys behind Rappahannock River Oysters—they also
have a tasting room called Merroir in Topping, Virginia, and a wildly
popular bivalve bar at Union Market.
Nelson says she has been working closely with executive chef Dylan Fultineer
to create drinks that pair well with his seafood-focused menu. "There are some amazing
fish dishes," says Nelson, adding that the cocktail menu will not focus
on any particular spirit (though she is excited to spread the word about
Japanese whiskey in Richmond). Mostly, though, "I just want to do
really good drinks with really good ingredients."
Aside from working
behind the bar during service, Nelson has been picking out the spirits
for the restaurant, and conceived of and standardized the drink recipes.
She is also training four local 'tenders and hopes to add one or two more before heading back to Washington this spring.
So
what will she do when she gets back to town? We regret to tell you
Nelson is not ready to spill those details yet, though she said she
has no plans to work at the Union Market bar. We look forward to
learning more.
You might also like:
Behind the Bar at Range With Owen Thomson (Video)
Imbiber's Agenda: The New Shaw/Mount Vernon Square Bar Crawl