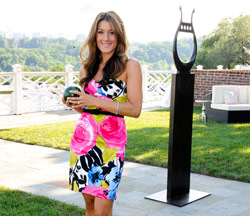 Just in time for this weekend's Gilt City Warehouse Sale, we caught up with Marissa Schneider, the gal behind Gilt City DC, to get the scoop on her beauty favorites. As a curator for the localized deals site, Marissa spends her days scouting the city's best new products, venues and businesses, and she knows a thing or 20 about the best beauty regimens on the market. Read on for her must-haves.
1) Trina Sandra Essential Travel Valet
+ Pencil Case
Marissa says: "Trina makeup cases keep everything organized, as I'm true cosmetics collector! I bought several of these cases at last year's Gilt City Warehouse Sale, and am planning to buy a few more as gifts when the sale comes back to DC this week." $24.95 at Amazon.
2) Natura Bisse Diamond Extreme Eye lift cream
Marissa
says: "I use this morning and night to keep fine lines away and help
manage dark circles after long hours. Known for 'diminishing signs of
fatigue and stress,' it has a permanent place in my beauty arsenal." $195 at Neiman Marcus.
3) R. Nichols candles
Marissa
says: "I keep his Cruise Candle, which smells just like orange blossoms
in the breeze, next to my vanity. It's just such a pretty scent when
you're getting beautified." $45 at R. Nichols.
4) Cover Girl Clump Crusher by LashBlast Mascara
Marissa
says: "I don't feel like myself without long, lush lashes. Admittedly,
I'm the girl who puts on mascara to run to the grocery store or take a
spin class. I've tried everything from Chanel to Dior to MAC to
drugstore brands, but I keep coming back to Cover Girl. The new Clump
Crusher in the neon green tube is winning out over other brands." $8.99 at Ulta.
5) Malin + Goetz Rum hand and body wash
Marissa
says: "I LOVE Malin + Goetz Rum hand and body wash—and my husband loves
it as much as I do. It has a clean, refreshing scent and doesn't dry
out skin with harsh detergents. It's a staple in the bathrooms at my
house, and I pack the three-ounce size for travel. I pick this up at
Nectar Skin Bar in Georgetown, where I go for regular eyebrow
appointments and to stock up on products." $20 at Barneys.
6) Oribe Dry Texturizing Spray
Marissa
says: "Even on a desert island, I would want volumized hair. This
product gives texture and volume, has an amazing scent, and doesn't make
hair greasy." $39 for 8.5 ounces at Neiman Marcus.