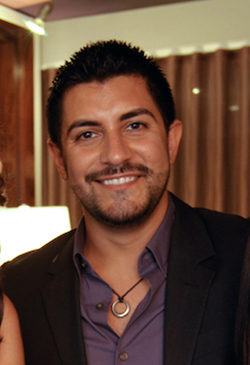 Brow-sculpting genius and cosmetics guru extraordinaire Adrian Avila is Nectar Skin Bar's in-house makeup artist. Trained by the one-and-only Erwin Gomez, Adrian's worked his magic on a laundry list of boldface notables, including Cynthia Nixon, Katherine Kennedy, Rosario Dawson, and Keyshia Cole (to name-drop just a few). And Adrian's artistry isn't his only skill: One of his services includes a makeup bag checkup, during which he'll paw through your collection to check expiration dates and analyze your colors in relation to your skin tone, then toss the missteps and give you a checklist of what you really need to get. Pretty useful, right? So obviously Adrian's formed some opinions on what a girl needs, stat. We asked him to divulge his top five essentials—read on to see his picks.
1) Becca Luminous Skin Color Ultrasheer Foundation
Adrian
says: "This is a lifesaver as the seasons start to change—with SPF 25,
vitamin B, and coconut oil, it will help keep your skin soft and smooth.
Always match the shade to your neck." $42 at Sephora.
2) L'oreal H.I.P. Studio Secrets Professional Eyeliner
Adrian
says: "My cheap and fabulous secret. It's great for lining your upper
lash line for drama, and it stays put and costs half as much as similar
ones out there." $8 at Drugstore.com.
3) Vbeauté Lip Spread Anti-Age Tinting Lip Gloss
Adrian
says: "It's paraben-free, goes on clear, and changes color to pink,
burgundy, plum, peach, or red. It's different on everyone, yet it always
manages to be perfectly flattering." $28 at Vbeauté.
4) Kevyn Aucoin Beauty the Volume Mascara
Adrian says: "We sell out of this as soon as we get it in. It volumizes and lengthens like nothing else I've ever tried." $25 at Cusp.
5) Caudalie Teint Divin Tinted Moisturizer
Adrian
says: "This is a complexion enhancer that instantly moisturizes, evens,
and illuminates. The texture will self-adjust to a natural finish—this
is a must if I'm doing someone's makeup after a facial." $32 at
Caudalie.