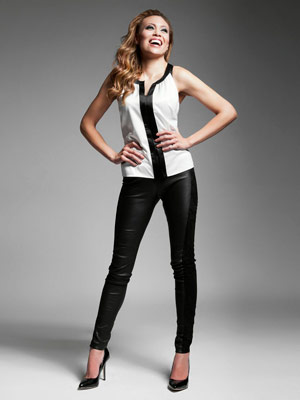 Alyson Cambridge is, of course, most famous for her spectacular voice: She's a professional operatic soprano who's in town for her fourth season with the Washington National Opera, performing as Julie in the Kennedy Center's Show Boat, which opens Saturday.
Turns out this Arlington native is also a bit of a fashionista. She's a brand ambassador for contemporary designer Monika Chiang and iconic jeweler Chopard, and girl likes to rock a look. We chatted with the singer recently about her personal style, and—bonus!—scored some of her insider secrets on what to wear for an opening-night performance.
How did you become interested in fashion?
I've always been into fashion since I was a little girl. I loved reading fashion magazines. I had to wear a uniform through eighth grade, and then when I got to high school I was so excited to be liberated from the uniform and be able to experiment and try new things. I was always very keen on whatever the new trends were at the time. I remember in high school I would come out for my dad to take me to school, and he would literally step out of the car, point his finger, and say, "Get back in the house!" because my skirt was too short. And I would say, "Dad, that's what everyone's wearing!" I would get made fun of because I was always wearing these tall or bright funky shoes and I always liked to experiment. But as much as I liked trends, I always wanted to have something that was a little different and uniquely Alyson. So I've tried to carry that through my fashion sense as I've evolved as a person and as a performance artist. I try to be conscious of the environment I'm in and wear things that are appropriate, but I also like to show my own personal style.
And what is your personal style?
I tend to be drawn to color; I'm drawn to things that are sophisticated and chic but have an edge to them. I might wear a form-fitting, classic, structured dress, but I'll add some heels in a bright color or that have some spikes. Something that makes it pop and makes it a little different.
Any signature beauty looks?
I like to mix it up. I change up
my hair all the time—sometimes it's spiral curls and really big and
wild, sometimes it's sleek and straight, sometimes it's loose waves. I
think it's fun to change up your look, and I think you should change up
your hair and makeup depending on what you're wearing.
I love what's
going on right now with a really bright fuchsia or orange lip with a
dewy face, light blush, and a nude eye. It's so fresh and young
and hip.
Where do you like to shop when you're in town?
Well,
I did get into trouble at Cusp in Georgetown the other day—I think I
walked out with two or three Diane von Furstenberg dresses and tops! I
love Intermix, too.
Your thoughts on DC's style?
DC
compared with New York is a bit more conservative, and DC tends to be
more preppy. But then every now and then I see someone taking a fashion
risk. They're trying to step up the fashion game, and I think that's
great.
If you could trade closets with anyone, who would it be?
Kerry
Washington. She's been on the red carpet a lot recently, and pretty
much everything I've loved. She has looked pretty flawless. She tends to
choose color, and she always looks sophisticated, but it's unique. And
Jessica Alba—I like her aesthetic. She's not as out there as some of the
others, but for the red carpet she really pulls it together. I like her
casual style, as well.
What are your favorite spring trends?
I
love all the pastels! I'm really into the mint green—that tends to be a
good color on me. I love the really girly, flirty dresses with the
conservative, structured top and the flare at the waist.
And I love me a
good white jean. I think that is a staple for every girl's wardrobe for
the summer. I have three pairs! I'm not sure I can commit to patterned
denim—I have two pairs of pastel skinny jeans with floral patterns, and I
haven't been able to commit to wearing them yet. I'm not sure it's
totally me.
Favorite designers?
I love J. Mendel. I absolutely love his structure and his fit, and I've worn several of his gowns for events and concerts.
I
work with Monika Chiang [as a brand ambassador]. I was introduced to
their head of PR and their head designer about five months ago, and the
design of that line is very much my own personal aesthetic on an
everyday basis. It tends to be chic and sophisticated, with an edge to
it.
I'm also working with Vivienne Tam. I really love all of her
stuff. I went to her runway show at New York Fashion Week back in
February and it was such a thought-provoking, edgy, bold collection. It
was really, really amazing. I'll actually be wearing one of her designs
for opening night.
Speaking of opening night: Can you share some of your style tips for what one should wear to the opening of a show?
For
the ladies, you're probably going to go out somewhere nice for dinner
before the show, and then you get there and have about 20 minutes to
mill around before you go to your seat. It's really not just about going
to the show—it's also a social occasion. So I think an opening night at
the opera is a night when you can—and should—bring out your best. I
think its nice for the ladies to wear something that's a conversation
piece, perhaps a bold statement jewelry piece. Or wear that dress that
you always think, "Oh, I'm not sure what the right occasion is; is it a
little bit too much for this or that?" Well, for the opera, no, it's
not. That's the time.
There's nothing wrong with a black dress,
but if you are going to go safe with black, then accessorize with a
great clutch, a fabulous pair of shoes, or a great piece of jewelry.
For
the guys, I think a nice fitted dark suit is great. I'm personally a
fan of the European cuts that are more tailored and structured—I know
that's not necessarily for every guy, but I do think it's a great look.
You should wear a tie. Even though in general the dress code for
attending events has gotten more relaxed over the years, for an opening
night it's not just other people going to see the show—all the major
donors and patrons and artistic administrators are also in attendance at
opening night, and it's a really big celebration. The artists have been
working for a month, and this is our time to really show all the hard
work we've been putting into this, so I think it's really nice when the
audience steps up their game.