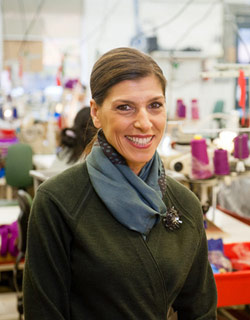 Searching for the elusive flattering swimsuit isn't exactly the stuff of shopping dreams. It's right up there with jean shopping and bra finding—which is to say discouraging and sometimes downright miserable. But it shouldn't have to be, right? There must be a better way.
That's why we called upon Karla Colletto. With more than 25 years of swimwear design experience under her belt, the Vienna-based designer—whose pieces are sold at such luxe retailers as Neiman Marcus, Bergdorf Goodman, and Net-a-Porter—creates inventive, sophisticated swimsuits that pair cutouts, futuristic fabrics, and whimsical detailing with top-level technical construction. Because you can't bring Colletto herself along on your next swimsuit shopping mission, we present the next best thing: her secrets to finding the perfect piece.
1) Look for exceptional customer service.
First things first. "Before you even get to the suit, you need to choose a store that has good customer service," Colletto says. "If they're knowledgable, they can really help you choose the most flattering style for your body type."
2) Focus on finding the correct fit.
What that doesn't mean is agonizing over the size on the tag. It's just not accurate. "I think women have to understand that the sizing for suits isn't always the same," says Colletto. "Keep an open mind and try different sizes. Each brand might run differently. It's best to not fret about the size itself but focus on how the suit fits you. And it should fit like a glove. There shouldn't be any bagging or straining. It should feel comfortable both lengthwise and around. And think about what kind of support you want to have in that fit. If you are large-busted, maybe you want to have an underwire to keep a nice body shape."
3) Try on a range of styles, colors, and patterns.
You might
not be able to tell what will work on you until you put it on.
Experiment with different silhouettes, hues, and prints to find your
best bet. Says Colletto: "We sell a one-shouldered suit, and it was
really surprising to find that women with a larger bust could wear that
suit and it was really flattering."
4) Consider your lifestyle.
"If
you're a swimmer, you might want to choose a suit with straps that
crisscross in the back, a tank, or a high neck that would allow for
active swimming, but if you are going to lounge by the poolside, you
might be able to wear a suit with a plunging neckline. Or maybe you're
running around with the kids. Choose a suit that functions the way you
need it to," explains Colletto.
5) Invest in quality.
And here's where Colletto's experience really shines. Her tips for how to check for quality while you're in the store:
• Read
the hangtags. Look for swimsuits made with Xtra Life Lycra. "It really
does resist degradation from perspiration and the oils in suntan lotion,
so it lasts longer, keeps the suit looking newer, and helps the suit
hold its shape," Colletto says. Another hangtag to look for: Sensitive
brand. "Sensitive is a high-quality Italian microfiber. One of the great
things it offers is built-in UV protection. It's designed to be
chlorine-resistant (up to ten times more than traditional swim fabrics).
It also dries quickly and is eco-friendly."
• Test out the fabric's stretch, in all directions, to make sure it recovers well.
• Check for interior lining and construction, which can indicate quality and a better fit.
• Examine
the stitching and seams to see whether they crack when you stretch
them. A well-made suit's seams should stretch without cracking.
And
finally, once you've found the right suit, make sure to care for it
properly! To make sure your suit lasts, Colletto suggests rinsing it as
soon as possible in cool water and soaking it with suit-specific liquid
detergents (find them in swimwear stores, or try this one from Roux Maison). And don't wear your favorite suit in the hot tub—the chemicals can weaken the fabric.
Want to see more of Karla Colletto's luxe designs? Visit her website to see her latest collection.