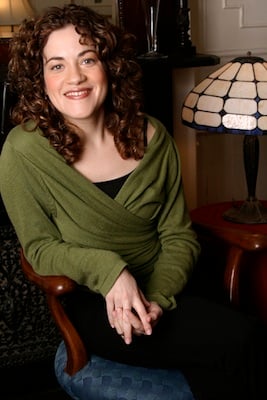 With so much focus surrounding the search for the perfect wedding dress, finding a veil to match may seem like a daunting task. Thanks to Bride's Head Revisited, a couture-quality veil company, walking down the aisle just got a whole lot easier.
Known for their custom services, Bride's Head Revisited works with brides to create an individualized headpiece, from length and volume to the trim, detail, and color. And it gets better—the custom bridal veil couturiers, whose wares were previously only available at Hitched, have relocated from New York this winter to open up a studio in Capitol Hill. "We love working directly with brides to create completely custom designs in our Washington, DC, design studio," says Emily Martin, the designer behind the brand.
We caught up with Martin to learn more about her new studio and get a few tips on choosing the perfect veil.
Can you explain the name of the brand?
The name Bride's Head Revisited is a take on the novel Brideshead Revisited by Evelyn Waugh. As a child, my father, a poet, made me sit through the miniseries endless times, and it made quite an impression on me. When coming up with a name for the business, I wanted something that would reflect the influence of beautifully made couture garments from past eras while suggesting that we are "revisiting" the bridal veil in a fresh, new way.
What makes Bride's Head Revisited different from other veil companies?
All of our pieces are made to measure in our Washington, DC, studio. What this means is that a bride's veil is not cut until it is ordered, allowing us to provide an individual experience without extra expense. Because all our designs are made in house, we are able to control the design process and provide our brides with beautifully made couture-quality veils.
What was the inspiration behind your latest collection?
When thinking about the fall 2013 collection, I kept coming back to my maternal grandparents' wedding portrait from 1934. I have always loved my grandmother's veil and wanted to create something inspired by her look. I looked at a lot of fashion plates from the 1920s and 1930s and came up with a small collection inspired by the lines, colors, and materials from the era.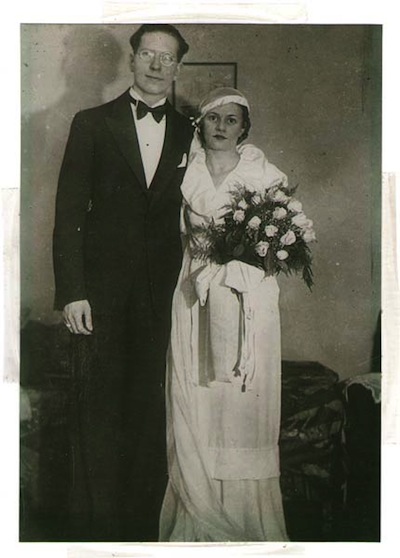 What are you favorite pieces from this collection?
The Bella veil, a chapel-length veil with a lace cap trimmed with satin ribbon and organza flowers—inspired by my grandmother's veil, though clearly meant for today's bride. I also love the Florence veil with the juxtaposition of the delicate, traditional Alençon lace with the simple, clean lines of the veil—it is traditional, yet has a very modern feel. The last piece is the Maisie veil, a cage veil made from pale blue antique netting. I love the idea of a touch of color in a bride's trousseau.
What have you noticed about the Washington-area bride?
Prior to relocating to Washington, DC, we often had DC brides visit our former New York boutique. We found that they were very similar to our New York brides—elegant, confident, and very fashion-forward. Since working with Hitched in Georgetown, we have designs ranging from chic cage veils to traditional lace veils that add an elegant accent to the overall look.
Are there any veil trends that are popular this season?
We continue to see a lot of interest in beautifully trimmed lace veils—from elbow-length ones with a little bit of lace along the lower edge to cathedral-length veils trimmed all over. The trend for cage veils is also going strong.
In your opinion: blusher or no blusher?
I love a blusher! It creates a certain element of drama as the bride walks down the aisle that is really beautiful. While some ceremonies require a blusher, many of our brides continue to wear this beautiful and traditional style for their grand entrance. When deciding whether to wear a blusher, it is important to make sure the design will work well with the bride's dress when she enters and exits the ceremony.
What is your top tip for a bride who knows nothing about veil shopping?
Don't be scared of the veil, and try on different styles! Wearing a veil is not something most of us are familiar with in our daily lives. Certain cuts, lengths, and trims will work well with certain face shapes, heights, and hairstyles. We always recommend that brides try on different styles until they find the right look.
How much does the design of the dress matter when picking a veil?
Depending on the style of your gown, there are a variety of trims and embellishments you can choose from to complement your gown. You can enhance the elegance of a simple gown with a veil trimmed with lace or ribbon edging or even a subtle scattering of crystals. A veil can also beautifully echo any beading or trim on a more embellished gown. Whether a simple satin ribbon edging on a fingertip veil or a intricate lace appliqué on the train of a cathedral veil, a veil should complement and enhance your gown, not fight it.
Bride's Head Revisited. 316 F St., NE, Suite 205; 212-465-2613. By appointment only.