For those unfamiliar with kombucha, the idea of gulping down a bottle is often met with a grimace. Fermented tea? Uh, thanks, but no thanks.
But recent GW business graduate Andreas Schneider and his two partners in Capital Kombucha are out to prove naysayers wrong with their fermented, probiotic iced tea. Because kombucha is fermented, "people get the idea it's going to be gross in some way," says Schneider. "So we're making something that's tasty and appealing."
Schneider, who grew up on an organic farm in upstate New York, began drinking kombucha in college. When he moved to DC to pursue an MBA at George Washington University, he noticed an obvious market to sell kombucha, which was absent from local grocers' shelves. With the help of two fellow classmates, John Lee and Daniel Lieberman, Schneider began brewing the fermented tea in Petworth.
The result is the year-old Capital Kombucha, a brewing company now based out of the incubator Union Kitchen in NoMa. Since the startup sold its first basil lemongrass-flavored kombucha in April 2012, it has flourished, and the products are now available in local groceries including Mom's Organic Market and local yoga studios such as Sculpt DC and Bikram Yoga. It's also on tap at Puree Juice Bar in Bethesda and, most recently, District Tea Lodge in downtown DC.
"There are so many healthy people in DC, so there's a real appetite for things like [kombucha]," says Schneider. "It's just another way to add on to the healthy lifestyle."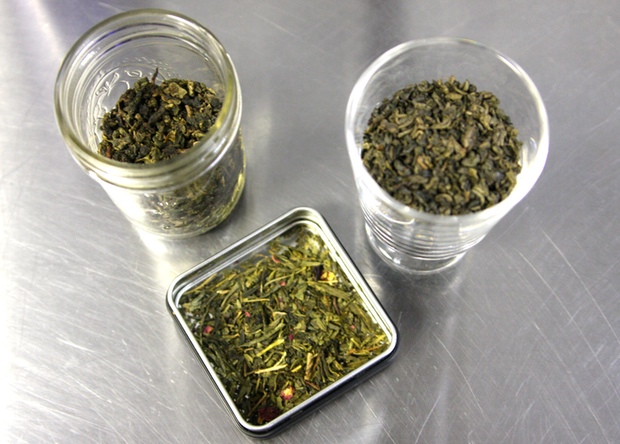 The "healthy" part of kombucha lies its ingredients: tea, minimal sugar, local produce, and probiotics. The process begins by brewing tea—they use secret blends by Capital Teas—and then adding a touch of local honey for sugar. The kombucha culture, a combination of yeast and healthy bacteria, then feeds on the sugar, bringing the acidity from neutral to 2 or 3. The result, Schneider says, is a refreshing tea that's low in sugar but high in taste.
Research on the health benefits of kombucha is minimal. However, with a 2,000-year history beginning in Asia and Eastern Europe, the fermented tea has long been used to treat a variety of symptoms and diseases, including cancer, AIDS, and diabetes. It's also been reported to aid in digestion despite its high acidic levels—you can thank the high probiotic content for that, explains Schneider.
The flavors—basil-lemongrass, mango-chili, ginger, and mint-lime—were created by Lieberman, who was inspired by his experiences traveling abroad. A flavor is approved after a month of trial and error and taste-testing, and Schneider says new flavors are in the works (although he's mum on any further details). All four flavors sell well in various areas, Schneider says, showing that while the market is small, there remain some regional taste differences among customers. A popular seasonal flavor, the Cherry Blossom, flew off the shelves this spring, while ginger was "far and away the most popular" during the winter.
With business school responsibilities now behind them, the trio can focus on continuing to expand Capital Kombucha to other markets, including Philadelphia and New York City. But they're content brewing away in NoMa. "We'd love to expand, because we think as many people as possible should drink kombucha," says Schneider. "But there are a lot of people here in DC who still haven't tried it, so we have a lot a room to grow in DC. We're just really happy and proud to be from DC."