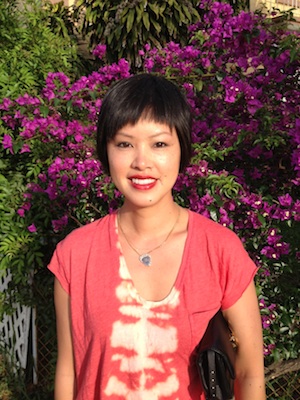 Marlene Hu Aldaba, the ever-stylish proprietor behind Hu's Shoes and Hu's Wear, Georgetown's favorite fashion and shoe destinations, is known about town for her killer fashion sense and warm personality. But the pint-size owner possesses an enviable roster of beauty-insider tricks and knowledge of the best products on the skin-care and makeup market. We caught up with the style maven, who shared her can't-live-without-'em picks—two of which she conveniently carries in her stores.
1) Edward Bess Ultra Slick Lipstick in Rose Demure
Marlene says: "I'm hooked! This formula is super creamy and feels great on. The color range is neutral, so it's great for everyday wear." $32 at Neiman Marcus.
2) GlamGlow Tingling & Exfoliating Mud Mask
Marlene says: "It has immediate results and leaves your skin soft and glowy." $69 for 1.7 ounces at Sephora.
3) Rodin Olio Lusso Luxury Face Oil
Marlene says: "I love the whole product line. I'm addicted to the scent. I have sensitive skin, and it works great for me. So moisturizing!" $150 at Barneys or Hu's Wear (2906 M St., NW).
4) By Kilian Pure Oud Eau de Parfum
Marlene says: "I love this scent for men or women. It's rare, precious, and sexy!" $395 at Saks Fifth Avenue or Hu's Shoes ( 3005 M St., NW).
5) Tata Harper Revitalizing Body Oil
Marlene says: "It's 100 percent natural, with an amazing scent. I love how it leaves your skin moisturized all day without being greasy." $90 at Tata Harper.