Maybe you're a seasoned DIY-er. Or maybe, like us, two left hands means your chosen form of DIY means hitting the "add to cart" button on Etsy. Hey, we can't all be Erica Domesek.
Or can we? DC's latest venture Topaz + Arrow is on the mission to help us all become a little craftier with a brand new series of workshops that will approach personal style, home decor, party planning, weddings, and more from a handmade perspective. The collaborative effort is a partnership of cool creativity, teaming up Morgan Hungerford West of the art and lifestyle blog Panda Head with Virginia Arrisueño of the knitwear accessories line DeNada. And the craft sessions—constructed to be a complete experience, not just a tutorial—will take place in an equally chic spot: Bloomingdale's multipurpose loft/art studio space the Ulysses Room.
Ticket sales launched today for the inaugural workshop, "Feathers, Yarn, and Brands: A Home Decor Craft Session." June 23, 1 to 3 PM at 52 O St., NW, Studio 302. Tickets ($37.50) are available through Topaz + Arrow's website. Read on for a word from the duo on why they launched the venture, and what to expect from the series.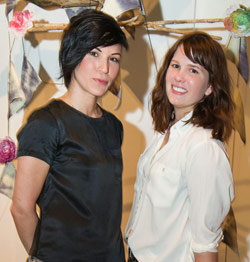 Why did you decide to launch Topaz + Arrow?
We both integrate an appreciation and love for the handmade into most aspects of our lives and, of course, into our careers. Lately we have noticed a resurgence of DIY around us, and our goal with Topaz + Arrow is to make this proactive and creative state of mind accessible to the public in a classroom environment that is aesthetically appealing, fun-filled, and relaxing. We are both very excited to offer this wonderful workshop series that is part classroom and part social event.
What can participants expect to experience during the workshops?
Topaz + Arrow is a wonderful opportunity for participants to learn new skills that they can implement in their own lifestyle, and they will go home with the actual item they made at our workshop. Participants can expect an afternoon of learning new and unique craft techniques while socializing with other creative like-minded individuals who share the same appreciation for the handmade. And the Ulysses Room, where our workshops will take place, is a beautiful loft space, where elements of decor will be added per workshop to add to the overall experience. It's not an ordinary classroom setting.
How about for the first class specifically?
Our first workshop is scheduled for June 23, and we are very excited to share with others the creative possibilities of handmade home decor using materials such as feathers, yarn, and branches. Visualize a chandelier-like wall-hanging art installation created using easily accessible materials, which is customizable to fit your personal style and home aesthetic.