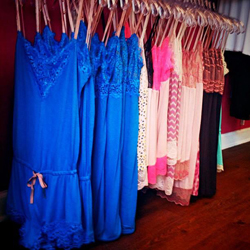 Bloomers' Grand Opening Party
The third and newest Bloomers location celebrates its opening in Georgetown with a fete featuring "bra bingo," refreshments, prizes, gifts with purchase from the likes of Spanx and Chantelle, and the kickoff of a new Keep Calm and Get Fitted campaign. Saturday 10 AM. 3210 O St., NW.
Periwinkle Hosts FabFoundations' Ali Cudby
During Thursday's Shirlie's Girls Night Out—held a week later this month because of the July Fourth holiday—boutique Periwinkle hosts Ali Cudby, the bra expert who penned Busted and the founder of the FabFit Academy. Bring your bra issues and outfits to Cudby and she'll give you personalized advice on the proper fit. Plus enter to win an autographed copy of the book, and get 10 percent off the shop's new summer merch. Thursday 5 to 11 PM. 4150 Campbell Ave., Shirlington.