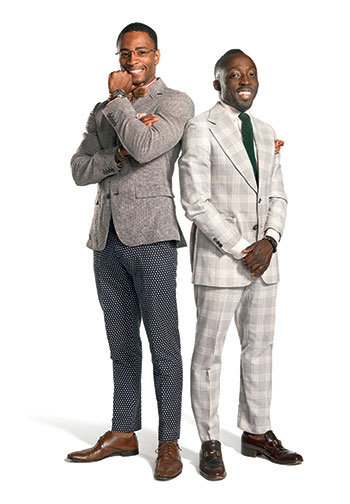 It's not that IT professionals and part-time bloggers Sadiki
Harriott and Tony Gyepi-Garbrah don't appreciate Washington's conservative
fashion sense—it's that they ignore it.
"I like to push past my comfort zone in terms of how I dress,"
says Gyepi-Garbrah, far right, whose vintage checkered suit was passed
down from his father. "DC is very structured, and I like to break
structure."
Harriott and Gyepi-Garbrah's blog, Gentlemen's Brim, is a
seemingly disparate blend of their love for custom motorcycles and
eclectic, dapper style, but the duo make the topics mingle in a
fashionable way, much as they do the colors, textures, and bold prints in
their wardrobes.
"Once I got over the fear of what people might think about what
I wear, my style became fluid," says Harriott, shown wearing his own Zara
pants and jacket, Thomas Pink shirt, and Prada shoes. He says his
mix-and-match aesthetic is often inspired by interior design: "Start with
the print you want to be the focus and complement it.
"If you're new to wearing patterned pants, opt for a solid
shirt," says Harriott, who also suggests starting with the colorful plaids
at J. Crew—and wearing them with confidence. "You will ooze 'what the heck
did I wear?' if you do not sell the look to yourself prior to going
out."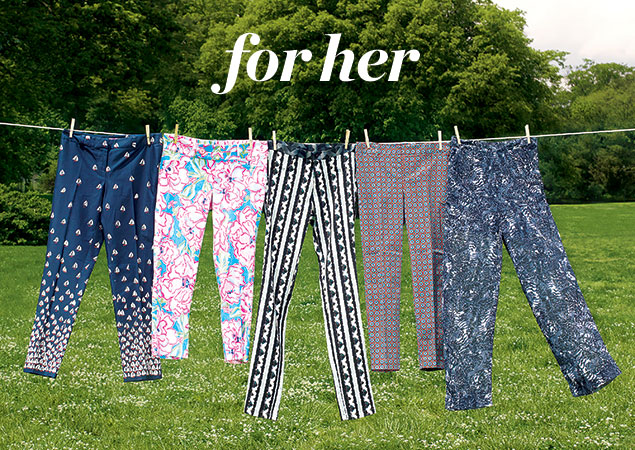 Set Sail Cotton-sateen Sailboat Ankle Pants, at Vineyard Vines
(Tysons Galleria), $135 / Flower Power Lilly Pulitzer capris in "Flutter
Blue Lucky Charm" pattern, at thepinkpalm.net, $168 / White Stripes "Eli"
trousers by Peter Pilotto, at Hu's Wear (2906 M St., NW; 202-342-2020),
$1,233 / Mod Squad Ankle-length pants in "Geo" print, at Forever 21
(selected stores), $23 / Primo Palazzo Polyester palazzo-style "Spell"
trousers by Religion, at Redeem (1734 14th St., NW; 202-332-7447),
$155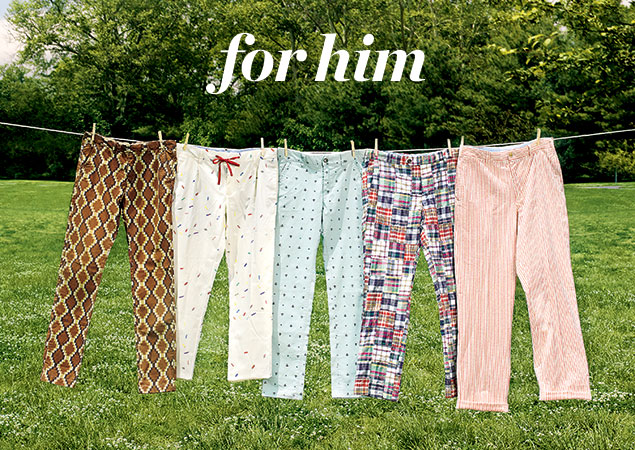 Brown Out Cotton chinos, at Scotch & Soda (3029 M St., NW;
202-450-1636), $109 / Pajama Party Tommy Hilfiger cotton surfboard pants
with drawstring tie, at 888-866-6948, $88 / Baby Blues Skinny chinos by
Hawkings McGill, at Urban Outfitters (Georgetown), $59 / Mad for Plaid
Patchwork madras pants, at Brooks Brothers (Georgetown), $128 / Sucker
Punch Flat-front seersuckers by Bills Khakis, at Sherman Pickey (1647
Wisconsin Ave., NW; 202-333-4212), $165
This article appears in the July 2013 issue of The Washingtonian.