Bluemercury M-61 Skincare Launch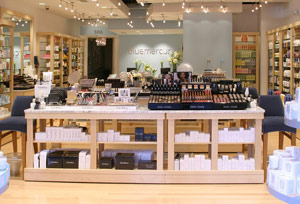 Our homegrown beauty chain fetes
the launch of a brand-new exfoliating facial peel from in-house line
M-61 with complimentary mini Power Glow peel facials and Vitablast C
hand massages at all Bluemercury locations. No appointment necessary;
just swing by the store for some pampering, then cool off with chamomile
iced tea and lemon squares. All stores. Thursday and Friday.
H&M Opens in Alexandria
The fast-fashion retail giant opens the doors of its brand-new store on King Street in Old Town, and to celebrate, the first 100 shoppers in line will receive an H&M tee and an Access to Fashion Pass worth between $10 and $300. The festivities continue on Saturday, when the store will host a family-oriented event with back-to-school discounts of 25 percent off children's items, plus face-painting, treats, and more. Opening Thursday at noon; children's event Saturday noon to 4. 614 King St., Alexandria.
Tari Hosts a Book Signing
Alexandria-based author and fashion consultant Siobhan "Bunny" McDonough visits the Georgetown vintage store to sign her memoir, My Mother's Dressing Room, which is about her clothes, her mother, and the stories behind one's wardrobe. Thursday 6 to 8 PM. 1525 Wisconsin Ave., NW.
Periwinkle's Renovation Sale
It's time for Periwinkle's Alexandria location to undergo a major facelift, and to clear space the boutique is hosting a huge cash-only sidewalk sale that will sell off the shop's furniture, fixtures, decor—and the shoes and clothes, too, which will be discounted 50 percent off the lowest price. Check out the store's Facebook album for a sneak peek at the goods up for grabs. Saturday 8 to 4 and Sunday 9 to 3. 1557 Potomac Greens Dr., Alexandria.
Topaz + Arrow's Summer Bohemian: A Gypset Style Craft Session
The crafting collective goes full gypset for its second session, which will teach participants how to impart an über-stylish, jet-setting bohemian vibe onto handmade accessories. Curious about what to expect? Check out the video of the first session for a glimpse of the artistic action. Sunday 1 to 3 PM. 52 O St., NW, Studio 302. $37.50 at Topaz + Arrow.