What does a summer intern in need of a place to crash get for $4,200? If she's renting a dorm room from the George Washington University, accommodations include crumbling ceilings, moldy bathrooms, rusty appliances, and fungal growth.
That's what Ayla Nejad encountered during her nine-week stay this summer at GW, where she lived while working at an internship. The university, with its collection of dormitories in Foggy Bottom, does a fair bit of business while school's out, providing housing for some 4,700 interns every summer.
Nejad, who did her undergraduate studies at the University of California, San Diego, says she paid GW $4,189 up front. When she arrived in early June, she was directed to a room at the Aston, which was renovated in 2008 and houses law students during the academic year. The room, Nejad says, "was a complete disaster." Among the dingy details: a soiled toilet seat, dislodged shower head, a rust-covered refrigerator, and a chair with a hole the size of a small frying pan burned through the seat.
Nejad, who is now living in Paris to pursue a master's degree, called GW's housing services and requested an immediate switch. She got one, but the second room was hardly an improvement.
"The carpet was covered in dust and crumbs," Nejad tells Washingtonian. "I had bought a small vacuum for personal use, since none are provided, within minutes the canister was full. It was truly revolting. The bathroom was full of hair and dust, and the toilet seat was visibly stained with urine. The walls were covered with food splatters, the drawers were filled with dust and dirt, the shower was moldy and covered in soap scum, the furniture and baseboards were covered in thick layers of dust, and the stove was covered with caked on grease."
After additional efforts to find sanitary living conditions flopped, Nejad and a friend resorted to a Facebook page. "GW Housing Horrors" came online in late July as a repository of campus frights, and soon got noticed by WJLA. In addition to the photos from Nejad and her fellow summer intern, current and recent GW students have added their own residential nightmares, including images exposed wires, drywall falling on toilets, and, in one instance. excrement left to rot in a stairwell.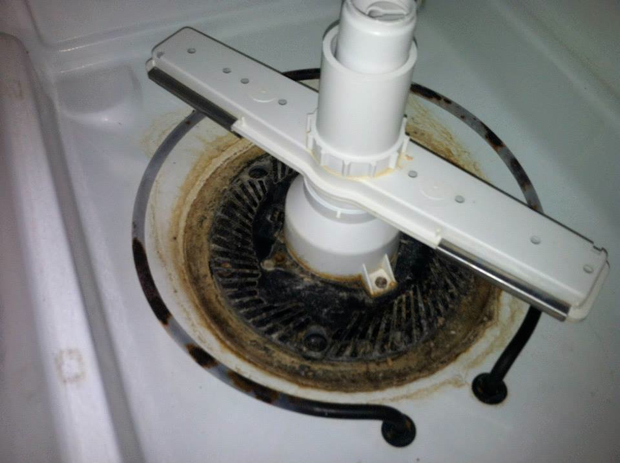 Maintenance calls weren't of much use either, Nejad says. After a leak sprung in her closet, she says she was told that the wall and carpet should be left to "air dry." Left unattended, Nejad says the carpet started to mold so badly that mushrooms started sprouting from the floor.
"What we have seen is unacceptable and regrettable, and repairs have either been addressed or are in the process of being addressed," Peter Konwerski, GW's dean of student affairs, says in a statement from the university. "Additionally, we are reviewing maintenance requests and complaints to make sure we are handling them expeditiously."
And Konwerski will need his people to move fast. The 7,000 students who live on campus during the school year started arriving this week. Even though she's now living thousands of miles away, Nejad still doubts GW's ability to fix its dorms. "It doesn't matter how many band aids you put on a broken leg, the leg is still going to remain broken," she says. Nejad adds that for her summer of troubles, she got back $1,047 of her payment.
Konwerski's office also sent Washingtonian a list of tweets from incoming students apparently satisfied by their new digs. But a selective Twitter cross-section might not reflect reality. As students move in to their dorms, "GW Housing Horrors" continues to receive new contributions, including one from a student who walked into a dorm room and found a used condom on the floor.