It was clear skies from the beginning of Nicole Persons and Robert Rhodes's relationship. The two met in Meteorology Club while both were attending California University of Pennsylvania. Nicole had just started her first year of college, and the two instantly bonded over their mutual interest in photography and weather forecasting.
When it came to the proposal, almost seven years later, Robert, a system engineer, opted for a personal family affair. "We had invited both of our families over for a barbecue, and he knew I wouldn't expect him to propose in front of everyone," says Nicole, a configuration management specialist. "So right before we had cake, he said that he had something to say and then got down on one knee." The couple spent the next year scouring thrift store and yard sales and incorporating family heirlooms to make their wedding a heartwarming "something borrowed" celebration.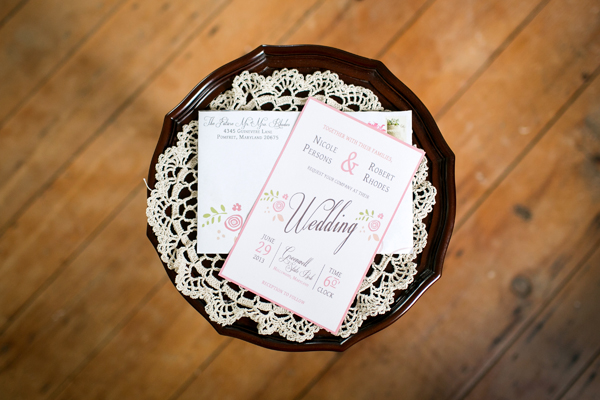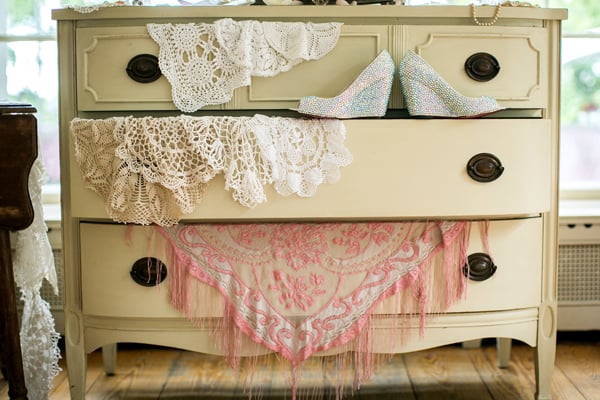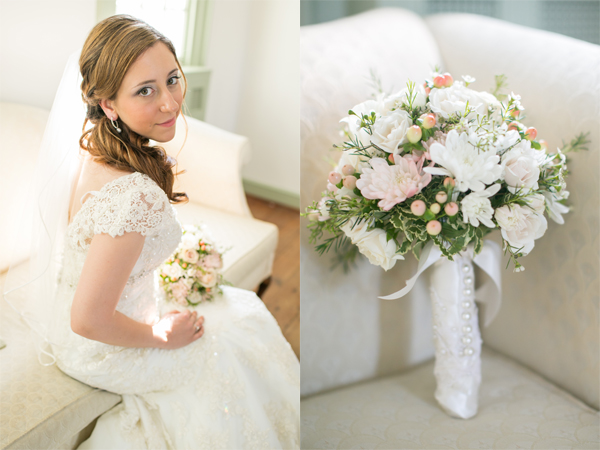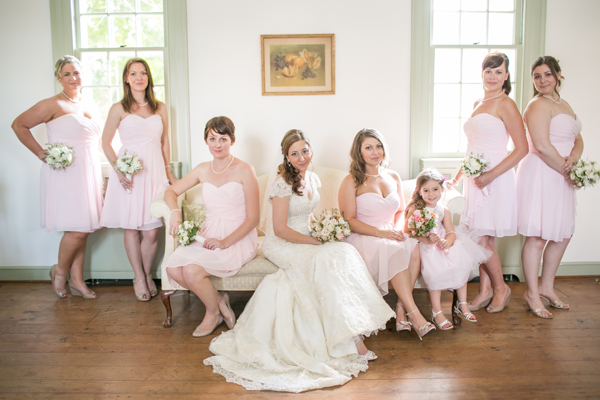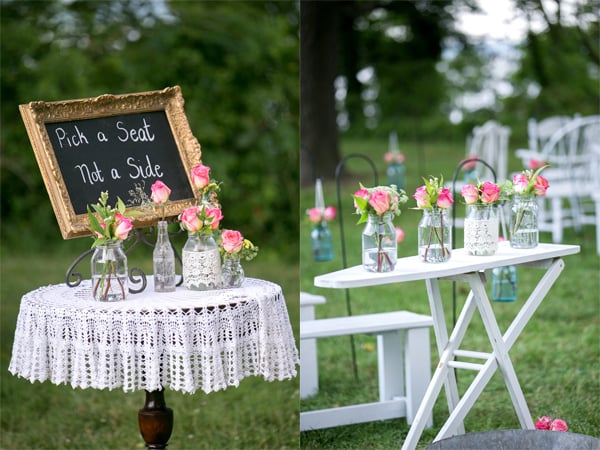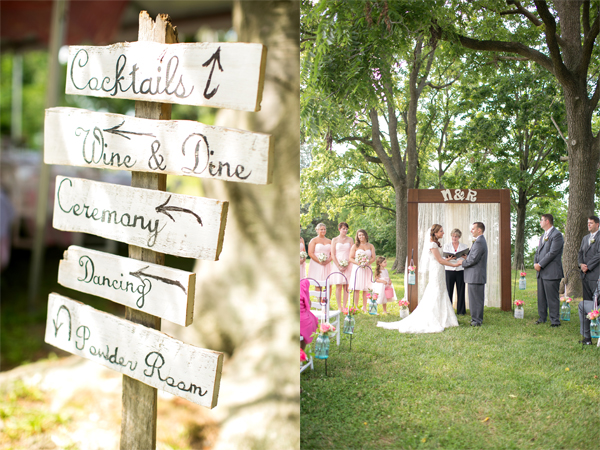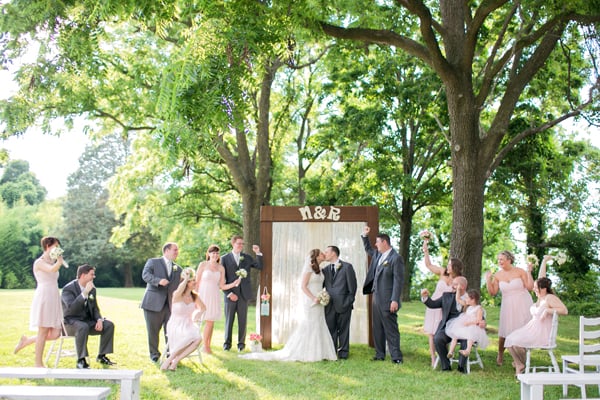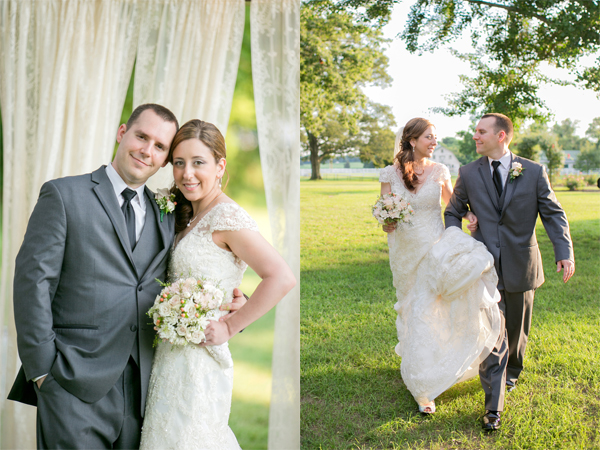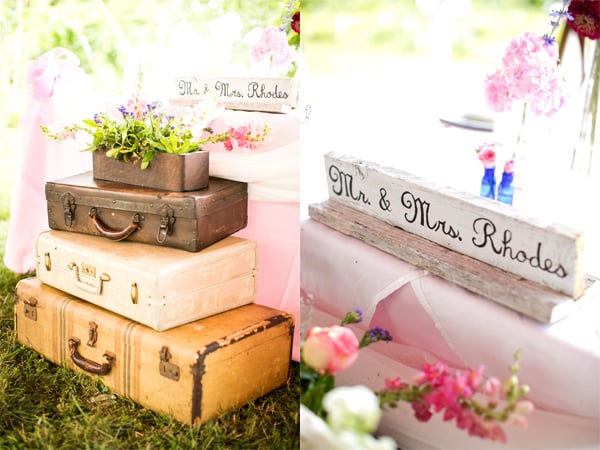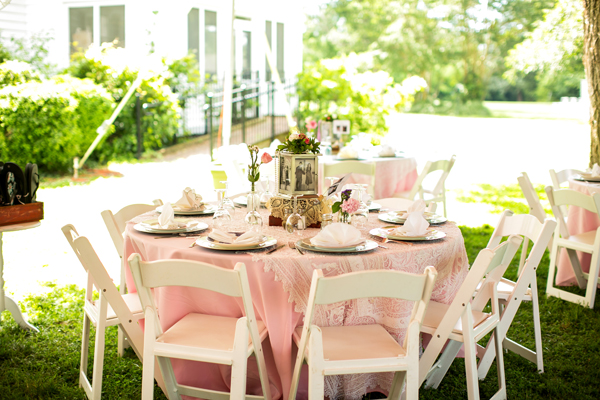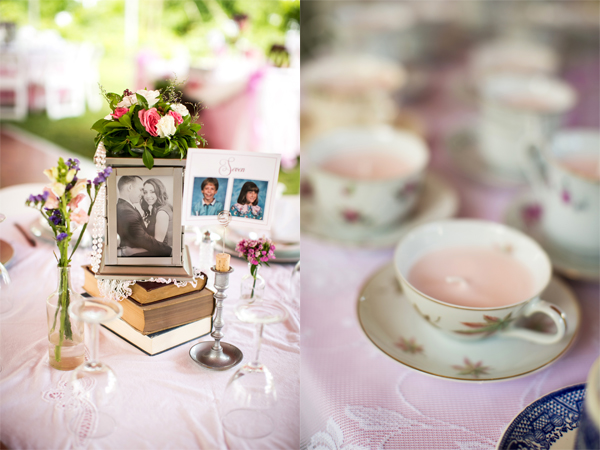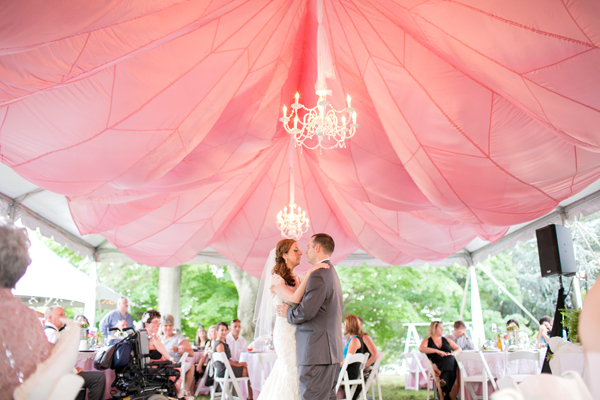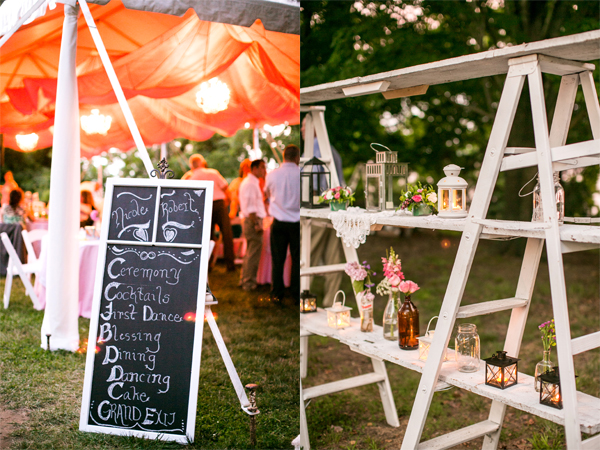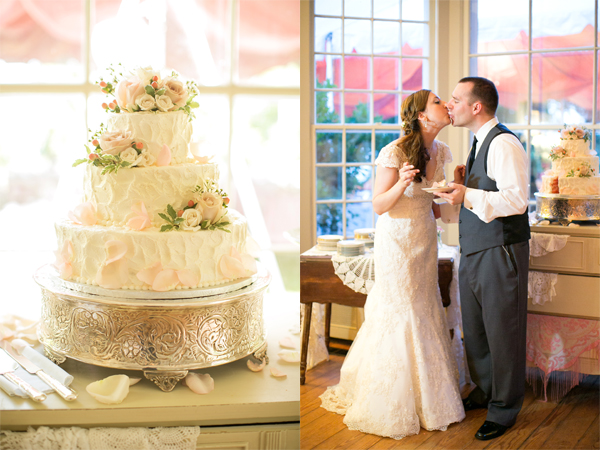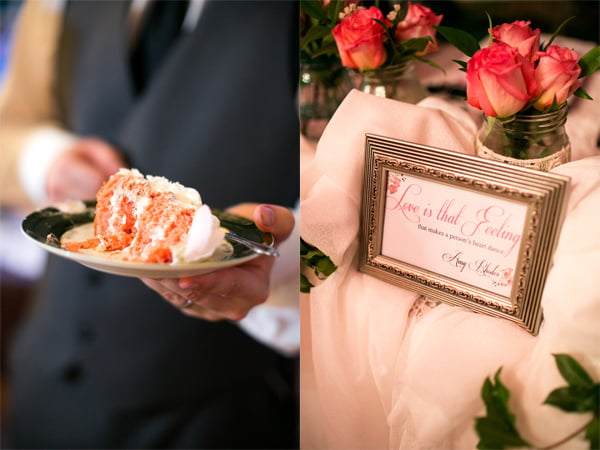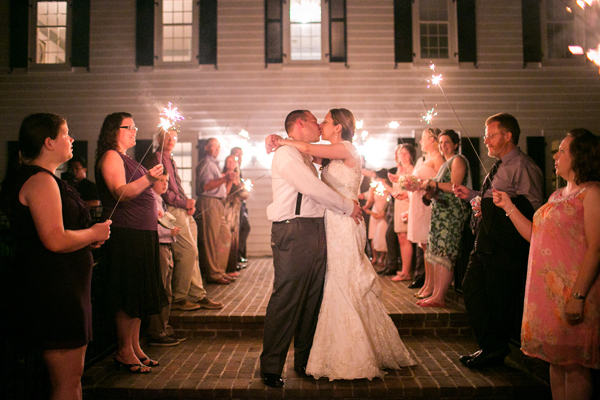 Details:
Photographer: Liz Maryann Photography, Anna D Bruce Photography as second shooter
Wedding Venue: Greenwell State Park
Officiant: Betty Woodburn
Bride's Gown: Allure Bridals
Bride's Shoes: Marc Defang New York
Hair: Halo Salon
Makeup: Makeup Artistry by Alicia
Groom's Tux: Men's Wearhouse
Caterer: Hardesty Haven Catering
Cake: Charles Street Bakery
Wedding Cake Flavors: Lemon, strawberry, and raspberry
Wedding Cocktail: White Wedding sangria, Happily Married Manhattan
Florist: Studio Three Flowers
Wedding Flowers: Garden roses, berries, and various fresh flowers grown by the Amish
Videographer: Stan Pe Films
Music/Entertainment: Invincible Entertainment
First Dance Song: "At Last" by Etta James
Invitations: Vistaprint
Bride's Favorite Wedding Detail: "Pearls, jewelry, and other unique items were incorporated throughout the wedding centerpieces. Many of these items were either handed down from the bride's great-grandmothers, or saved from estate sales, thrift stores, and yard sales. Most important, my mom was willing to cut up her lace wedding dress and use it as part of the bride and bridesmaid bouquets and on other items as well," says Nicole.
Groom's Favorite Wedding Detail: Finding and using old family wedding photos of parents, grandparents and great grandparents. "As a couple, we both love researching our family history, and wanted to honor those important people in our lives. We printed them out on vellum paper and glued them on to an old vintage window."
Favorite Wedding Moment: "When we read each other letters and exchanged gifts during our pseudo first look."
Biggest Surprise: The weather. "On our wedding day, it was sunny and warm. It was a beautiful day in stark contrast to our rehearsal dinner the night before, when lightning struck the tent while we were sitting under it, and a tornado warning followed shortly thereafter. With our meteorology background, it was to be expected that we would have at least one day of wild weather."
Special Decor Details: "We found actual vintage British military parachutes to dress up the ceiling of the tent. We then hung chandeliers that we found at yard sales to finish off the look. We found hundreds of mismatched vintage plates and teacups to use for our place settings. We found all of the pieces of china at thrift stores and estate sales. We brought a whole trailer full of vintage furniture that were either already ours or was found again at estate sales. We painted and refinished many of the pieces to bring a whole new life to them. We even made the benches for the wedding ceremony! We reclaimed the wood from pallets and barns and painted it white. We also found many different chairs and painted them white for our family members to sit on at the ceremony."
Wedding Favors: "For our lady guests, we made teacup candles. For the gents we bought shot glasses, which were one of the few things that we bought new!"
Wedding Theme: Vintage chic
Four Words That Describe the Wedding: Surreal, fast, loving, memorable
Honeymoon Spot: Punta Cana, Dominican Republic
Where They Currently Live: Pomfret, MD