Who: Kevin Gray, 29
Industry relations representative for a music rights organization
What I do: "Do you ever listen to internet radio? Of course you do. Well, we're the US performance rights organization that collects and distributes the royalties to your favorite recording artists when you hear their songs on non-interactive digital radio stations. From local acts like Rex Riot and W. Ellington Felton to global superstars like Beyoncé and Stevie Wonder, we deal with artists on every level.
"I educate artists, their managers, label owners, and lawyers on what the organization does and the various ways we assist artists from paying out royalties to fighting on Capitol Hill for musicians' rights. Imagine getting an e-mail from Santa in early June telling you he has money for you that you never knew existed. I'm Kris Kringle, and I come bearing gifts."
My work style: "Our office dress code is on the looser side, so that gives me the opportunity to have some fun with my outfits on a day-to-day basis. When most of my coworkers are wearing jeans and tees, I'll be in a blazer and brogues. The music industry has many different looks to it, so I try to merge the backstage and the boardroom with a little bit of dandy in the mix."
Casual Monday-to-Friday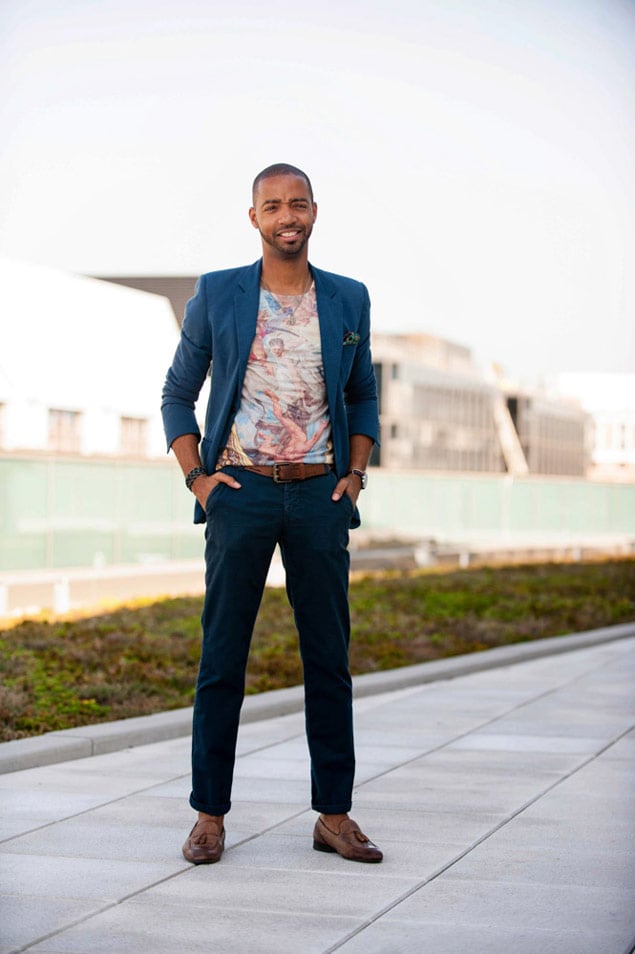 "I fell in love with the blazer-and-tee look a few years back when it departed from the Miami Vice look. The tee takes the edge off when I'm dealing with artists who don't take well to 'suits.'"
Zara blazer and loafers, L.Y. 1981 tee, Uniqlo chinos, Timex with J.Crew strap, Converse glasses, L-Men pocket square.

In the Field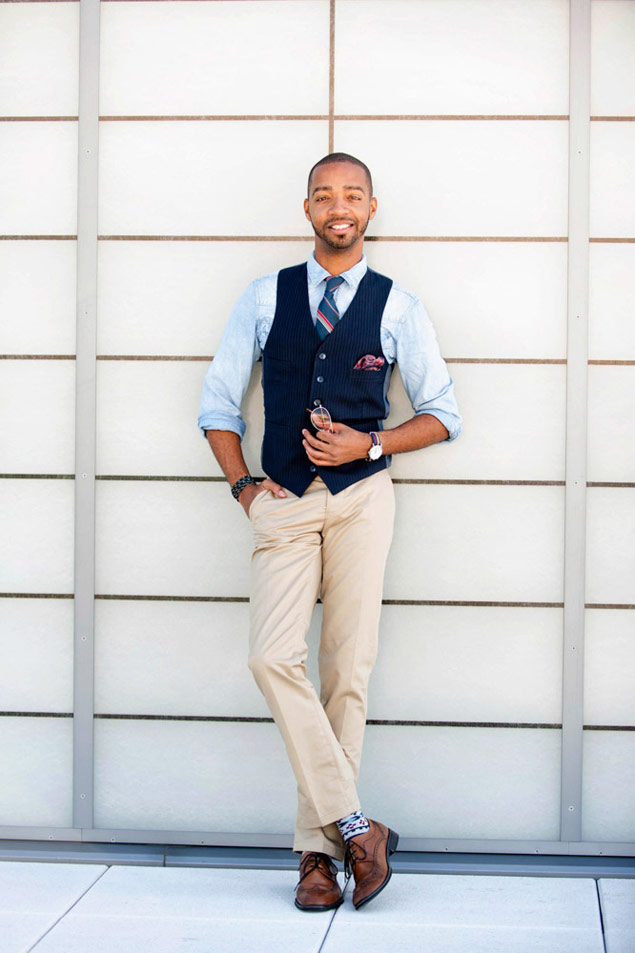 "When I'm headed to an industry meeting or linking up with an artist
away from the office, it's usually in a more casual setting (happy
hours, mixers, and sound check) so I'll ditch the blazer because it just
may turn into a long night."
Vintage waistcoat from Rock It
Again, H&M chambray shirt and chinos, thrifted Christian Dior tie,
pocket square from an estate sale, Happy Socks socks, Cole Haan shoes,
Timex Indiglo watch.
On the Hill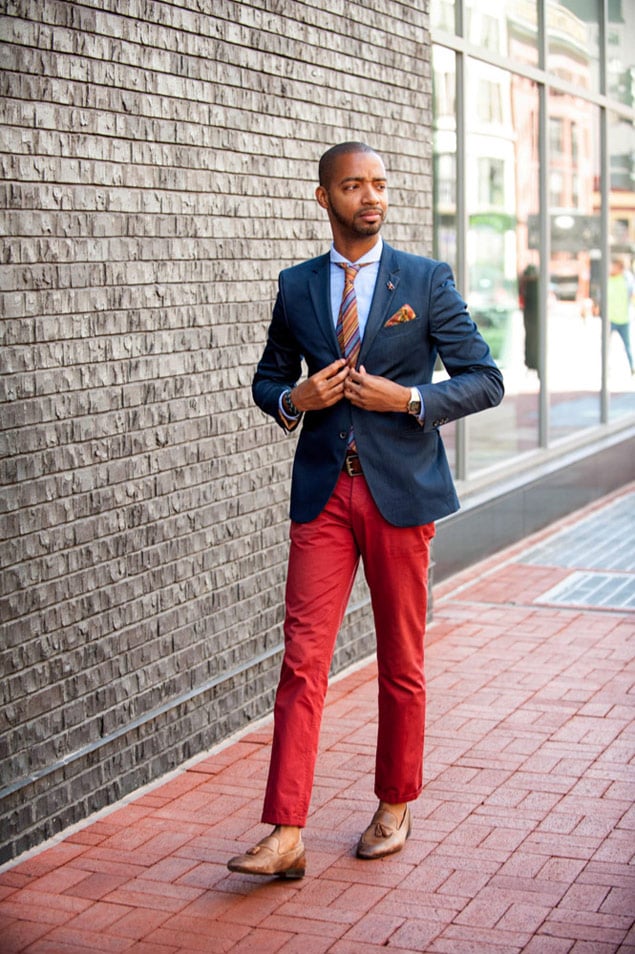 "We lobby for artists' rights on the Hill regularly. We know that
place can be very monochromatic and boxy when it comes to menswear.
Euro-cut blazers and colorful pants shake things up and draw a lot of
attention when we're lobbying."
Zara blazer, pants, and shoes, Trashness shirt, Aldo tie, H&M pocket square, Cerulean Blue bracelet.
The Details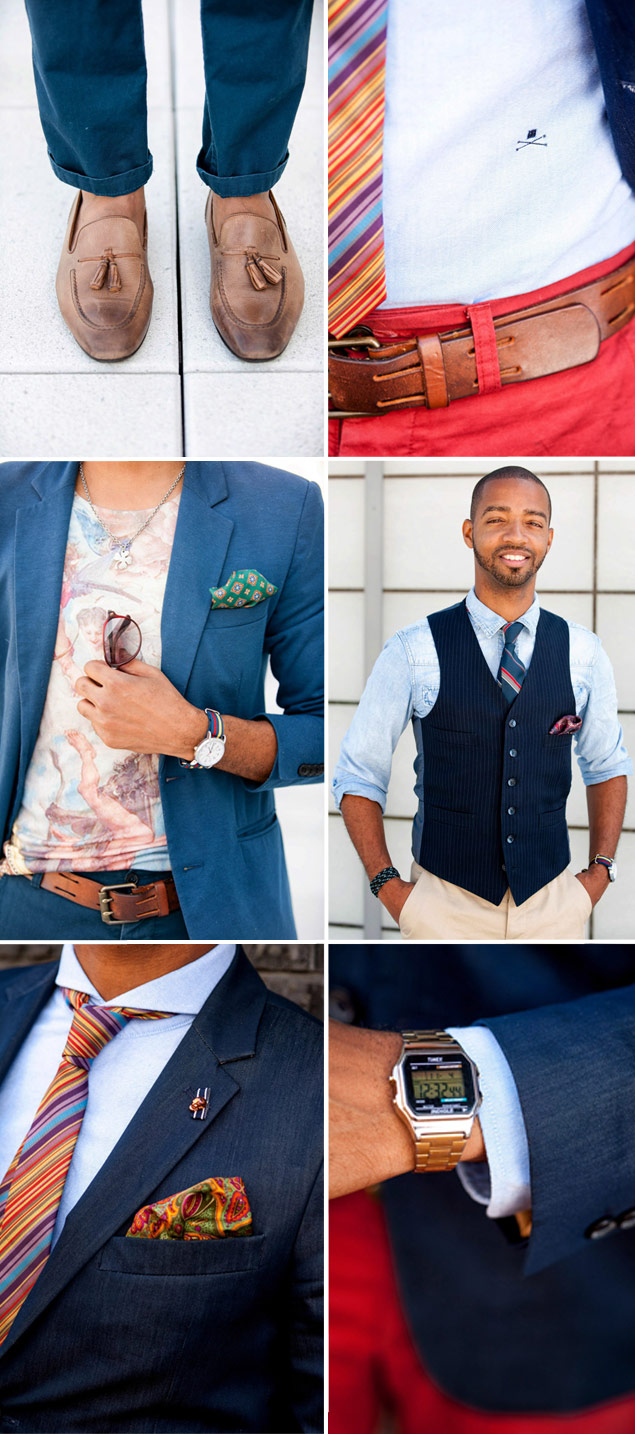 All photographs by Andrew Propp.
Think you or someone you know deserves a chance in the What I Wear to Work spotlight? E-mail mthomas@washingtonian.com with pictures and a job description for consideration.
You Might Also Like: