By day, Gina Junio is a recruiter for a DC law firm. When she's not at work or training for her next marathon, Ironman, or Tough Mudder, she's helping others achieve their fitness goals as a personal trainer. Junio also combines her "passion for fitness and philanthropy through various nonprofits, such as the Wounded Warrior Project and the Leukemia & Lymphoma Society."
Read on to see how the fitness buff eats for a day.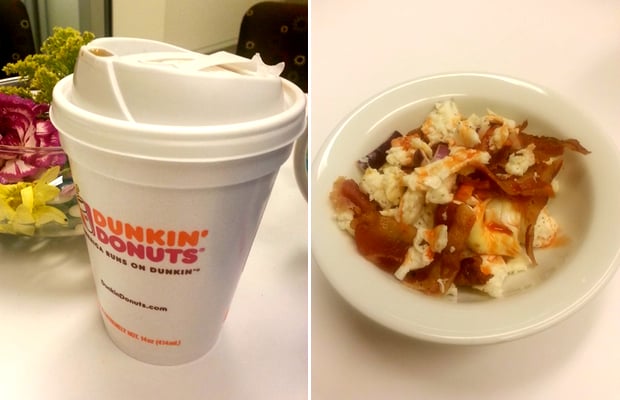 Breakfast: Egg whites, bacon, tomatoes, onions, and hot sauce. "My first meal is generally not until 10 AM because I practice a modified Leangains methodology of intermittent fasting (fast for 14 hours, feed for 10). Until my first meal, I have coffee with light cream and lots of water. [But] I love breakfast! It usually consists of eggs and hot sauce or Sriracha."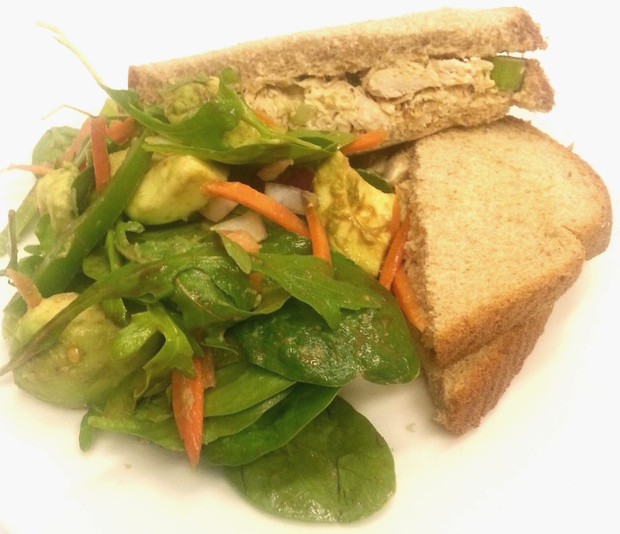 Lunch: Homemade chicken salad sandwich on whole-wheat bread. "I prefer making my own chicken salad to control the amount of mayo and other ingredients. My chicken salad has light mayo, mustard, onion powder, salt, and pepper. I paired this with a simple green salad with spinach, carrots, onions, tomatoes, and avocado."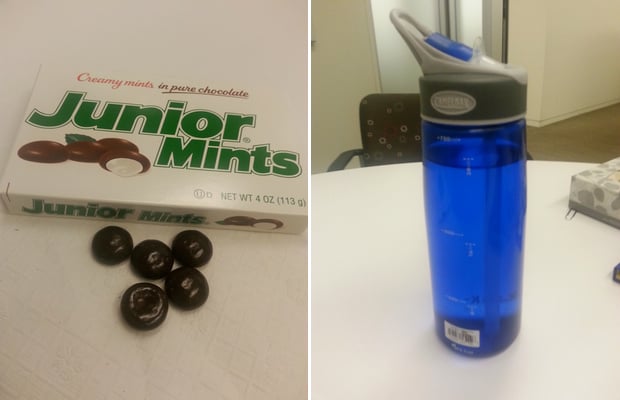 Snack: "Sometimes a girl just needs sweets. I'll have a few Junior Mints or peppermint patties to satisfy my sweet tooth."
Drink: "I try to drink three to four of these! Having water in a Camelbak water bottle or a glass with a straw makes it easier to get the water I need."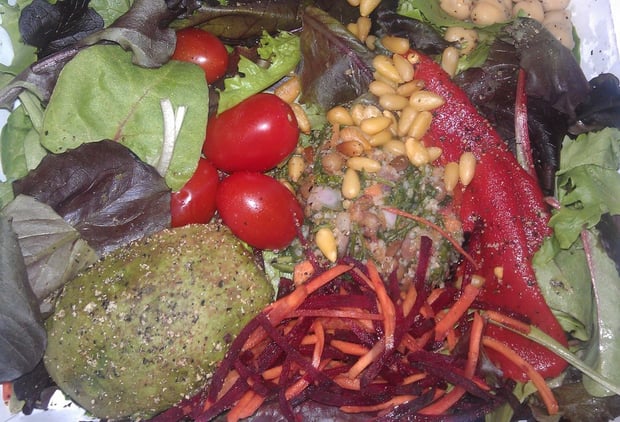 Dinner: "I find that the more colorful the salad, the more I'll enjoy eating it. And I love an excuse to eat more avocados."


Dessert: "A nice protein shake serves as a great last meal of the evening. The triple-berry shake is packed with protein and can curb my cravings to run to FroZenYo after dinner."
You Might Also Like:
Are you a local athlete or health, fitness, or nutrition expert with a love for food? E-mail wellbeing@washingtonian.com to find out how you could be featured in our Food Diaries series.