Cameron St. Clair Archer's designs for her namesake jewelry line are a study in perfectly chic contrasts: Blend one part industrial (she works with reclaimed metals) with a dash of tough (hello, spikes and chains), and mix in a bit of earthy, organic beauty (thanks to the raw stones and delicate gems). Finish with a healthy dose of asymmetry and some lush color, and the result is that sweet spot between sculptural cool and endless wearability. Archer launched the line in 2010 after teaching herself to rework her own jewelry, and now it's a full-time job.
We stopped by her Bloomingdale workspace recently to see where the magic happens, and chatted with her about why she likes working in DC, and how abstract concepts like spontaneity and adventure inspire her designs. Read on for the scoop—and peep her seriously gorgeous creations.
Tell us a little about your background. How did you end up designing jewelry?
I've always been pretty crafty, and I love using my hands—the dirtier the better, be it painting, sanding, drilling, refinishing, gluing, you name it. I suppose the jewelry came about from a real lack of creative expression at a previous job. I was hungry for it, and started to take apart/recreate jewelry I already owned just to see if it was something I enjoyed doing. I did some research and started buying simple starter materials. I would stay up very late designing, and I'd wear my creations the next day. I started getting compliments, and women would ask me who the designer was and where they could buy pieces. Thus, Saint Clair Jewelry. There's something equally meditative and invigorating about designer jewelry—the combinations truly are endless.
How would you describe the Saint Clair customer?
The Saint Clair woman is not afraid to take risks. She stands out in a crowd; she is a leader, a thinker, an empowered woman who knows what she wants. She appreciates and practices openness and inclusiveness. She is a risk-taker, she's goofy—unapologetically so—and, more important, she is confident, which is the most beautiful piece of jewelry anyone can own.
How has your work evolved since you started designing?
I definitely take more risks. I lean more toward asymmetrical designs, and I don't stick to one genre. I also am not so obsessed with following the latest and greatest trends, which I've learned can really inhibit creative freedom. I make things I like—things that feel right—and I put myself out there. Like I said, design possibilities are truly endless, and if you limit yourself to one genre, it becomes a bit sticky.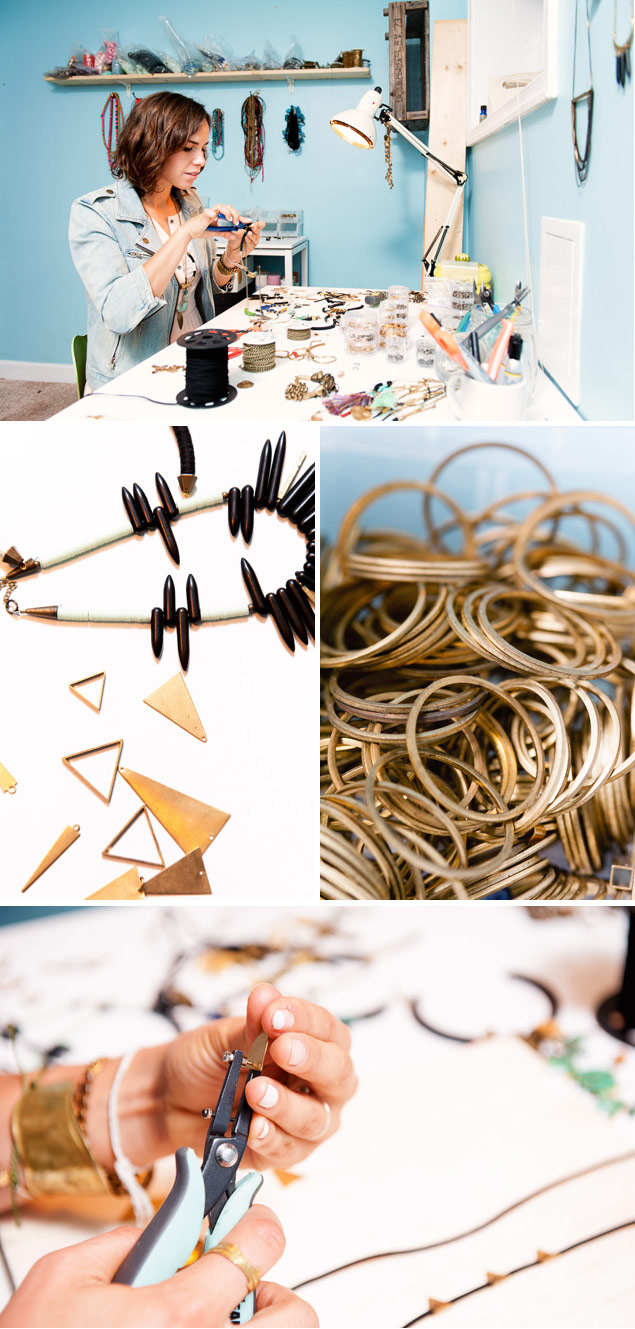 Walk us through your creative process.
It usually starts with coffee and music. I get new ideas at the most random times: in the middle of yoga, at the dog park, at the doctor's office, shopping for groceries. Like most artists, I go through spurts and bouts of complete creative craziness—a creative bender, if you will. I could be midway through a conversation with a girlfriend, and a story, or the shape of a shadow, or the lines in someone's clothing could ignite the spark for a new design. I usually carry pen and ink so I am able to properly recall my "stroke of genius," but usually I just obsess over the design and book it to my studio so I can see what it looks like in the flesh.
What inspires you?
I take inspiration from everywhere. I am inspired by architectural and aerial photography, the American Southwestern landscape on my recent cross-country trip, classic to postmodern architecture. Mostly my pieces are asymmetrical, because life is asymmetrical. We want life to fit inside a neat little box, but mostly it is messy, it is spontaneous, and it is never the way we thought it would look. The beauty is all in the adventure, and my pieces reflect that.
Where do you source your materials? What's your favorite material to work with?
I source most of my materials in New York, but I have distributors all over—Turkey, France, Africa. I have a love/hate relationship with vintage sequins, which I use in a lot of my pieces. They look beautiful when strung, but man, they are paper-thin and, when not handled properly, create a very messy confetti party.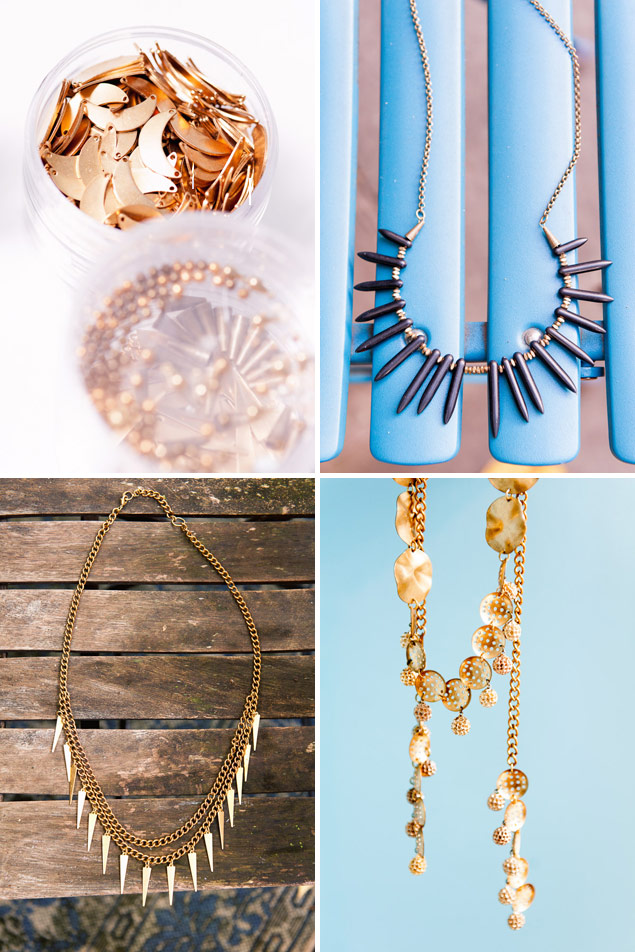 What do you like about designing/working as a creative in DC? What do you dislike?
You know, it is not as easy to be a creative in DC because it isn't as on-the-surface as, say, New York or LA. But once I was able to scratch the surface, dig a little, look behind some of the nooks and crannies of this city, I discovered an amazing community of artists, filmmakers, photographers, etc. DC has a smaller community without all the pretensions of somewhere bigger, and that feels comforting, it feels supportive, and it feels like we are growing while the city is just exploding. I feel blessed to be designing and working in DC, especially as of late with the influx of creativity. My studio is just a few blocks away from Virginia [Arrisueño] of DeNada Design; Morgan Hungerford, creative heiress and visual aficionado of all things DC; Beth of Beth Lauren Jewelry; Kate Greene, model and co-conspirator for Redeem; Nicole of Worn Creative—all powerful and creative DC-based female entrepreneurs. The creative community here is not oversaturated, and the aforementioned gals are just a coffee date/phone call away—not to mention that they're super-approachable and can offer amazing advice. We can work together as artists and collaborate on projects. There is a true power in numbers, and a bond that I think somewhat rare, a "We are all in this together" mentality.
What's your favorite piece from your line?
My favorite piece from my line is probably Prince. I wear that necklace almost every day. I am also digging my new stuff, which is not online yet, so stay tuned!
Where is Saint Clair sold?
Right now Saint Clair is sold at Salt & Sundry, Meig Shop in the Midwest, and Golden Bridge in LA, but lots more are in the works. You can find one of my gals or me at DC Flea, DC MeetMarket, and Thread at Union Market in DC through January. I am also participating in an accessories trade show in New York alongside designers Clare Vivier, Orly Genger, and many more.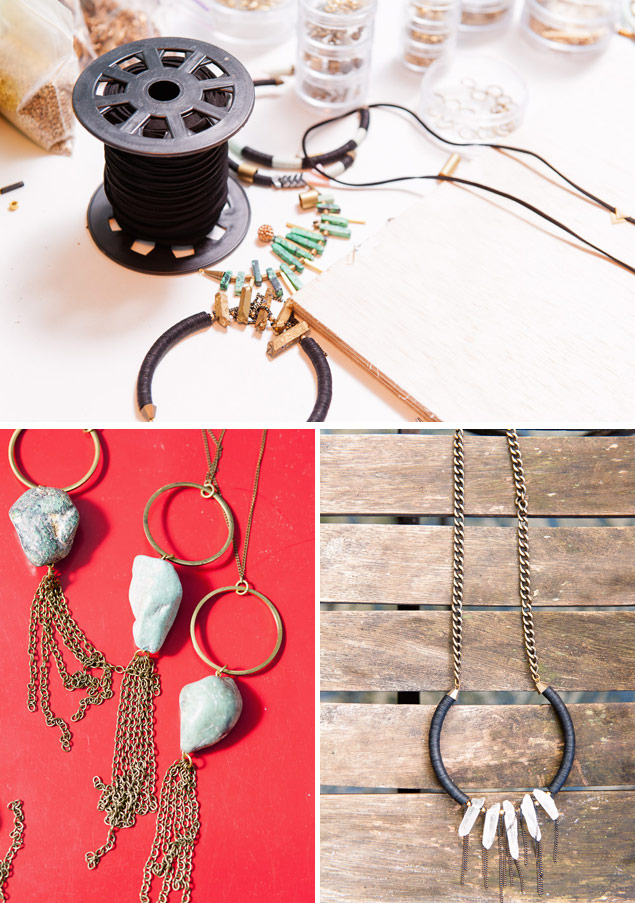 You Might Also Like: