Gena Hamshaw, the brains behind the blog Choosing Raw, keeps a vegan and mostly raw diet. "I'm not a raw foodist by any stretch of the imagination," she says, "but I love raw recipes, and raw food techniques have had a big influence on the way I cook." When Hershaw's not blogging or working with patients as a clinical nutritionist, she's practicing yoga four to five times a week and filling out applications to medical school. Read on for her one-day food diary.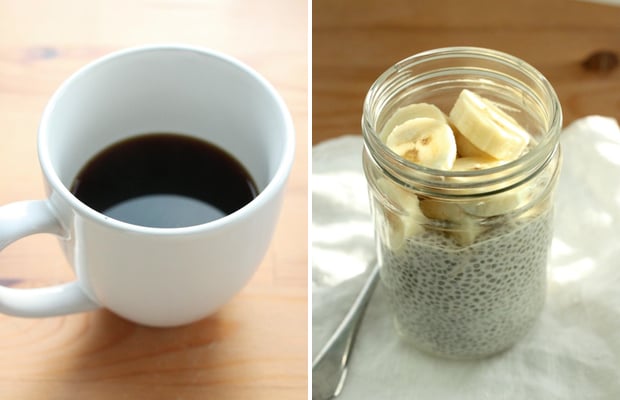 Breakfast: "Every day begins with coffee. I usually drink it black, though sometimes I add a splash of homemade almond milk creamer (I was out of it today). Breakfast was a mixture of homemade chia seed pudding, homemade almond milk, and a sliced banana. The chia seed pudding is based on this standard recipe, to which I added some vanilla protein powder (a brown rice protein powder) and cinnamon. I love chia seed pudding: It's filling, fun to eat, and loaded with fiber and calcium."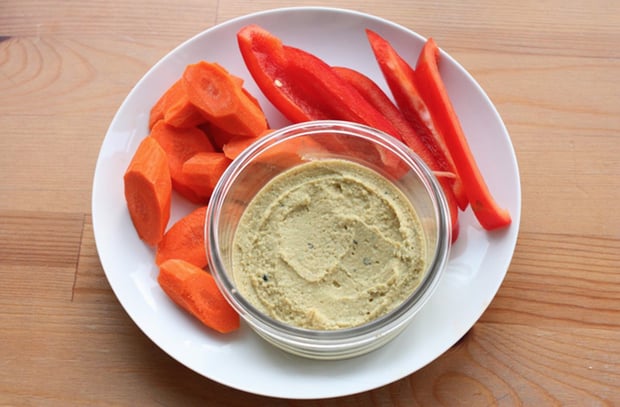 Morning snack: "I work from home as a blogger and nutritionist, and by mid-morning I'm usually ready for a snack. I had some crudités with my favorite homemade hemp hummus, which has hemp seeds blended in for protein and healthy fat."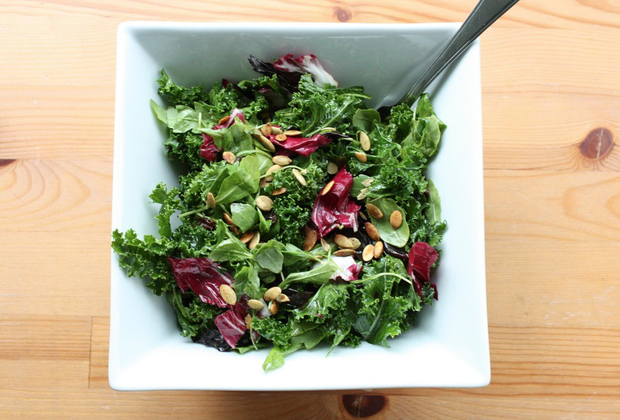 Lunch: "After a morning of typing and a midday yoga class, I fixed up a big salad of kale, arugula, radicchio, zucchini, dulse, pumpkin seeds, and a simple olive oil, lemon, and sea salt vinaigrette. I often throw some leftover beans or grains into my midday salad, too, or some steamed sweet potato. I also love to serve these salads with homemade flax crackers for added crunch."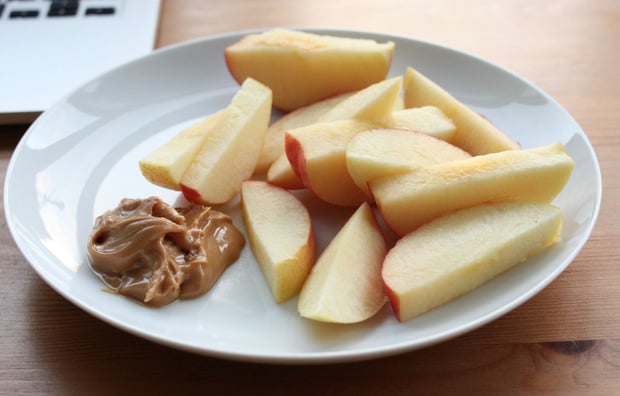 Afternoon snack: "I wasn't very hungry at lunchtime, but two hours later another snack craving hit, at which point I had a delicious local apple (one of my favorite parts of fall in DC is the abundance of local orchards!) and a couple tablespoons of peanut butter."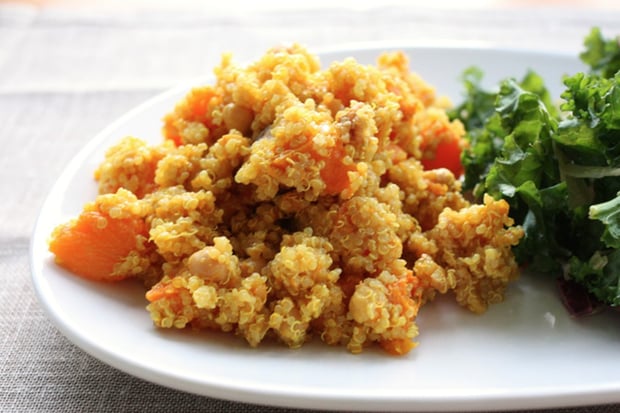 Dinner: "For dinner, I had leftover salad served with a tasty and warming grain, bean, and root vegetable medley. This is one of my favorite entrées this time of year, and it's easy to make, especially if you use canned chickpeas. I roasted a tray of butternut squash in coconut oil, sea salt, and black pepper. While I was doing that, I popped some quinoa into my rice cooker. When both were cooked, I mixed them and added a can of organic chickpeas and about a quarter cup of the same vinaigrette I used at lunch. For flavor, I added curry, turmeric—both flavorful and anti-inflammatory—and nutritional yeast, which is one of my favorite seasonings. I love to serve a cool, crispy salad with a really hearty grain dish; it's the perfect balance of flavor and texture.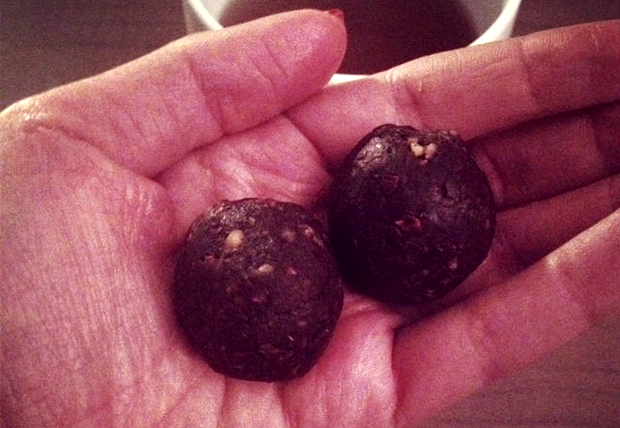 Dessert: "It's rare for me to end any day without chocolate. On this particular evening, I had two raw, vegan brownie bites: a mix of walnuts, cacao nibs, cacao powder, and dates. I use this same recipe for pie crust, snack bars, and these little treats. It's adaptable and delicious."
Disclaimer: The Food Diaries series is intended to be inspirational and is not an endorsement of each individual's diet.
Are you a local athlete or health, fitness, or nutrition expert with a love for food? E-mail wellbeing@washingtonian.com to find out how you could be featured in our Food Diaries series.