In the spirit of the season, let's take a moment to give thanks for the major uptick in awesome menswear options that have flooded Georgetown in recent years. These days, there's pretty much no excuse for our guys to still be donning ill-fitting suits and balloon-like shirts—and for that we are grateful.
Doing their part to help the cause is Ledbury, a menswear e-shop based out of Richmond and open today for a monthlong seasonal pop-up on Wisconsin Avenue. At the showroom-style store, customers can try Ledbury's shirting, blazers, and dresswear accessories, and the shop's team will help place orders to be filled through the website. Expect the brand's signature classic styles reworked with modern silhouettes, high-quality construction, and luxe fabrics. We snagged a sneak peek at the 1,000-square-foot shop this week, and among the highlights we spotted were the brand's limited-run seasonal collection (like shirts in a super-soft brushed cotton herringbone), necessity-turned-luxe cashmere socks, and refined blazers, plus a solid selection of silk and knit ties in perfectly restrained patterns. And that's not all: Beyond the clothes, the showroom nails a rugged-meets-dapper modern masculinity, complete with on-message taxidermy, a bourbon-stocked bar cart, and vintage midcentury furnishings provided by a Richmond antiques dealer (and available to buy, too). Read on to see more of the space and hear more about the brand straight from cofounder Paul Trible.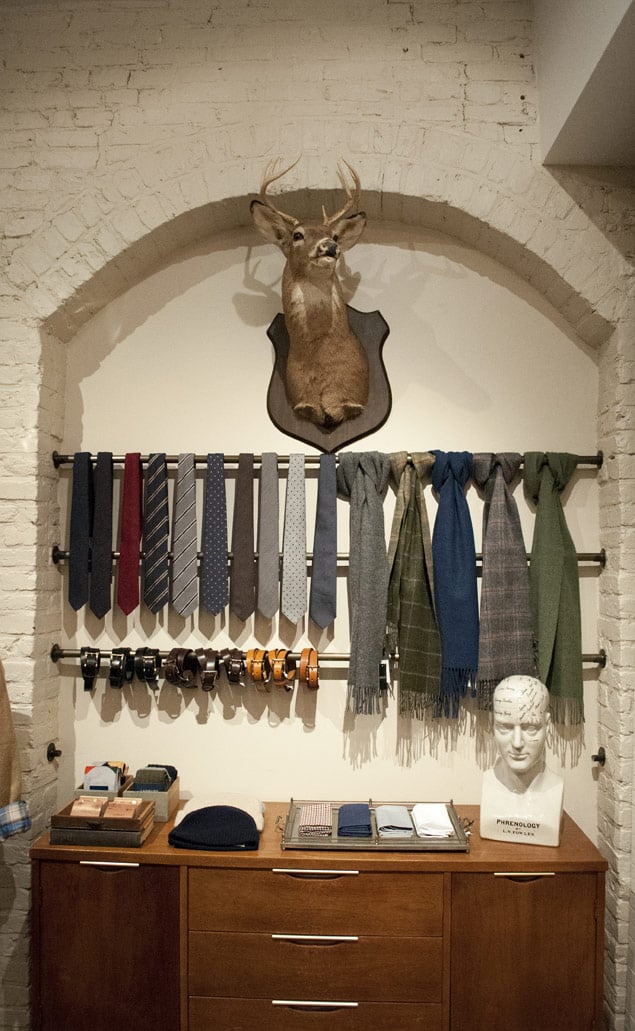 Tell us about how Ledbury came to be.
We were not always shirtmakers. My background is in the nonprofit world. I ran medical missions in Africa and Asia for a children's charity and was based out of London. I ended up in graduate school at Oxford in 2007, where I met my business partner, Paul—yes, we are both named Paul. We were both heading into finance but graduated the day before Lehman Brothers went under, so plans changed.
I always loved clothes and, after years in London, had become spoiled by access to a handful of great tailors. I loved going to a specialist like the shirtmakers on Jermyn Street and got excited about the idea of creating an American shirtmaker that really focused on fit and quality. It became somewhat of an obsession—so one day I approached the tailor who was making my shirts and told him I wanted to work with him. He thought I was crazy, but we ended up meeting for a beer. We met again the next week and then the week after, and eventually he agreed. So I spent the better part of a year working under him, learning about fabrics, stitching, collars, cuffs, and what makes a great shirt. I somehow convinced my business partner that we should get into the clothing business. During the day we would make shirts, and at night we would be in the back of a pub on Ledbury Road writing the business plan.
Who is the Ledbury man?
The Ledbury guy is classic in his styling and modern in his fit. When people look him, I don't think they say, "What a great outfit," but rather, that the guy really "dresses well." I think that gives him an understated confidence in his style. I had a customer tell me he puts on Ledbury when dressing well matters. They are his go-to shirts for all of the big occasions in his life.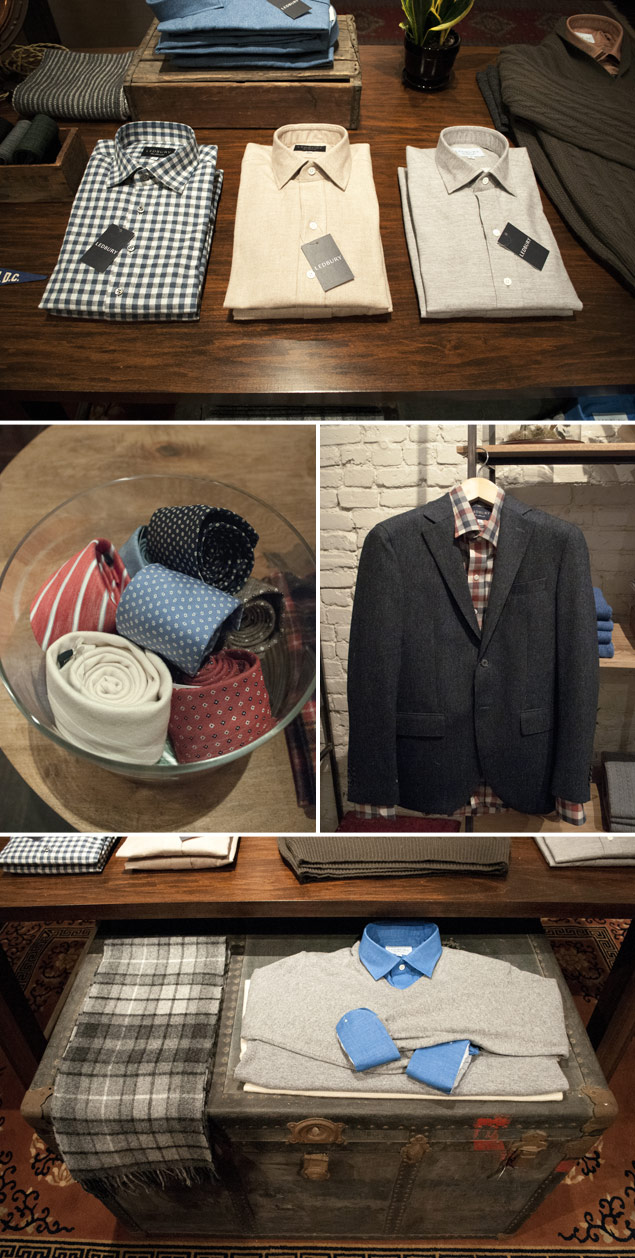 Walk us through the design and production process.
The design process, for us, starts when we head over to France and Italy to meet with our fabric mills and start designing and selecting fabrics. From there, we will start the sampling process in Richmond, which is really never-ending. We come out with shirts every week; this year alone, we will have more than 300 different styles. Our goal is to make classics that should be in every man's closet, but also to introduce guys to different styles and unique fabrics. There is a lot out there for men besides the button-down oxford.
What makes a Ledbury shirt different from other shirts?
We are really obsessive about fit and fabrics and the role those two things play in making a great garment. On fit, we have a both a classic- and slim-fit shirt in everything we do. But even our classic uses less fabric in the waist/torso to create a more flattering look. On quality, we only use Italian woven fabrics and mother-of-pearl buttons. All of our production takes place either in Europe of the United States. And in terms of innovation, we have made a few minor changes like the lowered second button to prevent the shirt from being buttoned too high or too low and a collar that is fused to keep it from collapsing. Nothing revolutionary, but small innovations men notice and end up loving after they try them on.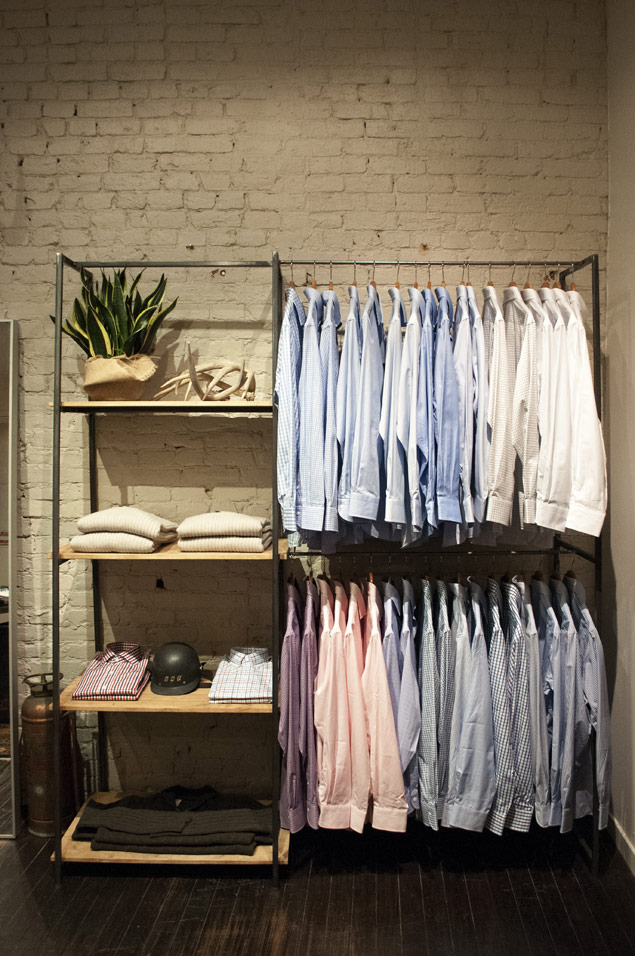 Why are you popping up in Washington?
We love DC. It is our second biggest market, and for good reason. There is a great tradition of personal style in Washington. It is not flashy or flamboyant, but classic, and I think that's very much what we aim to represent at Ledbury. We differentiate ourselves on fit and quality rather than pushing wild patterns and logos—this approach meshes well with the capital city.
Having the monthlong pop-up in Georgetown helps us build a deeper relationship with the great group of customers we already have in the area, and exposes new folks to the brand. What we find is that when people try on the shirts, they love them, so it's fun for us to see that reaction face-to-face.
What's the one shirt style every well-dressed DC guy should own?
It has to be our blue McGuire gingham. You can't go wrong with a large blue gingham check. The shirt looks just as good with jeans as it does with a suit, and shows a little style without showing off.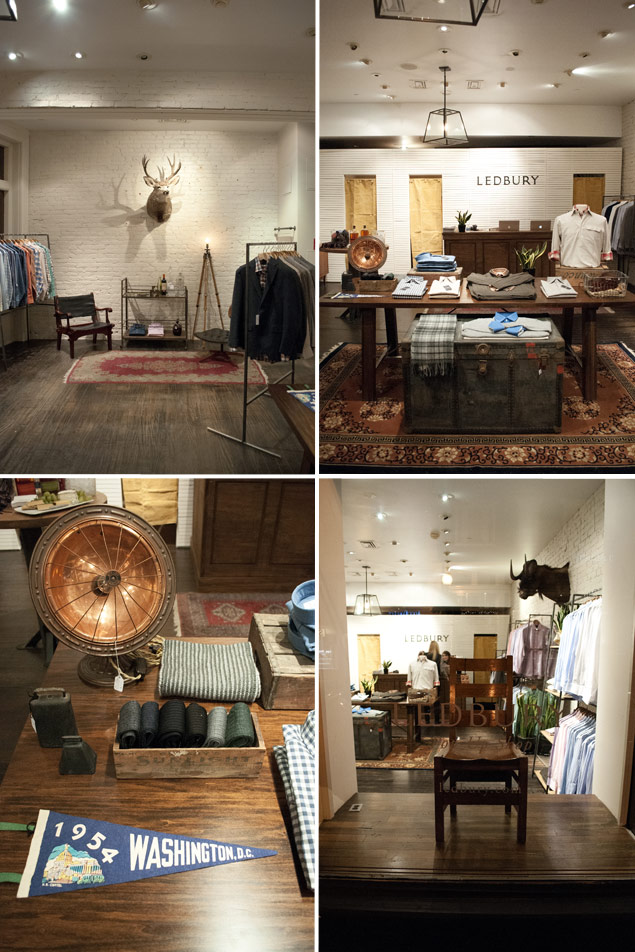 The Ledbury pop-up shop. 1254 Wisconsin Ave., NW. Open Monday through Friday 11 to 7, Saturday 11 to 8, and Sunday 11 to 6, through December 22.