She's one of the easiest to please on your gift list: All it takes is the sparkle of a new nail polish or the shimmer of a good bronzer. Though the beauty addict may seem like she already has it all, there's always more to be had in the world of cosmetics. She undoubtedly already owns a Clarisonic face brush—but does she have the newest variety, suitable for pedicures? The latest in the cult-favorite line of Naked palettes? That's where you come in. Read on for 15 can't-go-wrong gifts for the makeup/hair/spa junkie in your life, featuring some of our favorite local lines and tons of new releases.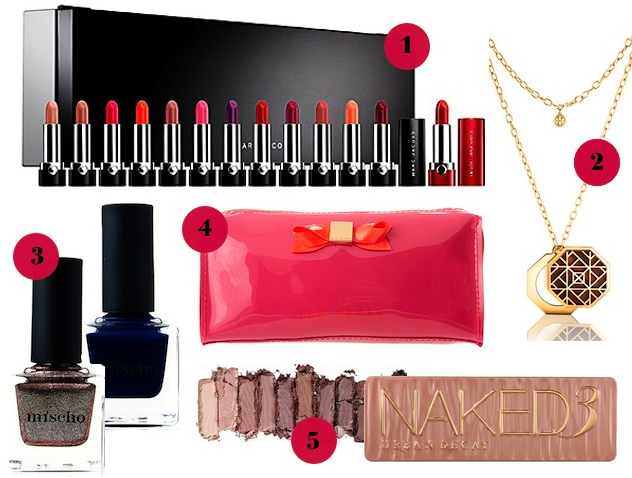 1.
The quirky designer's first beauty line has gotten raves since its debut this summer, and its lipsticks are particularly luxe. This set of 13 offers every party-worthy shade you'll ever need, making it worth the splurge. Marc Jacobs beauty Lovemarc lipstick set, $350 at
Sephora
.
2. From Tory Burch's newly released cosmetics line, this stylish pendant opens to reveal a dreamy solid perfume. $150 at Tory Burch.
3. Two long-lasting, Fashion Week-inspired lacquers from DC-based Kitiya King's nail polish line make up Mischo Beauty's gift sets. Mischo Beauty gift set (available in most shades), $36 at Mischo Beauty.
4. This ultra-girly, affordable makeup case is large enough to hold your longest makeup brushes and durable enough to handle any powdery mess. Ted Baker Jakko cosmetics bag, $35 at Zappos.
5. No explanation necessary for the rosy third in Urban Decay's wildly popular Naked line, which sold out online within hours of its release. (It's gradually being restocked and will soon be available at Sephora.) Naked 3 palette, $52 at Urban Decay.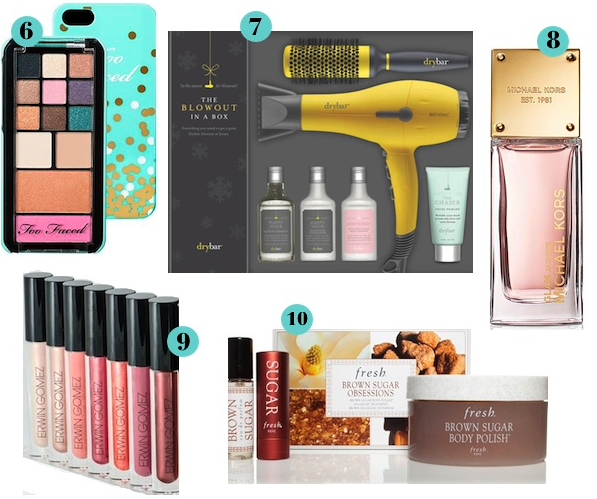 6. Pop this shimmery palette out of its case and you've got a glitzy iPhone 5 cover. Too Faced Jingle All the Way palette, $25 at Ulta.
7. For DIY blowout pros (or wannabe pros): This handy Drybar set is packed with the essentials from the popular area salon—the infamous yellow Buttercup hair dryer, a round brush, and a slew of shampoos and creams, all of which smell amazing. Blowout in a Box, $199 at Drybar.
8. Choose the fragrance from Michael Kors's new lineup that best matches your recipient: Glam (jasmine), Sexy (amber), or Sporty (citrus). Each comes in an beautiful, gold-lined bottle. Michael Kors eau de parfum spray, $75 at Macy's.
9. More local love: These shimmery lip glosses from Erwin Gomez's makeup line, which launched this fall, are available in 16 shades and make perfect stocking stuffers. Erwin Gomez Cosmetics liquid lip gloss, $30 at Karma Beauty Lounge.
10. The brand's most popular body-care item—the brown sugar body polish—comes with two bonuses in this irresistible-smelling gift set. Fresh Brown Sugar Obsessions gift set, $45 at Bellacara.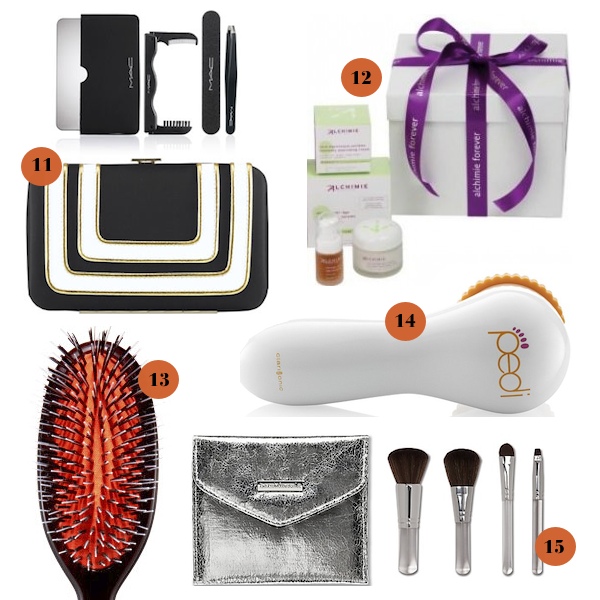 11. A sleek black-and-gold clutch holds all of your grooming essentials, from tweezers to nail files, and easily be thrown into your purse. Stroke of Midnight grooming kit, $49.50 at MAC.
12. Local entrepreneur and skin-care expert Ada Polla's Red Carpet line is as luxurious as it is healing for dry winter skin. Alchimie Forever Red Carpet skin-care set, $195 at Alchimie Forever.
13. Praised by beauty bloggers and editors, it's one of those luxurious industry faves you've dreamed about but won't buy for yourself. Mason Pearsen Handy Bristle brush, $190 at Nordstrom.
14. With this at-home pampering device you'll be ditching your pedi appointments in no time. Clarisonic PediSonic Foot Transformation, $199 at Neiman Marcus.
15. Some of our favorite brushes on the market are packed in a glam, holiday-appropriate pouch perfect for on-the-go touch-ups. Brush With Splendor, $25 at Bare Escentuals.