Who: Casey Thevenot, 23
Public Policy Specialist, Patton Boggs
What I do: "I work in the public policy department at Patton Boggs as a health policy specialist. I assist with the research, development, and implementation of legislative and regulatory strategy for health-care clients, including hospitals, pharmaceutical companies, and medical-device companies. Specifically I monitor for agency regulations and developments on the Hill, correspond with congressional offices, and provide clients with real-time information and analysis on pertinent policy issues."
My work style: "I would consider my work style as classic and feminine with a bit of edge. I feel most comfortable in dresses and skirts, so I usually shy away from pants. I like to wear traditional pieces with unexpected details such as studs, zippers, or embellishments to bring some life to what can be a dull work wardrobe. Fit is also key; I always buy work clothes that are comfortable and flattering. Oh, and I think I'm addicted to blazers and tweed jackets—I have at least 15!"
A Casual Day at Work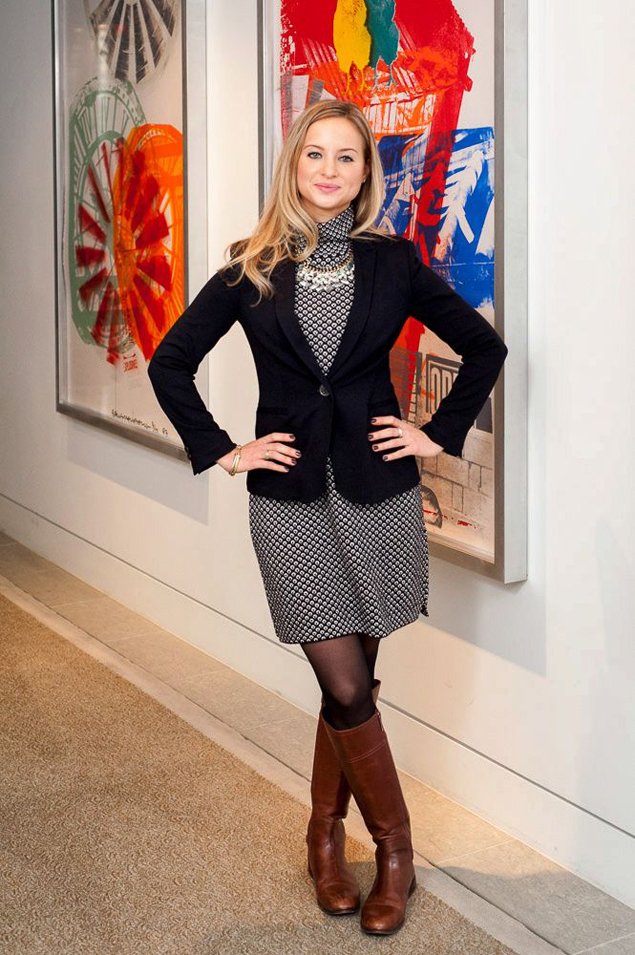 "When I know I don't have many meetings and will be in the office all day, I sometimes dress a little more casually. This sweater dress is soft and comfortable and allows for movement. I topped it with a black blazer to make the look more professional and wore an awesome statement necklace from Zara to bring the colors in the dress, blazer, and boots together. I've had these boots for years; I wear them with everything."
Zara sweater dress, blazer, and necklace and Tory Burch riding boots.

Client Meeting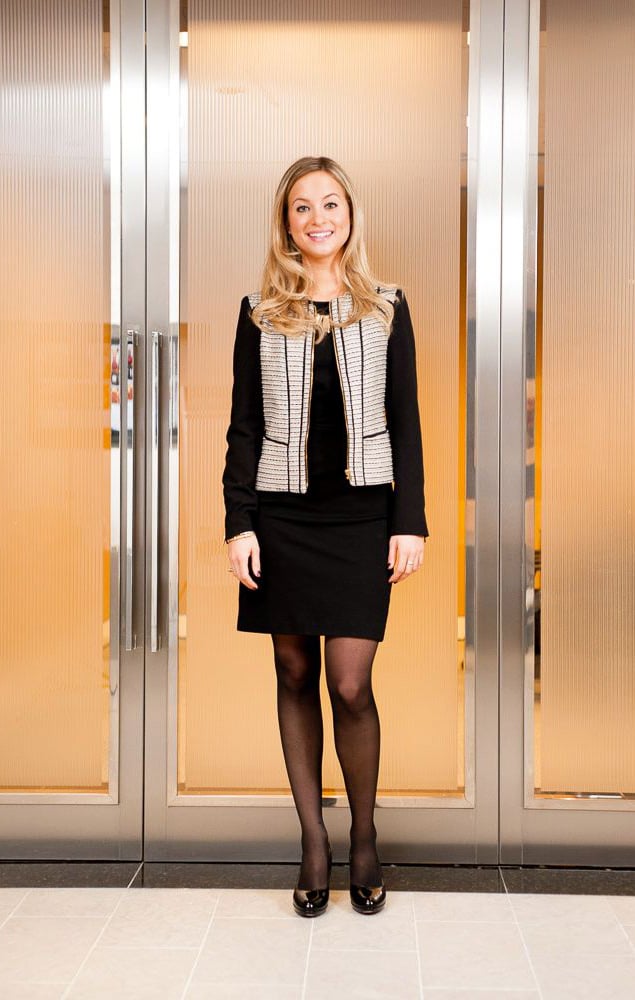 "For client and Hill meetings, I tend to dress in standard business attire with a touch of personality. A black sheath dress is a must in the office setting, but I like to punch it up with a fun tweed jacket, like this one from Calvin Klein. Walking and standing for hours in a day means tired feet, but these Cole Haan pumps have Nike Air technology that make them very comfortable. I have them in nude as well."
Calvin Klein jacket, Trina Turk dress, Cole Haan pumps, necklaces from Tangerine boutique in Woodley Park, and House of Harlow ring.


Charity Jeans Day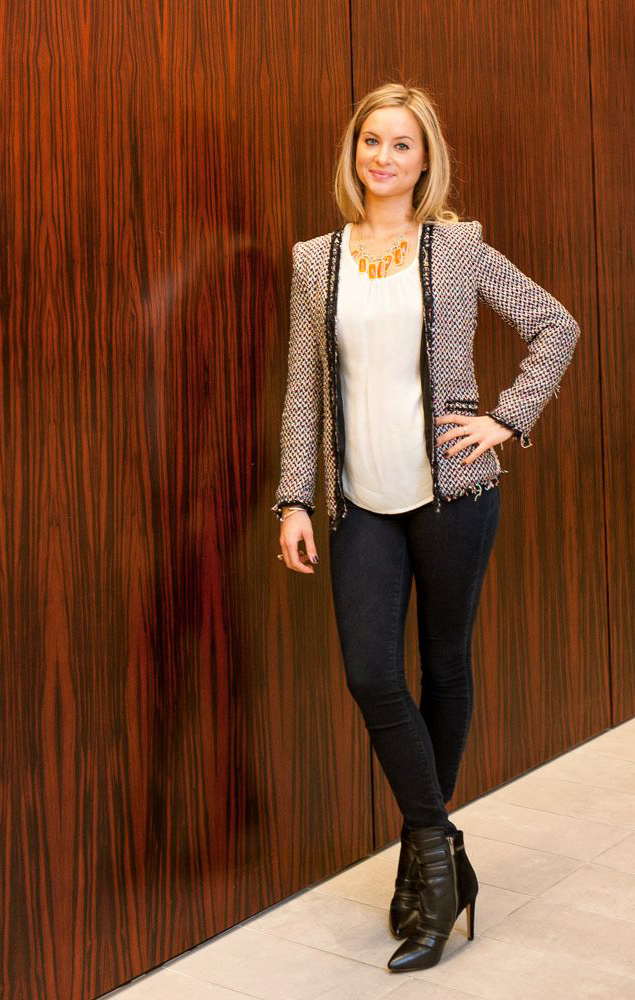 "Once or twice a month, the office has a 'charity jeans day,' during which we are allowed to wear jeans after donating a small amount of money to a charity of the firm's choice. My blazer is very colorful and a bit edgy, which I love. I toned it down with a white silk top and black skinny jeans for the office. These booties bring a little bit of trend to the outfit, and are actually quite comfortable for walking around the firm."
Zara blazer, Joie blouse, J Brand skinny jeans, and Sam Edelman booties.
Around the Office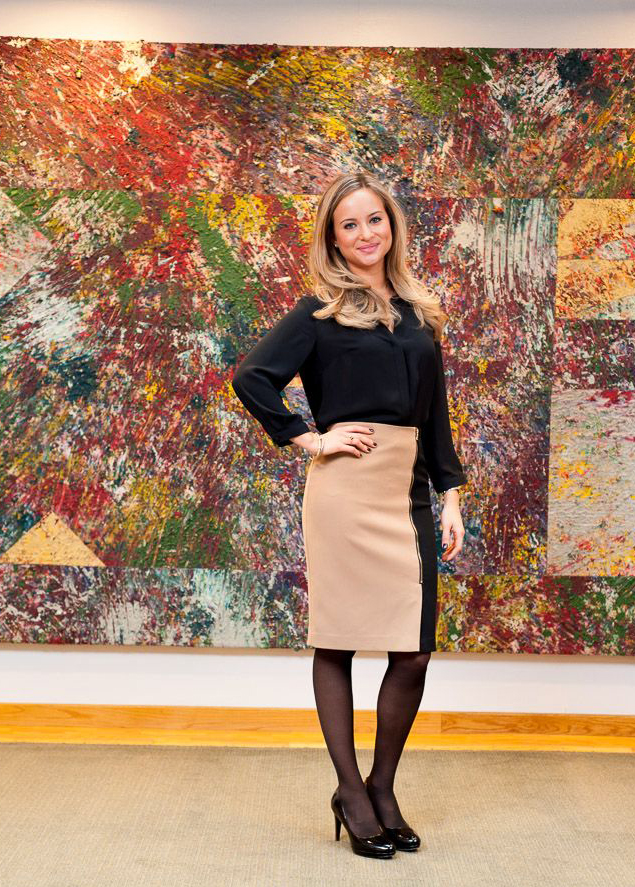 "You can find me in a button-down blouse and skirt on most days. This blouse works with everything, and the detail on the collar adds a little interest. Most of my wardrobe is made up of neutral colors, making it super-easy to mix and match pieces for work. I wear this skirt with white, dark green, and gray tops as well. Jennifer Zeuner's jewelry is understated and dainty enough to wear in a professional setting."
Ann Taylor blouse and skirt, Cole Haan pumps, Jennifer Zeuner necklace, and House of Harlow ring.
The Details

All photographs by Andrew Propp.
Think you or someone you know deserves a chance in the What I Wear to Work spotlight? E-mail mthomas@washingtonian.com with pictures and a job description for consideration.
You Might Also Like: