Travel has always played an important part in the relationship of Andrea Gravlin and Richard Milne. The two met at the Baltimore Washington International Airport, and a "first date" at the airport's wine bar before their respective flights happened quickly. "It was quite fitting as one thing we are both passionate about is traveling," says Andrea, who teaches at and manages two Pilates studios.
The relationship took off from there (sorry, we had to), and, two years later, Richard, a corporate recruiter, brought Andrea back to BWI to ask her to take a more important journey with him, the journey of marriage. After calling ahead to make sure that the bar where the couple had their first date was open, Richard had a plan to propose there before the two flew home for the holidays. However, when they got to the airport, Richard realized that the bar was in another terminal. "Not having enough time to go to the other terminal, and certainly not having a good reason to get me to go, he ended up coming off the escalator and pretending to tie his shoe. When he came up, he had the box and he proposed," says Andrea. When the big day followed 16 months later at Hotel Monaco, the couple's love for traveling inspired some of the wedding details.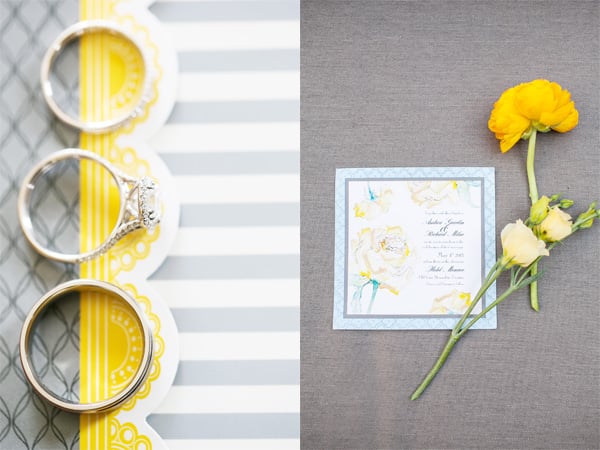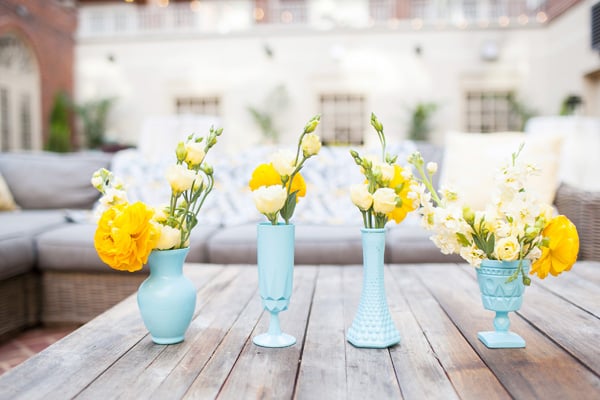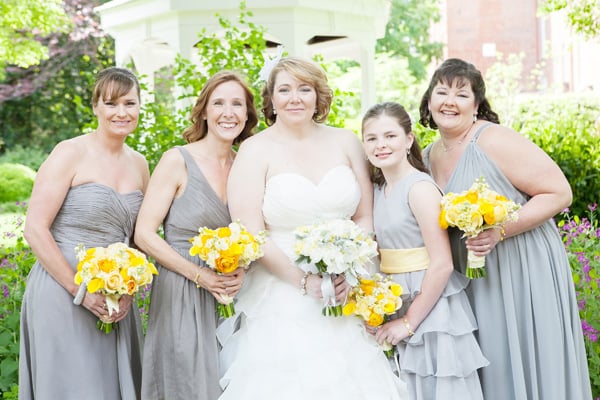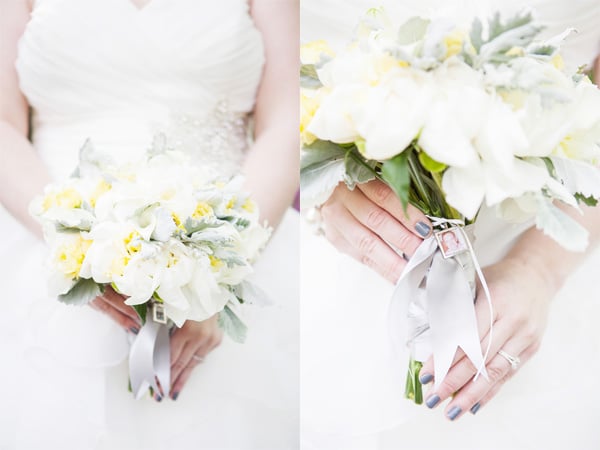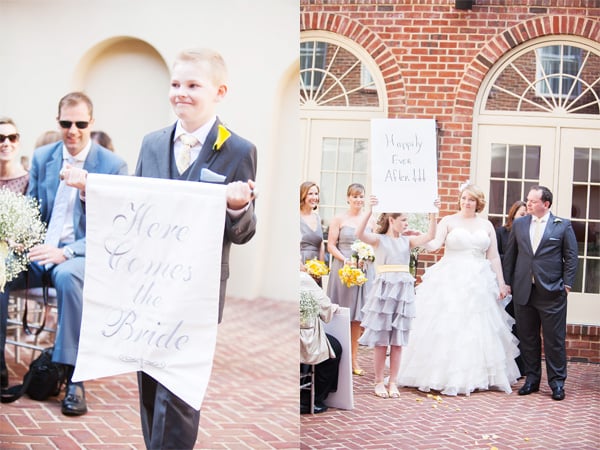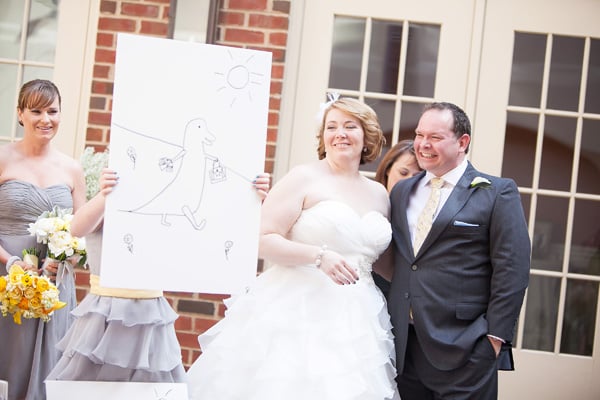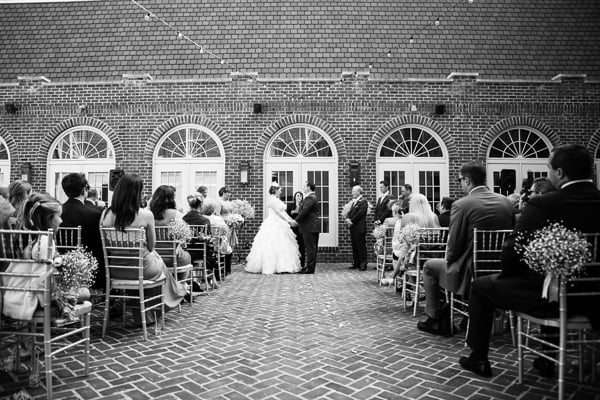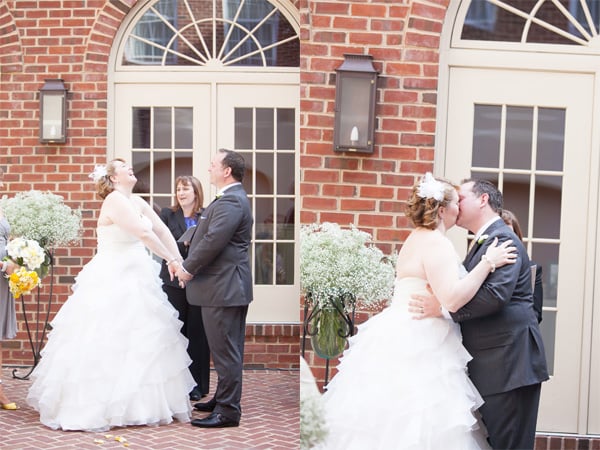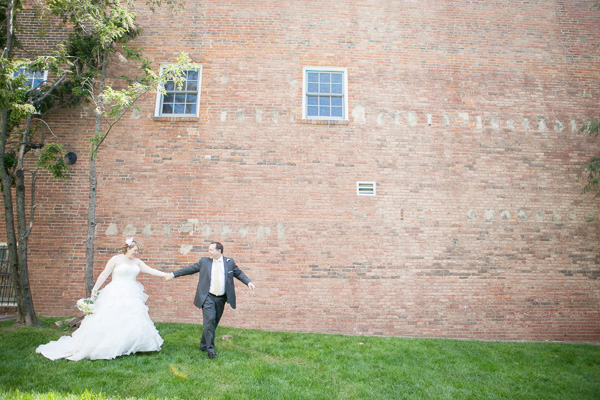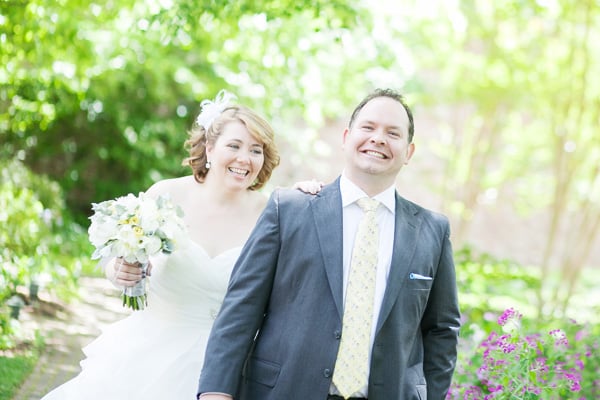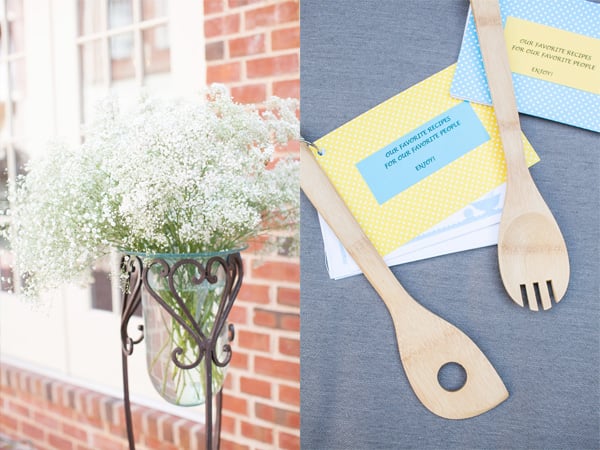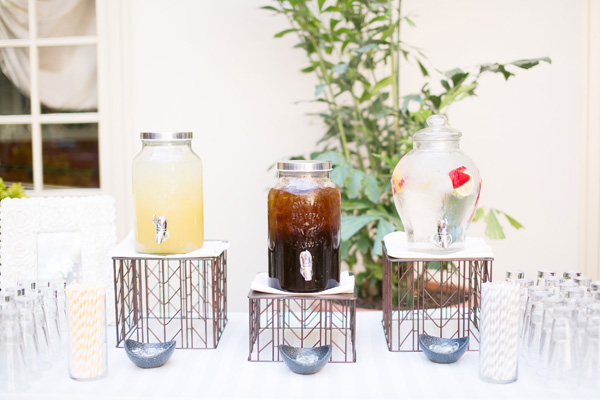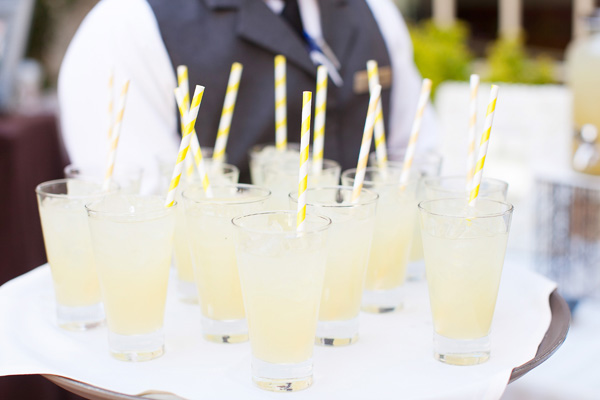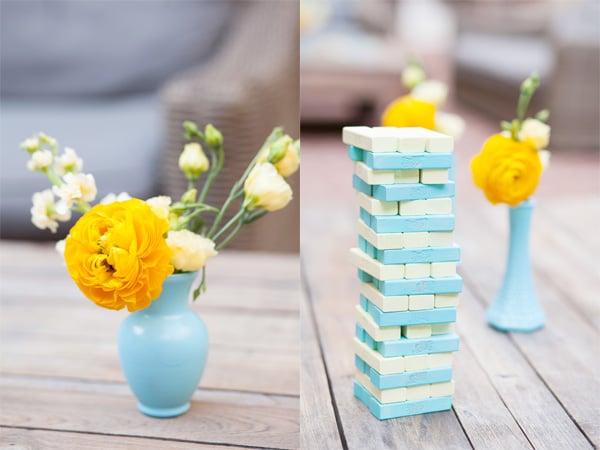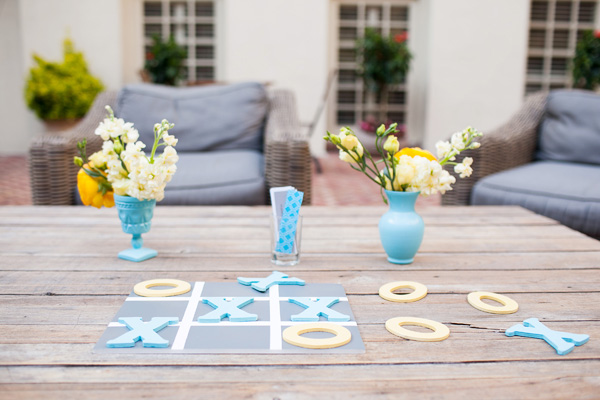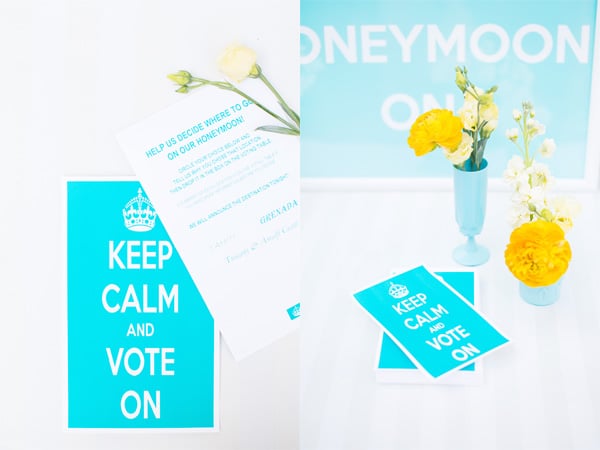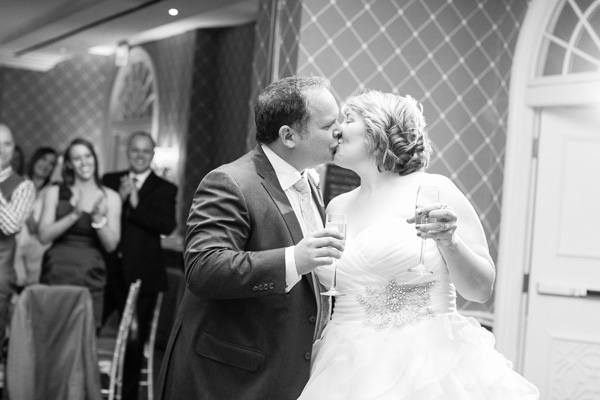 Details:
Photographer: Astrid, Astrid Photography
Wedding Venue/Caterers: Hotel Monaco
Day-of-Coordinator: Jessica Shea, J Shea Events
The Bride's Gown: Allure, The Bridal Boutique
Hair Dresser/Makeup Artist: Alison Harper
The Groom's Suit: Bespoke suit by Tom James
Cake Baker: We had a dessert bar with miscellaneous treats from Heidelberg Bakery, Fancy Cakes by Leslie, and Georgetown Cupcake
Florist: Petal's Edge Floral Design
Wedding Flowers: Peonies, roses, and other creams and yellows for the bouquet; large bushes of baby's breath for the ceremony; mixtures of yellows and creams for the centerpieces.
Music/Entertainment: DJ D-Mac
First Dance Song: "I Do" by Colbie Callait
Invitations: Custom designed by Momental Designs
Bride's Favorite Wedding Detail: "Our day-of-coordinator Jessica Shea. From the moment the rehearsal started on Friday night to the very last minute of the after party, Jessica took care of everything. She took all the work I had done and made my vision happen. I didn't have to take care of anything, didn't have to answer questions, didn't even have to think about where the gifts should go, and I didn't have to worry about friends and family doing any of that either. It allowed Richard and I and all our guests to truly be present – to truly enjoy every minute and just be a part of the day as opposed to also hosting and running the day."
Groom's Favorite Wedding Detail: "All the amazing pre-wedding work Andrea did, having all our friends and close family enjoy a whole relaxed weekend of fun with rehearsal dinner, wedding brunch, and day-after breakfast, seeing Andrea in her beautiful dress, the wedding cake with UK flag, and the dessert table."
Biggest Surprise of the Wedding: "How fast it all went. Everyone had said that would happen and Richard and I tried to take it all in but it still went so fast," says Andrea. "Having my sister watch the wedding via Skype. She was in London with her newborn so [she] could not attend the wedding festivities," says Richard.
Special decor details: "We are known for loving a good game night so we had some games incorporated into the day. Our seating chart was [a] map of the world with corresponding table assignments named after the call letters of the airports we have been to in our travels. For the guest book I took a photo album and attached 365 small envelopes. Guests were asked to put a note, a small Polaroid picture or any little keepsake. We now have this book and open one envelope each day. We used a Lovely Love Store as one of our readings. I had drawn the illustrations from the book onto poster board and my niece held them up as the book was read. It was so much fun and a wonderful moment in the ceremony," says Andrea.
Wedding favors: "We both love to cook together so for our favor we took several of our favorite recipes and created a small recipe book, and then attached them to a wooden utensil."
Wedding Theme: Casual elegance
Four Words that Describe the Wedding: Relaxed, stylish, classy, amazing
Honeymoon Spot: "Since we love to travel and wanted to have a way to involve our loved ones in the wedding, we decided to let them decide on our honeymoon location. We created Honeymoon Ballots in the 'keep calm and carry on' theme and announced the destination at the end of the ceremony. The option that won was Italy."
Where the Couple Currently Live: Bethesda, Maryland