After eight years of planning and lurching throught he permitting process, the massive redevelopment of DC's Southwest Waterfront into a mixed-use complex called The Wharf finally broke ground with a two-hour event featuring five candidates running for mayor, all of whom managed to keep their ceremonial shovels swinging at the dirt and not at each other.
Mayor Vince Gray called the packed tent the "most crowded groundbreaking I've been to in the District of Columbia." The Wharf also one of the biggest real-estate investments the city has made, with $198 million in public funds contributed to the project. The construction launched today is only the first $800 million phase, and will include will include 200,000 square feet of retail, 435,000 square feet of offices, 648 apartments, 240 condominiums, 680 hotel rooms, and seveal cultural spaces, including a 6,500-capacity music venue managed by the 9:30 Club's Seth Hurwitz.
Financing for The Wharf's first stage also includes $220 million from a Canadian investment firm. The full project is estimated to cost $2 billion.
The Wharf is "one of the most exciting development projects ever constructed in the city of Washington, D.C.," said David Brainerd, the chief investment officer of Madison Marquette, which is developing the mile-long site with PN Hoffman. Designs for The Wharf were done by the architecture firm Perkins Eastman.
Gray was flanked on stage by mayoral rivals Muriel Bowser, Jack Evans, and Tommy Wells, along with Vincent Orange, who arrived about an hour into the ceremony. Bowser, Evans, and Wells, appearing in their guises as members of the DC Council, also got their turns to speak. Wells, who represents Ward 6, including the waterfront, gave a send-off to the style of buildings that will be torn down to make way for the ultra-modern Wharf.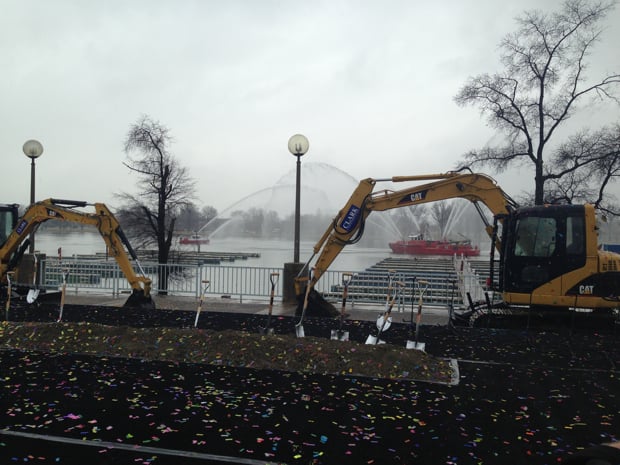 "Whatever you think about brutalist architecture, it's significant and it's amazing," he said.
District officials project the Wharf to create 1,100 jobs during the 42-month construction phase and 2,100 permanent jobs when its shops, restaurants, hotels, and venues open. Brainerd said the site will require eight tower cranes a year from now, a lofty sight even for DC, where construction cranes have become ubiquitous elements of the skyline.
Victor Hoskins, DC's deputy mayor for planning and economic development, likened The Wharf to Prince George's County's redevelopment of Oxon Hill into National Harbor, but suggested the District is much better suited to add a sprawling mixed-use development along the water.
"We won't need a casino to keep it afloat," Hoskins said.