The National Cherry Blossom Festival kicks off this weekend, bringing with it lots of fun events and a slew of themed food and drink specials. This year, the beauty world is jumping on board with a special-edition blossom-themed nail polish.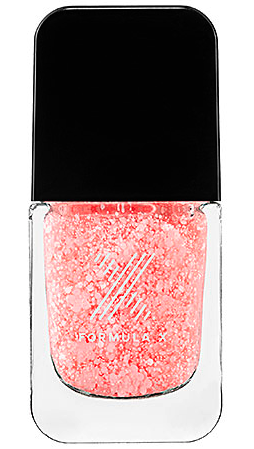 In honor of the blooms, Sephora debuted a shimmery pastel-pink polish tinged with blossom-shaped specks earlier this month under its Formula X brand; you'll find it on shelves throughout the summer. The polish is marketed as a topcoat—the petal shapes are most visible atop more pigmented shades, as shown above—but the sparkling lacquer looks equally pretty on bare nails. It's just one of countless cherry-blossom-themed beauty products, such as L'Occitane's Fleur de Cerisier line and several options from Shiseido—but it's one of the only released specifically for Washington's festive spring season.
Formula X Cherry Blossom top coat. $12.50 at Sephora.
See Also:
Color Story: Beautiful Pieces in Spring-Appropriate Blush
Founder Kitiya King on Mischo Beauty Nail Polish