Susan Richards Shreve
The novelist and George Mason University English professor's home office takes over a former sculpture studio in DC's Cleveland Park. Shreve's latest book is You Are the Love of My Life.
We bought a house that belonged to Anne Truitt, the sculptor. It's a beautiful, large studio with wonderful light, near National Cathedral. And the windows are high—when you look out, you have to be on your tiptoes.
It was a typical studio with a sink and a cement floor that was covered with paint, which we thought was wonderful. But Truitt was much more stoic than I am, and she could stand on cement. We put in hardwood floors and a wraparound desk and turned it into a kind of library.
David Baldacci
The author of more than 25 novels, including his latest, King and Maxwell, lives in Vienna.
I have what I call a plotting couch. I have a blanket that years ago a high school in Ohio sent me. The students had read one of my novels, Wish You Well. They all drew scenes from the book on this huge quilt and put their names on it. I'll sometimes just lie on the couch and look at that blanket and daydream, because that's really where the plot ideas and the nuances and twists and turns come from. I get away from everything. I lie back, close my eyes, and my mind just goes.
E. Ethelbert Miller
A poet and the director of the Afro-American Studies Resource Center at Howard University, Miller works on the top floor of his house in DC's Brightwood.
I built a little altar on the window with pictures of my father, my mother, my brother, my aunt, and my grandfather so I have them here with me. Many times in my writing, I'm making references to family.
Howard Norman
The author and University of Maryland writing professor lives in Northwest DC. A memoir, I Hate To Leave This Beautiful Place, was published in June.
It has to be quiet, comfortable. Music is important. Writing is about setting up levels of intimacy and familiarity every day—it's an emotional discipline as well as an aesthetic one. My office is a simple room with not much clutter. There's nothing really dramatic or perhaps even aesthetically compelling about it; it's just surrounded by things that strike the deepest emotional chords—pictures of our daughter, paintings, a recent series of photographs that my daughter has taken. When I look at those, I'm inspired. I have a manual typewriter, an old Royal I've used for 40 years. I tap away on that, or write on legal pads, then later on put it on a computer.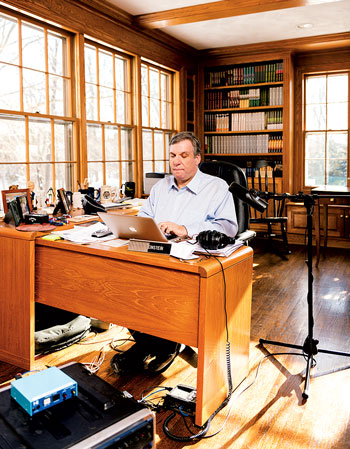 Alice McDermott
The author of novels including Charming Billy and Someone is a writing professor at Johns Hopkins. She lives in Bethesda, where she converted a dining room into an office.
I like having lots of natural light, watching the day progress, watching the seasons progress. If you spend many hours sitting in one place absorbed in fictional worlds, it's nice to have a sense of not only the day going by but the buds appearing or the snow falling—that there's also this real world out there.
Michael Collier
An English professor at the University of Maryland and director of the Bread Loaf Writers' Conference in Vermont, Collier lives in Catonsville, outside Baltimore, where he writes above a detached garage.
I've always liked being up rather than embedded in the middle of the house. My office is more like a perch in some ways, a roost. It allows me to enter my imagination and leave the literal world behind awhile. I need to have certain books in a study—a copy of Shakespeare: The Complete Poems, Thomas Hardy, Yeats. Having them makes me feel comfortable.
Rachel Louise Snyder
Snyder—a writing professor at American University whose first novel, What We've Lost Is Nothing, came out in January—writes from a bedroom in DC's Tenleytown.
I write longhand, so I don't sit at a desk—I write in a big, comfy suede chair I brought with me from Cambodia. It's scary to write. There are elements that are terrifying because you're putting something of yourself out there. Nobody wants to get rejected. Having a soft, safe chair makes me feel like I'm in a protected environment when I'm writing.
Susan Coll
Susan Coll is a novelist—The Stager is out this summer—and programs director at Politics and Prose bookstore. Her home office is in the attic of her Cleveland Park house.
I need a clean table to put the computer on. I like everything a little spare, not a lot of clutter. The more I can isolate the work I'm trying to do from everything else going on in my life, the better.
John Feinstein
The sportswriter, author, and host of "The John Feinstein Show" on CBS Sports Radio lives in Potomac.
My office has a fireplace. That was the major reason I bought the house—because I loved that I could work in a place with a fire going. I do my show from here. They set me up with a mini-studio, so I sit at my desk and the microphone is right there, and I'm on my computer so they can send me who the callers are. When I get done with the show every day at noon, I'm right here in my house and can go have lunch.
This article appears in the March 2014 issue of Washingtonian.