We could talk about the modernist, $4-million home he built on a Virginia peninsula where the Potomac River meets the Chesapeake Bay.
About how the home hovers above the shore, resting on wood pilings that glow at dusk with a blue LED light meant to complement his silver-and-blue, 87½-foot, three-bedroom yacht. We could talk about the $5-million historic property he owns in Georgetown. About its being the kind of home he'd wanted ever since he was a mathlete and track star at Fairfax County's Hayfield Secondary School. We could even talk about the estate he paid $8 million for in Miami Beach—a place the Wall Street Journal dubbed "the $40-million party pad" after a $32-million renovation added four outdoor hot tubs, a nightclub, and a grotto straight out of the Playboy Mansion.
Yes, we could talk about how Bill Dean is known to many as a playboy. Washington's Hugh Hefner. A guy who, this past February, celebrated his 49th birthday at the K Street hot spot Capitale, surrounded, as he often seems to be, by hordes of beautiful, short-skirted women, many of them more than 20 years his junior.
But Dean would prefer not to talk about all that. Understand: He's not embarrassed about the ways in which, as he puts it, he "blows off steam." It's just that Dean would much rather talk about his business, a part of his life that even the Journal gave short shrift.
Dean is the chief executive officer and majority owner of M.C. Dean, an electrical-systems engineering firm in Dulles. The company was founded in 1949 by his grandfather Marion and handed off to his father, Casey, in 1978, then, in 1997, to a 32-year-old Bill. It's since expanded rapidly, growing from a 150-person outfit to a 3,000-person firm that's done business in more than 40 countries and makes about $700 million a year, roughly half of which comes from federal contracts.
"You gotta see this," Dean says on one of the days we meet in his office, hopping up from a chair and barreling down a corridor at M.C. Dean's headquarters in a nondescript office park just across Route 28 from Dulles International Airport. Six-foot-two, blond, blue-eyed, barrel-chested, and wide-shouldered, Dean is built and moves like a college linebacker. He's heading to "the lab," where M.C. Dean engineers have been testing electrical-engineering systems, including one for Parkland Hospital in Dallas, the hospital John F. Kennedy was rushed to after being shot in 1963. Today Parkland is being transformed into a modernist structure of cantilevered silver boxes, a $1.3-billion renovation for which M.C. Dean has designed and is installing the entire electrical system, including multiple backups. The company is also working on the fire-alarm and security systems, the telecommunications network, and pretty much anything else that has a current running through it. (It did similar work in the 2011 rebuilding of Walter Reed National Military Medical Center.)
This is what separates Dean from the guy who installed your living room's recessed lighting: M.C. Dean doesn't just install powered wires; it engineers massive, integrated power systems and develops the computer-aided technology to manage them. For this, clients such as Boeing and Bank of America and US taxpayers—especially through the Department of Defense—pay a lot of money. Dean's company made $275 million as the primary electrical contractor on the Pentagon renovation completed in 2011.
That project helped M.C. Dean become the second-largest electrical contractor in the country in 2011, according to the trade magazine Electrical Construction & Maintenance. And Dean thinks his company can keep dominating those rankings if it continues cranking innovations out of that lab he's now heading to. "I spent two years researching and prototyping this stuff," he says of the work for Parkland Hospital. "Really, that means that I've spent millions of dollars screwing it up. But now we've got it working. And I mean, holy crap, this is exciting! This is big, integrated electronics! This is fun!"
Dean swipes his ID card through a security panel and shoves open the door to the lab. Inside there are wires. A lot of wires. Also, some big computers. And a room-length whiteboard where someone with an engineer's sense of humor has doodled a recreation of the mission plan that saved the seemingly doomed Apollo 13, trajectory calculations and all.
Dean explains everything—at some length. Cogeneration energy systems. MicroStation TriForma 3-D architectural modeling. Fiber-optic-cabling plants. Holy crap, indeed. Yes, this is what we're talking about. Even though we could be talking about the Learjet that Dean and his dogs ride to and from the Miami estate. Or the bikini model Dean dated last year, or the Miss America contestant a few years earlier. Or even the seemingly bizarre conflict between Dean's two worlds. "Bill is the businessman by day, working with all these conservative federal agencies," says his brother Eric Dean. "Then he's one of the most available bachelors by night. He's kind of like Batman."
Put a slightly less awesome way: Bill Dean is, by day, a very geeky executive. By night, he's host to some of the most beautiful people in DC and Miami (3,600 guests came to his birthday party in Miami in 2013). So which of the two identities are we really going to talk about? Sub-question: Why not both?
That, Dean agrees to. We can talk about Batman so long as we also talk about Bruce Wayne—getting both identities out in the open. "You can't live a double life," Dean says. "There are people I know in Washington who do that. That'll make you schizophrenic. If you're single, you should be able to enjoy yourself. I'm single, so I do. But I also think the things that we do at this company are more special than all the other fun things I get to do. I know systems engineering is not as sexy as that other stuff, but what we do here is what I'm most proud of. It would be nice if people talked about that more."
Okay. Let's do that.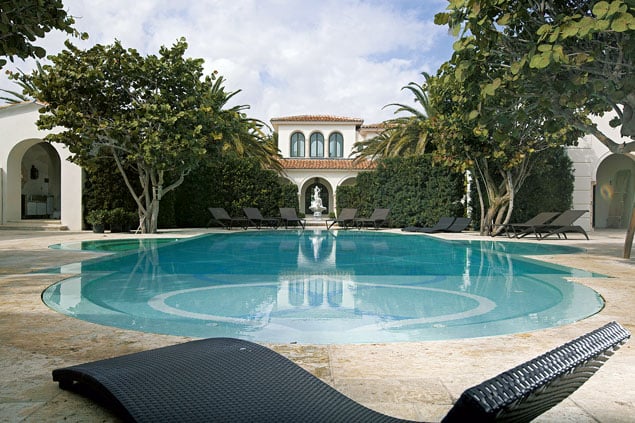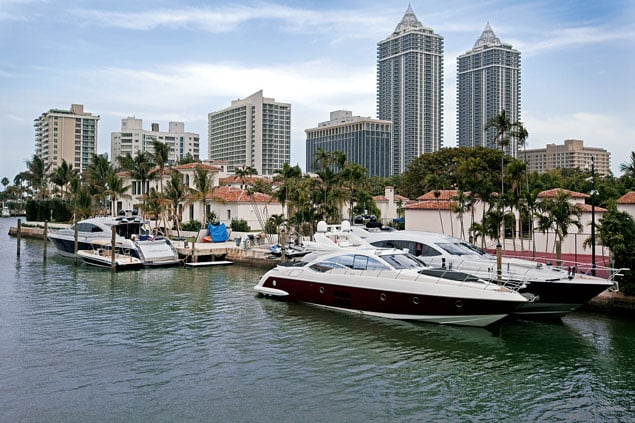 When you step aboard the new streetcar line on Northeast DC's H Street later this year (or whenever the project goes online), the doors will open courtesy of the power supplied by M.C. Dean. The power will come from overhead cables that are hooked into the city's electrical grid and monitored by a computer system that makes sure juice is running through them at all times, including when the cars move through the turnarounds at the ends of the line. Dean's company gets paid—it's sharing a $50-million District contract—to make sure all of those interrelated movements are synchronized.
This kind of highly integrated, complex work is nothing like what M.C. Dean did when Marion Caleb Dean—who grew up near 17th and U streets, Northwest, and attended Central High School—founded the company just after World War II, nor, for that matter, what his son did when he took over as CEO. "When we were growing up," Eric Dean says, "the company was a relatively primitive electrical construction company. So we spent all of our summers working there digging ditches and pouring concrete and twisting wire and pulling cable."
It wasn't the kind of work Bill Dean's father wanted his son doing once he joined the firm full-time in 1990, two years after graduating with an engineering degree from North Carolina State. "My dad said, 'There's no reason for you to come here and learn what I do, because I'm already doing that. Go do something new,' " Dean recalls. So he pushed the company into high tech, often applying his degree to design new systems himself and then writing the proposals needed to capture the business. He hired some of his engineering friends from college, and one friend who'd graduated from MIT, to help.
The first contract Dean landed was to upgrade the IT infrastructure at the Library of Congress. To win the bid, he had to convince the library he could do the work better, faster, and cheaper than its incumbent contractor, AT&T, a company that was by revenue roughly 500,000 percent bigger than M.C. Dean. "I remember that deal like it was god-dang yesterday," Dean says with his pronounced Virginia twang.
The contract gave M.C. Dean a marquee client, one digging out its old telecommunications and electrical networks and installing a new, high-speed network using fiber-optic cables. It was the same kind of project that universities across the country were embarking on at the time, and M.C. Dean used the technology it engineered for the library to pick up contracts with Catholic and George Mason universities, among others. From there, Dean was off and running, almost literally.
Dean, who speaks so quickly that he often falls into an awkward stammer, estimates he worked 100 hours a week on average and took just two days of vacation a year all through his twenties. The company grew at a rapid clip, going from $8 million in annual revenue in 1990 to $25 million in 1997. Dean credits part of that growth to the teams of engineers who were around even before he was old enough to dig ditches during his summer breaks. "There were a lot of very smart people here already," he says, which "made it a lot easier to grow than if I had to build the company from scratch."
That sounds like the kind of "aw shucks, it wasn't all me" statement you'd expect from a CEO. But there's something to what Dean's saying. He charted a new course, sure, but he also leveraged what M.C. Dean already had, not least of which was its connection to the US military. Marion Caleb Dean had served in the Navy during World War II and worked as an electrical contractor for the Navy shortly after the war. That connection remained and expanded under Casey and Bill Dean: The Navy is now M.C. Dean's biggest federal client.
Today Dean is fully in charge of the family company. He began buying his father's majority stake in 1994. "To the best of my knowledge, no one has ever inherited a share of this company," Dean says. He won't say exactly what it cost him to take control, only that his dad required him for years to redirect the bulk of the new revenue he was bringing into M.C. Dean toward buying the firm rather than, say, a mansion in Georgetown.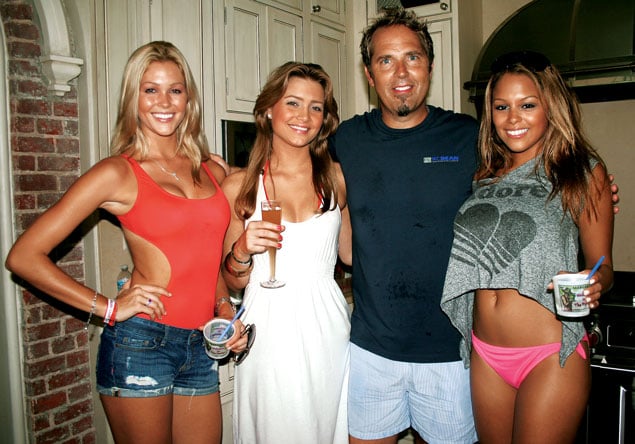 Early on during his July 4 party in Georgetown last year, Bill Dean stood by the side of his pool and sipped a Diet Coke. He spoke to his brother at length, not once interrupted by the couple of hundred people who had already assembled at his Dodge Mansion, a home built in 1853 for Robert Perley Dodge, an engineer with the C&O Canal Company.
Perhaps Dean kept his distance because engineers speak a different language than go-go dancers and lingerie models and Playboy playmates, all of whom have been on Dean's guest list. Or perhaps it was because Dean was shadowed by a security guard during the six-hour event.
At its peak, there were about 400 revelers inside the mansion's iron gates at any time. "Probably just a quarter of the people there are my close friends," Dean says. "The next quarter are more distant friends. The remaining half are just people I know who I invited on Facebook. So they are my friends, because Facebook friends count, right?"
Sure. Why not? But, perhaps befitting events where 200 or so attendees are casual acquaintances, Dean's July 4 and Halloween parties, which will enter their eighth and ninth years in 2014, both feel more like a nightclub opening than a house party. At the home's entrance at 28th and P streets, Dean's assistant screens guests via her iPad to ensure they're on the list. They receive wristbands, then continue on where they can pose, red-carpet style, in front of a banner displaying the logos of M.C. Dean and its subsidiaries.
Inside, guests can roam the back yard, the rear patio, and the spacious kitchen that Dean added after he bought the property in 2003 for $2.9 million. He spent another $3.5 million on renovations, adding a rooftop patio with a hot tub and bar and a custom-built bar in the basement—the kind of touches you might expect from a bachelor, especially one who first began admiring the neighborhood as a kid in Fairfax County. "Georgetown, when I was younger," Dean says, "was the place to be. It wasn't as crazy-expensive then. But it was where the fun was."
Dean's remodeling also added a sub-basement stuffed with fiber-optic data cabling, computers, and failsafe power systems that allow him to transform the mansion from a stately manor to a party palace. A sound system runs through nearly every room in the house, and there are hookups for high-def TVs embedded in control panels on many walls. (Dean can also control the home's major electrical functions from an app on his smartphone.) During his parties, flat-screens are hooked into those panels, each displaying a digital photo album of parties past.
Not on display are his formal living room, a side parlor, the four bedrooms, and his home office. Bouncers outfitted with walkie-talkies and earpieces roam the hallways, enforcing the off-limits zone. Most of these rooms—with their wood trim, brick fireplaces, and crystal chandeliers—resemble what you'd expect in a 164-year-old home. In the office, Dean's dark-wood desk faces a portrait of George Washington, a replica of Gilbert Stuart's "The Athenaeum Portrait," that Dean, an avid reader of history, specifically requested of his designers. When he's sailing from his home along the Potomac in Virginia, returning to DC on his yacht, called Moksha (a Hindu term for spiritual release), Dean often orders the vessel slowed to a crawl at Mount Vernon so he can admire the view of the first President's back yard. "You can just picture Washington sitting up there on that porch with [the Marquis de] Lafayette talking about the old days," Dean says.
• • •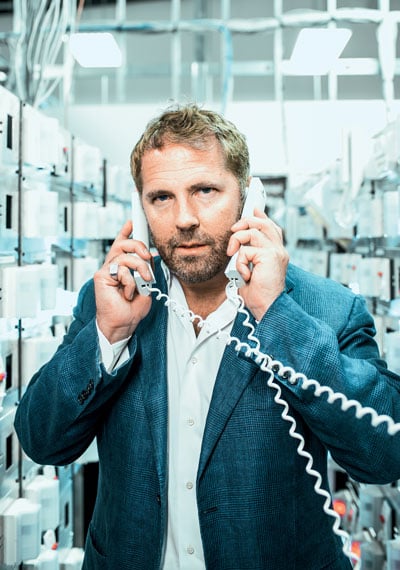 Dean's porch-mate, or rather yacht-mate, is MicroStrategy founder Michael Saylor. Best friends and co-owners of Moksha, the men are the same age, with birthdays just weeks apart. Both have Miami Beach mansions. And both talk shop to each other. A lot. "Saylor is one of the few people who I have a high-quality information exchange with about business," Dean says. "A lot of the guys I know run much smaller businesses, and with them you just don't have the same kind of exchange."
Which is not to say that Dean and Saylor have the exact same issues. This past February, Saylor ran afoul of some key MicroStrategy investors who took issue with a stream of photos he was posting on social media—they featured him cavorting with younger women on one of his yachts (not Moksha)—even as the company's stock languished. Dean, as head of his privately held company, has no such worries. He also doesn't have Twitter or Instagram accounts. And if you scroll through geo-tagged images of the people attending various functions at Dean's homes, including the massive birthday party in Miami last year, you'll find Dean is largely absent.
He's even sometimes physically absent at the parties themselves. One neighbor tells me that, in Great Gatsby style, Dean will often wait until halfway through a big event to make an appearance, and just as quickly disappear.
"Bill doesn't need to be at the center of anything," says Lindsey Mask, a party guest in DC and Miami and the founder of Ladies America, a national network that connects professional women in business and politics. "He just wants you to have fun."
Agreed, says Dale Overmyer, whose Georgetown architecture firm has worked on all of Dean's homes. Overmyer says Dean has never set a price limit, or created a budget for that fun. "Bill doesn't say, 'I want the house to look like this, and I want it to cost this,' " Overmyer says. "With all his homes, he just tells us what it needs to do, how many people he wants to accommodate, and what kinds of events he wants to have on the property. He wants them to be basically indestructible where weather is concerned and to perform perfectly technologically. Beyond that, he just encourages us to make it as entertaining as it can be."
That can be a problem. Although everyone who lives near the Dodge Mansion is invited to both of his big annual gatherings, not all darken Dean's doorway on All Hallow's Eve or on the Fourth. One neighbor I met at the July 4 party last year told me, "There are people coming and going and making a lot of noise, especially on Halloween. And there are people who really hate Bill for that."
Dean is diplomatic about the objections. "I don't know if my neighbors like the parties, but they accept them," he says. "And we cut things off earlier now than I did when I was younger." Then again, doing things the way they were done when Dean was younger is really the whole point of his Halloween party. "This was the center of the city on Halloween when I was growing up," he says. "But now, everyone who is living in Georgetown acts like that never happened. And I'm like, 'Well, remember when you were young?' Just because we're all getting older here doesn't mean we have to forget what we were. You just can't overdo it."
Even so, he says he feels pressure to keep Halloween as big as he can. "There are ambassadors and congressmen at that Halloween party, too, dude," he tells me. "And they're all asking for invitations. A lot of people get pissed at me when they don't get invited."
To help manage the complicated guest lists, Dean often calls on one of his buddies in the nightlife industry: men whom he counts among the 25 percent of partyers who are close friends. His cohosts have included David Chung, a partner in Capitale and George, an invitation-only club; Michael Kosmides, owner of Look Supper Club; and Tony Hudgins and Sherif Abdalla, who used to own Public Bar.
Dean's own ownership stake in nightclubs goes back to 2004, when he bought into the now-defunct Eyebar. More recently, he has taken stakes in the Glover Park sports bar Mason Inn and in George with Chung. Dean says it's fun to be in business with friends. Besides, he adds, "business is my main hobby."
It's a serious one. Take the investment Dean made in American Tap Room in 2003, before that now-burgeoning chain had even opened its first restaurant. Dean wanted to be sure the eatery's planned location in Reston Town Center would be viable.
"So," Chung says, "Bill actually went out to Reston Town Center and would sit in his car night after night and count how many people would go in and out of neighboring restaurants. You'd think that a guy who has hundreds of millions of dollars would just invest by looking at the financials. But that's not Bill."
At M.C. Dean, the boss isn't quite as involved in the details. As the years have progressed, Dean has become less worried about which wires go where and more concerned about getting the company's 3,000 people to achieve breakthroughs on their own. But his brother says that doesn't mean Dean is taking it easy. "He's still married to the company," Eric Dean says.
And therein lies what may be the biggest divide between Bill Dean, playboy, and Bill Dean, executive, between Batman and Bruce Wayne. When at play, Dean may be surrounded by a couple of dozen, mostly younger people dancing to thumpa-thumpa deejay music in his back yard or at one of his clubs. But at work, those who know him say, he moves to an even faster beat.
"I've traveled all throughout Europe with Bill when he's been on M.C. Dean business," Chung says. "In a corporate setting, Bill is so intense. If you watch him in that kind of setting, then you can see why the social aspect of his life is the only place he can escape. I don't think the people who work with Bill see him as a nonchalant, social guy. Conversely, I think a lot of the younger girls who come to the parties and are part of the social scene would be overwhelmed if they saw him in that business setting."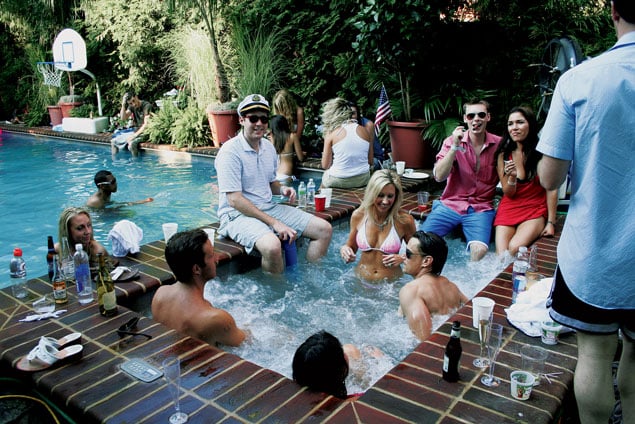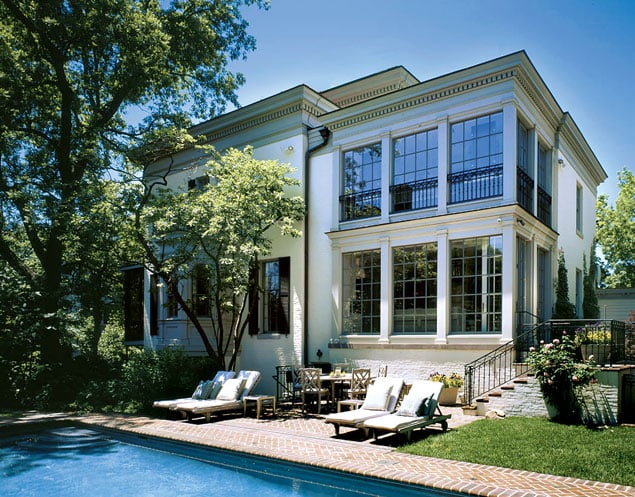 M.C. Dean has worked for the Small Business Administration, the Kennedy Center, the National Gallery of Art, the Department of Homeland Security, the Department of Energy, the Department of Veterans Affairs, and all five branches of the US military, doing "system of systems interoperability." In English, that means interconnected electrical systems that can be controlled through a computer interface and not just a light switch.
The company's total annual revenue peaked at $810 million in 2010, while it was collecting money for the Pentagon renovation. Since then, revenues have slipped; last year M.C. Dean brought in $713 million. Like a lot of federal contractors, Dean's company has been squeezed by the budget sequestration and recent reductions in defense spending. But Dean says he'd rather the company not rely so much on US-government business anyway.
Politics used to be one of Dean's lifelong interests, thanks in part to his mother, who was a Democratic Party activist in Virginia and worked on state Senate majority leader Dick Saslaw's staff before she died from cancer in 2007. "We stuffed a lot of envelopes and licked a lot of stamps for the Democratic Party growing up," Dean's brother says.
Lately, Dean has just written checks. He's given some $200,000 to federal candidates since 2000, including House majority leader Eric Cantor and fellow Virginia Republican Frank Wolf, who chairs the House Committee on Appropriations' subcommittee on commerce, a key link in the drafting of the federal budget. Dean also gave money to Florida Republican representative John Mica, former chair of the House's Transportation and Infrastructure Committee, as well as to the presidential campaigns of Mitt Romney, John McCain, and George W. Bush. (An outlier: Dean donated to Democrat Mark Warner's successful US Senate campaign in 2008.)
Dean, who calls himself more of a Libertarian than a Republican, now says he'll limit his political giving, especially at the local level. "When you're a person, when you're not Verizon or Pepco, when your name is on the company, everyone can say, 'Bill Dean gave money to this politician, and therefore he wanted a deal,' "Dean says. "I know everyone thinks that's how it works. But it doesn't. And it's almost becoming not worth the perception."
That's in stark contrast to what Dean told the Washington Post in 2010 after DC Council member Jim Graham rented M.C. Dean trucks and crew members to hang campaign signs. Dean said at the time, "In Washington, it's important that businesses stay involved, and one of the ways that you've gotta stay involved is that you have to be active in contributing to people that you can occasionally count on for support."
There's a key reason for his change of heart: A dustup over his employment of another council member, David Catania. Starting in 2005, Catania worked as a general counsel for OpenBand, an M.C. Dean subsidiary, earning at least $100,000 a year. (Catania simultaneously served as a councilman; the job is considered part-time, and many members hold jobs elsewhere.) In August 2011, he was promoted to a $240,000-a-year position as vice president of corporate strategy for M.C. Dean. Some council members raised concerns about Catania and M.C. Dean's relationship, especially Vincent Orange, who introduced a bill in January 2013 seeking to keep companies from employing council members if the companies also held city contracts. (The bill never got a vote.)
Catania, who didn't respond to requests for comment, told the Washington City Paper that he had recused himself from all votes regarding M.C. Dean's business with the District and that he never talked to Dean about council business. But the timing of his promotion, just ten months before M.C. Dean won its share of the $50-million streetcar contract, helped spark debate and generated some negative media. In December 2012, less than a month before Orange introduced his bill targeting city contractors, Catania resigned his job at M.C. Dean, saying he needed more time to devote to his new post as the DC Council's education-committee chairman. Dean says something different about Catania's council-mates: "They forced a great guy to have to quit. And that soured me on politics."
It's surprising that Dean cares so much about how he's perceived politically. For one thing, he has only a small financial incentive to fret too much over what the people in the District's government—or, for that matter, in any local government where M.C. Dean does business—think of him. "There isn't a single jurisdiction in the United States, including Washington, from which we get more than 5 percent of our revenue," Dean says.
For another thing, in his life outside work Dean makes no apologies about his personal crusade for a more celebratory capital. "Why can't Washington just have a little bit of freaking fun?" he asks. "Washington is all the work and half the fun—maybe none of the fun—as Manhattan."
Maybe so. But who expects geeky engineers to be the ones powering up more flash? As Dean puts it, "Why should Leonardo DiCaprio and George Clooney get to have fun and go to fun places and throw big parties but electrical engineers can't?"
• • •
On a late afternoon last fall, Bill Dean, dressed in an untucked white shirt with an M.C. Dean logo on the breast—his typical work uniform—was standing at the head of an oval table in a conference room just off the lobby of M.C. Dean's Dulles headquarters, waving his arms like a symphony conductor. He was talking to a team of executives about closing an important piece of business. This was a Friday, after 5 PM, and as the group broke up, nearly everyone left the building.
"Realistically, the only reason I even work here now is because I like the people who I get to work with," Dean says, settling back into his office chair. "I like being in that room I just came out of. That's a talented room."
It's also family. "Bill talks to the people he works for like the company is their family," Eric Dean says. "He means it. But I don't think they get the same sense from him. They're looking at him like, 'That's our CEO, and this is our employer.' "
Someday, someone else will be their CEO. Someone likely not named Dean. Pushing 50, Bill Dean has no children and has never wed. "Maybe I'm still just a big kid," he says. "That's part of the reason I'm not dating anybody or married. I didn't want to hurt anybody. I knew how hard I worked and how hard I still work, and I didn't want to end up divorced." He does say he'll settle down at some point. "You don't want to not be single and end up saying, 'Daggone it, why didn't I do all that I could?' "
Dean's friends, though, say there's more to his daggone bachelorhood. They say Dean has been delayed by the kinds of very practical considerations that might occupy a hard-driving engineer's mind.
"I think Bill wants to have super-healthy, Tom Brady/Gisele-type kids," Chung says. "And that goes with every part of his life, whether it's the house in Miami, where he says, 'I'm going to go balls-out and do this house right and make a statement with it,' or whether it's in business, where he's trying to make M.C. Dean a global company and not just a government contractor.
"At the end of the day, I think Bill is looking for that right one person who fits into everything he does. That's very hard. She probably has to be a five-foot-ten, blond model who is athletic and at the same time can be an incredible mother."
She also has to be, Eric Dean believes, someone who will understand his brother's deep attachment to M.C. Dean: "The question is, can a woman keep up with him?"
So what happens to M.C. Dean if Bill Dean's search for a superwoman takes a while? "I think for the people here, it matters that there isn't some kid in college right now who's going to come here and take over," Dean says. "I want people working here who want to be the CEO someday. But you know, anything can happen. A Ford is running Ford now."
Minutes later, our interview over, Dean's phone rings. The ringtone is a dance remix of Elvis Presley's "A Little Less Conversation." The opening line: "A little less conversation, a little more action, please." Dean takes the call, then moves quickly out the door, gets into his black Mercedes, and heads down Route 28 toward DC. The weekend has arrived, and there's fun to be had out there.
Freelance writer Joseph Guinto (joeguinto@gmail.com) also hosts an annual party in Washington. His guest list is roughly one-tenth the size of Bill Dean's. This article appears in the April 2014 issue of Washingtonian.