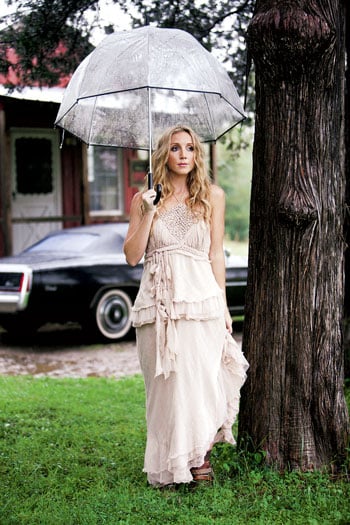 The invisible boundary that seems to keep country music marginalized north of the Mason-Dixon Line took a beating last year thanks to Ashley Monroe, a 27-year-old from Knoxville, Tennessee, whose sophomore album, Like a Rose, received almost universal acclaim. Rolling Stone placed it at number 18 on its list of the year's best records, while Jon Caramanica of the New York Times ranked it the third-best album of 2013, praising Monroe as "a sly singer and a vivid songwriter" and the record as "aching and sharp."
"I couldn't be more thankful for all the support," Monroe says. "I really didn't know what to expect—I just knew I had to make that record, so it was such a relief when people accepted it."
Like a Rose includes "Used," a subversive paean to things life has knocked around, from a favorite pair of shoes to an ancient piano to the singer herself. In the deceptively pretty "Like a Rose," she recalls childhood trauma and broken relationships with knowing bravado, insisting none of it has touched her. "There were a lot of things I wanted to say, and I think the record showcased my sense of humor but also the super-sad songs I'm the best at writing—unfortunately for me," she says.
Monroe is working on a new album in between performing a handful of shows, including a headlining gig at the Birchmere April 13, where she opened for Don Williams last year. "I'm definitely not replicating Like a Rose," she says of the record. "It's going to be different, but it's definitely country because my voice is country and I'm country. Honesty is how I think about country music, and it's just in my blood, I guess."
Tickets ($20) at birchmere.com.
This article appears in the April 2014 issue of Washingtonian.