With spring finally here, it's time to add a pop of color into your home. But you don't necessarily have splurge on a new piece of furniture or commit to a coat of fresh paint to give your home that seasonal refresh—try a colorful floral centerpiece to brighten up your home. Go bold with something big and colorful, or more understated with a low arrangement that mixes flowers and greenery. Or why not one of each? To get your creative juices going, we checked in with five of our favorite local florists to get their takes on springtime's best centerpieces. For those who want to put their green thumb to use, we've included the details of each arrangement so you can recreate your favorites. Scroll through to find your floral inspiration.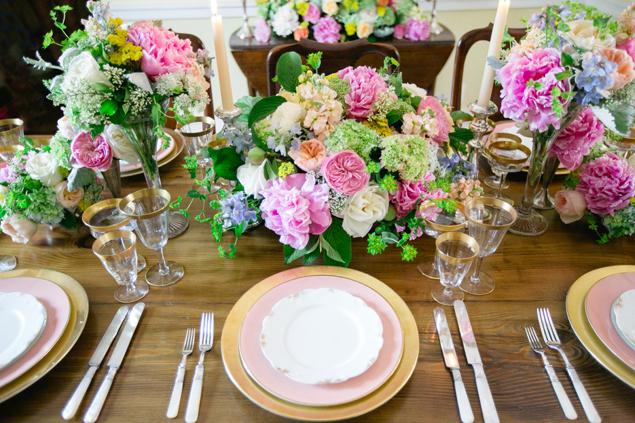 The florist: Holly Heider Chapple Flowers
The flowers: Pink peonies, maria teresa garden roses, peach juliet cabbage roses, peach stock, nandina berry, queen annes lace, yellow yarrow, hydrangea, blue delphinium, bupleurum, white ohara garden roses, dusty miller, and viburnum.
Why it works for spring: "The design features an abundance of springtime blooming peonies, nandina berry, and the first cuts of hydrangea. When hydrangea is gathered in the late spring it is bright green and is just beginning to allude to the color it will be. The nandina berry is only white in the spring, by fall it will show a bright red vibrant berry."
The florist: Growing Wild Floral Company
The flowers: Daffodils, hellebores, lilac, bleeding heart, tulips, and snow drops.
Why it works for spring: "I decided to use only flowers from my gardens (and neighbors' gardens). None were obtained from the wholesaler. Daffodils (narcissus) reign supreme here with four or five different varieties. I also was able to include various type of hellebores, lilac, bleeding heart, tulips, and snow drops. Kept with the woodland theme."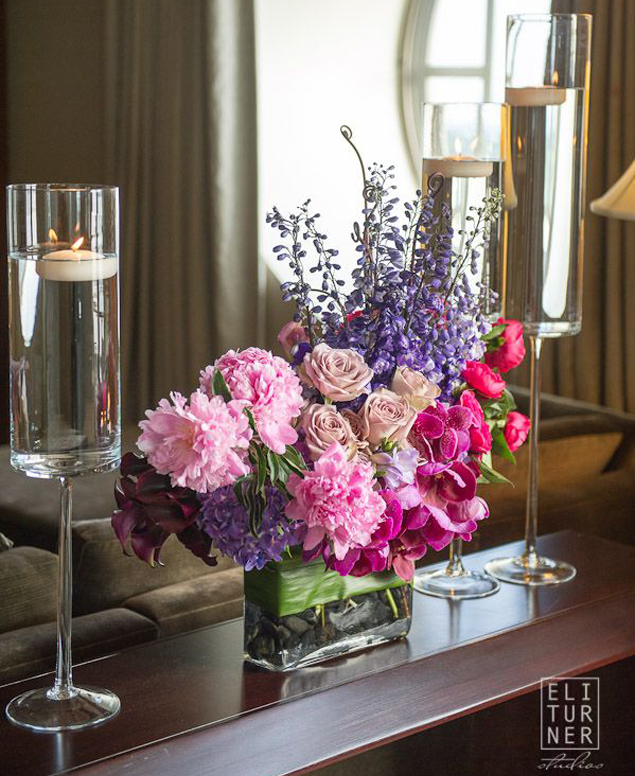 The florist: Amaryllis
The flowers: Blue delphinium, calla lilies, purple vanda orchids, and amnesia roses.
Why it works for spring: "A sleek, elegant and modern look."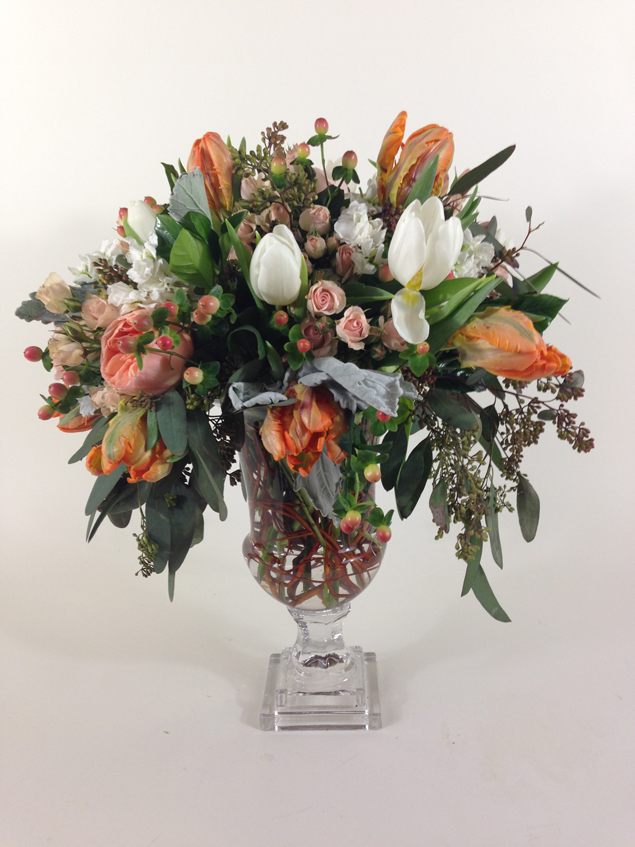 The florist: Phillipa Tarrant
The flowers: White stock, peach garden roses, peach spray roses, orange parrot tulips, peach hypericum berries, seeded eucalyptus, and white tulips.
Why it works for spring: "Tulips, parrot tulips—such a perfect spring flower to add texture and interest to an arrangement—and subtle shades of peach and creams with lots of greenery and pips of white for a very fresh, natural, spring look."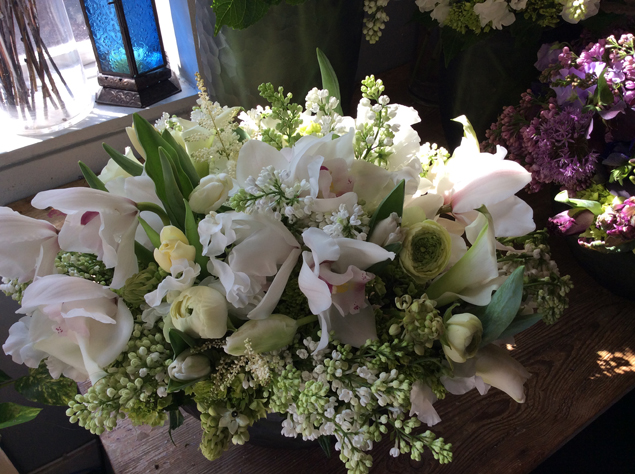 The florist: Ultra Violet Flowers
The flowers: Lilacs, ranunculus, tulips, sweet pea, astilbe, and cymbidium orchids.
Why it works for spring: "We love lilacs and other flowering trees and branches for spring. These flowers are truly the harbingers of the season, marking the transition from winter to spring. The soft greens and whites, pale purples, and pinks, are fresh. The green is wonderful for the new beginnings that spring offers. DC in spring is a beautiful time. We love using local products and get excited about local growers bringing their flowers. We use dogwood blossoms, cherry blossoms, and lilac generously during the spring months. It is a prime time to showcase mother nature's magic and local products."