Once a month, the following business districts, parks, and cultural centers stay open late for "art walks"—allowing visitors to go from gallery to gallery to look at what's on view and chat with artists. At the free events, you can enjoy refreshments and sometimes special activities such as contests, music, and dance.
First Friday Dupont
Expect crowds for Dupont Circle's art walk, a three-decade tradition that spans a dozen modern and contemporary galleries. Each space has its own vibe: Studio Gallery recently booked a violinist, while Toolbox hired a deejay. Visitors often end the evening at Hillyer Art Space, which closes later than the other galleries, at 9 (and has a suggested donation of $5). Keep an eye out for tie-in happy hours and deals at bars and restaurants along the way; Circa and Duke's Grocery recently hosted after-parties.
When: First Friday of every month, 6 to 8.
Coming up: Studio Gallery presents the work of students and faculty in the Corcoran College of Art & Design's printmaking program, June 25 through July 19.
First Saturday
This gallery walk in Frederick is part of a daylong slate of activities that vary each month. Arts and crafts and music draw families in the afternoon; evenings see young adults and couples strolling down Market Street. Don't miss the workshops at Delaplaine Visual Arts Education Center or giveaways—such as handmade ceramic flower magnets—at the Potters' Guild. You can make a night of it with special deals at restaurants and retailers; a few shops even have their own galleries, hosting different artists each month. On a summer day, downtown Frederick can get up to 25,000 visitors for its art walk.
When: First Saturday of every month, 3 to 9.
Coming up: "I ART Downtown Frederick," a celebration of local art, coinciding with the 21st annual Frederick Festival of the Arts, June 7.
Art Walk in the Park
The former Glen Echo amusement park houses galleries, studios, and workshops in its Art Deco pavilions. In and around the Arcade Building, you'll find artists working in glass, painting, photography, pottery, and silversmithing, along with group exhibits in the Stone Tower and Popcorn galleries. The night ends with social dance and live music at the Spanish Ballroom or Bumper Car Pavilion, for a small fee. This art event attracts an older crowd because there aren't kids' activities.
When: Second Friday of the month, May through October, 6 to 8.
Coming up: On June 13, enjoy demonstrations of silversmithing and kiln-formed-glass techniques, two photography exhibits, and a contra dance.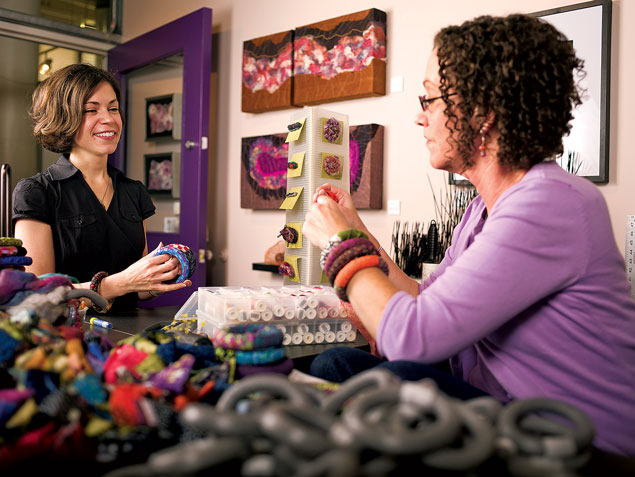 Second Thursday Art Night
Old Town's Torpedo Factory is an indoor arts village with 82 studios, six galleries, two workshops, and an archaeology museum on its three levels. Located on the Alexandria waterfront, the art center—in a former Navy munitions factory—celebrates its 40th anniversary this year. Check out the enamel art, fiber creations, photography, and ceramics by local artists as well as the largest gallery, the Art League, which includes an art-supply store. Each month features a different discipline—June's is sculpture—with live music in the main hall and demonstrations throughout the space.
When: Second Thursday of every month, 6 to 9.
Coming up: "The Alexandria Community Art Library— a 40th-anniversary exhibit in the Target Gallery exploring the Torpedo Factory's history through artifacts and oral histories—runs May 31 through July 13.
2nd Saturday Art Walk
Explore the 55-acre grounds of Workhouse Arts Center, a converted prison in Lorton that joined the National Register of Historic Places in 2005. In six studio buildings, the campus supports more than 100 artists who are on hand to talk about their work. Some 200 to 400 visitors attend each month. Every studio showcases the work of its resident artists, while the largest facility, housing the McGuireWoods and Vulcan galleries, curates larger monthly exhibitions. Kids and pets are welcome to play on the outdoor quad, which hosts a summer concert series.
When: Second Saturday of every month, 6 to 9.
Coming up: At the ice-cream social in July, $20 gets you a bowl handmade by an artist, plus ice cream and toppings.
Bethesda Art Walk
You might start by entering from the Metro tunnel under Wisconsin Avenue, which showcases the work of 12 local artists. Galleries on the route exhibit painting, sculpture, tapestry, and ceramics. You can meet artists in their workspaces at Studio B and tour new juried exhibits every month at Waverly Street Gallery, founded in 1993. The free Bethesda Circulator stops near all seven galleries.
When: Second Friday of every month, 6 to 9.
Coming up: Gallery B exhibits winners of the 2014 Bethesda Painting Awards, a juried art competition for local painters, June 4 through 28.
Third Thursday Open Studios
Located outside the Brookland Metro, Monroe Street Market's arts walk is just that: a promenade flanked by two buildings housing 27 art studios. Since January, the mixed-use development has hosted monthly open-studio nights, with artists coordinating demos, workshops, and classes. Highlights include Stitch & Rivet, a handmade-accessories studio, where guests who paid $5 recently crafted leather bracelets, and the ARTillery, which lends tools for art projects.
When: Third Thursday of every month, 6 to 8.
Coming up: Decorate costumes for children in hospitals—they wear them during performances of the theater nonprofit Only Make Believe—in Studio 1 on June 19.
This article appears in the June 2014 issue of Washingtonian.