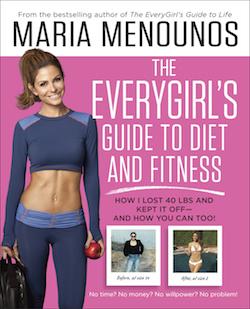 Tonight marks day two of Bethesda Row's annual fashion extravaganza, the Front Row, and the appearance of this year's VIP guest, Maria Menounos. The Extra host and reality television star is constantly on our radar for her impeccable style—from red-carpet stunners to cute, workout-motivating fitness wear and everything in between—so it seemed only fitting that she'd headline one of the area's most highly anticipated fashion events. Before sitting front and center at the runway show that takes over Bethesda Lane Friday evening, Menounos will greet guests and sign copies of her newly released book, The Everygirl's Guide to Diet & Fitness, in front of Redwood restaurant beginning at 5. While sit-down tickets to the show, which kicks off at 7:30, are sold out, guests are still welcome to purchase copies of the book and meet the star beforehand. Read on for our interview with Menounos, who told Shop Around about everything from her favorite DC spots to her closet essentials.
Welcome to Washington! What has your experience been with our city? Any favorite spots?
I love the city and being active in causes I believe in. I've advocated for diabetes awareness on the Hill and have been a part of other coverage and advocacy efforts. I also love the history surrounding Washington, and seeing the cherry blossoms never gets old.
What's your impression of DC fashion?
Most people say it's conservative, but I disagree. The style is some of the sharpest around; it's smart and sexy.
If you could sit down for lunch with any Washingtonian, who would you choose and why?
I'd have to say the First Lady—I'm a huge admirer of hers. I hold the honor of having the only interview with the entire Obama family, so it would be amazing to sit with her again and see what the past few years have been like!
How did you become involved with the Front Row? What are you most looking forward to about the three-day event?
They approached me about being part of the Front Row fashion events, and I thought it sounded like so much fun. I knew I would get to interact with a lot of fans during the book signing, which is great—and I'm never opposed to a fashion show.
Now for some style advice: What are three items every woman should have in her closet, and why?
Good hangers so your clothes will last longer; the perfect little black dress for occasions; and great sneakers for working out.
What inspired you to write The Everygirl's Guide to Diet and Fitness?
I was once more than 40 pounds overweight and wasted way too much time on diet and exercise fads. I spent a year developing a common-sense diet and choosing exercise and lifestyle techniques that finally got me into great shape, and now I'm sharing my secrets so others can get fit, feel healthy, be productive, and embark on a longer, happier, healthier life.
The book focuses not just on physical fitness and health, but also on emotional wellness and confidence. How does fashion—the way we choose to express ourselves via clothing and accessories—play a role in that?
Fashion is about confidence. It's not what you're wearing, but how you wear it. If you feel good about your body, you will hold your head up higher and naturally look better.
What are some other things you hope readers will take away from The Everygirl's Guide?
I hope they come away with new ways to stay inspired—not just to live healthy lives but to live their best lives.
Now that you've published the book, what's next for you? Any cool projects on the horizon?
I recently signed a deal with the E! Network to host an hourlong entertainment news series called Untold With Maria Menounos. I will also be doing specials for them with my production company, so I'm thrilled to host those.