A pioneer in the organic movement, Nora Pouillon, 70, opened Restaurant Nora, in DC's Dupont Circle, in 1979 after moving here from Austria. In 1999, it became the first certified organic restaurant in the United States. Pouillon also helped initiate the network of FreshFarm farmers markets and is active on a host of environmental and conservation boards and campaigns.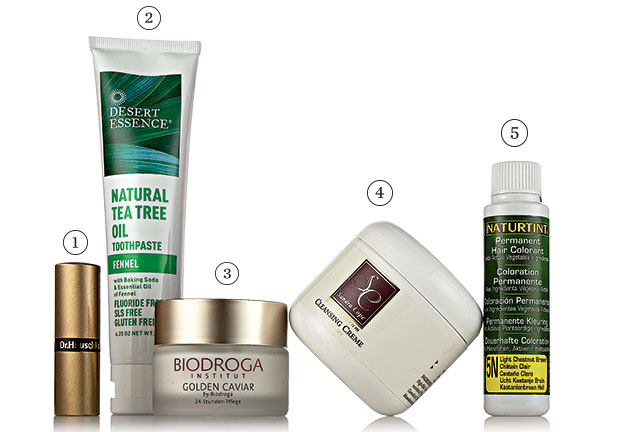 1. New Hues
"I love this lipstick. Dr. Hauschka is all-natural. He doesn't use any synthetic preservatives or chemical fragrances, and he has great colors. I have like six different ones." Dr. Hauschka lipstick, $23.99 at Whole Foods.
2. For the Best Brush
"I am not a big fan of fluoride. Tea-tree oil fights infection naturally and is good for your gums." Desert Essence Natural Tea Tree Oil Toothpaste, $6.99 at Whole Foods.
3. Good as Gold
"Now that I am older, I need something a little stronger," says Pouillon about Biodroga moisturizer, which isn't 100 percent natural but is derived from botanical extracts and plant oils. "The all-around cream, Golden Caviar, is very good." Biodroga Golden Caviar 24 Hour Care, $98 at biodrogausa.com.
4. Go Aloe
"Sandra Cope is in Alexandria, and her products are aloe-vera-based. She has very clean products. Unfortunately, she doesn't use organic—she said she tried but it was too expensive—but they are very mild and effective. Step #1 is the cleanser I have been using for 10 or 15 years. It doesn't sting your eyes, even if you have mascara on." Sandra Cope Step #1 Cleansing Creme, $31 at sandracope.net.
5. To Dye For
"What I like about Naturtint is that it was the first hair color out there that didn't use any ammonia or parabens or resorcinol. It doesn't have a nasty smell, and I think it's important to have a clean product because it's close to my brain. I don't want to put chemicals on my head. Also, if you have gray and white hair as I have, the color is absorbed differently, so people always ask me if I do highlights. I never do—it's just the natural way of the color. It doesn't look like my hair fell in a pot of color." Naturtint hair color, $17.99 at Yes! Organic Market.